The One Episode Of Grey's Anatomy That Isn't Named After A Song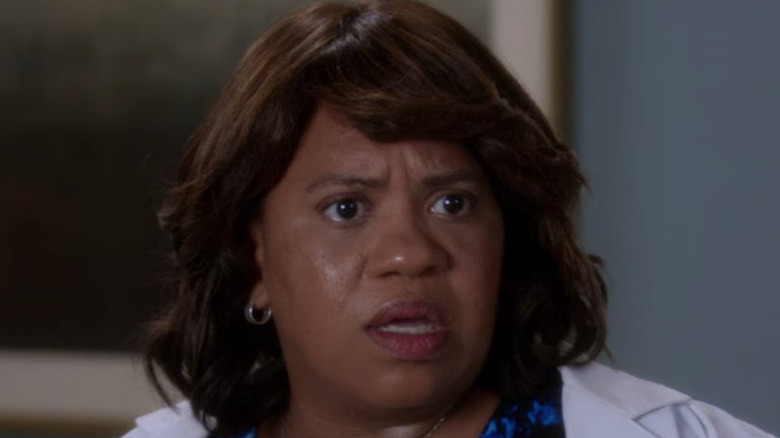 ABC
Created by Shonda Rhimes, "Grey's Anatomy" first premiered in 2005 and follows the sometimes twisty, always well-trained surgical staff of Seattle Grace (later Grey Sloan Memorial Hospital). By the time the 18th season of "Grey's Anatomy" concludes in April, the long-running series will have aired 395 episodes (via IMDb). With such a stunning track record — and showing no signs of slowing – it stands to reason that the "Grey's Anatomy" team wanted a clever system for naming the massive compendium of episodes, ultimately landing on song titles.
Since the series' pilot, titled "A Hard Day's Night," each episode of "Grey's" gets its name from an iconic song in the pop canon. Some titles add a cheeky, hyperliteral point of recognition, such as Season 2's "Into You Like a Train," in which a train crash brings a crop of severely injured patients to the hospital. Others provide tonal resonance, like Cristina Yang's (Sandra Oh) final episode on the show, "Fear (Of the Unknown)." Then there are two-parters linked together by a single song title, courtesy of R.E.M. The iconic "It's the End of the World" ratchets up the drama when a bomb enters the hospital inside of a patient. "As We Know It" offers a grueling climax and resolution.
"Grey's Anatomy" isn't the first series to name its episodes after songs; shows like "One Tree Hill" and "Degrassi: The Next Generation" pulled the same gimmick before the medical drama premiered. But its tenure has eclipsed those series, continuing to pull tracks from the pop pantheon as it approaches its 19th season. Throughout its historic run, however, one episode stands alone in its lack of a song-inspired name.
The Season 14 episode 1-800-799-7233 has a powerful namesake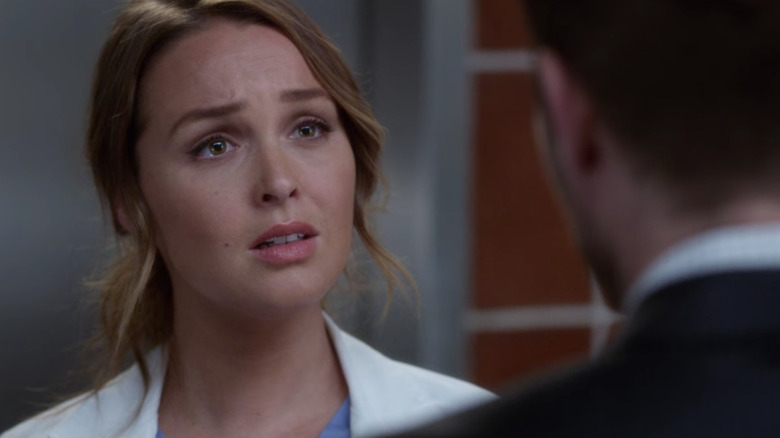 ABC
In 2018, "Grey's Anatomy" broke its song-titles-only tradition with the Season 14 episode "1-800-799-7233." The episode centers around the relationship between Dr. Jo Wilson (Camilla Luddington) and her abusive husband Dr. Paul Stadler (Matthew Morrison), from whom she is estranged. In "1-800-799-7233," Paul tracks down Jo in order to secure a divorce agreement so he can marry his new fiancée. After signing the papers, Jo reaches out to Paul's partner, Jenny (Joy Lenz), concerned that she might be a victim of domestic abuse as well. She slips Jenny a piece of paper with the titular phone number written on it: the number for the National Domestic Violence Hotline.
Prior to the episode airing, the series released a press release explaining that the original title, "Four Seasons in One Day," had been changed to "1-800-799-7233." Showrunner Krista Vernoff confirmed the news via Twitter, clarifying that the "brilliant idea" came from actor Giacomo Gianniotti, who plays Dr. Andrew DeLuca. Luddington was also deeply invested in the issue, speaking with various domestic abuse organizations in preparation for the episode (via Entertainment Weekly). "1-800-799-7233" demonstrates that for all the fun of a pop culture-imbued title, sometimes a meaningful title change can be an educational — even life-saving — tool.
If you or someone you know is dealing with domestic abuse, you can call the National Domestic Violence Hotline at 1−800−799−7233. You can also find more information, resources, and support at their website.