Who Is Hosting SNL Tonight? (March 12, 2022)
Over the past 47 years, "Saturday Night Live" has been bringing laughter into homes with hilarious sketches, from "Celebrity Jeopardy" to "Weekend Update" and "Chippendales." But for many viewers, there's another "SNL" tradition that they look forward to every week: seeing the celebrity host in action. For the past four-plus decades, the famous stage at New York's 30 Rockefeller Plaza has welcomed the likes of Paris Hilton, Dwayne Johnson, Kim Kardashian, Harry Styles, and countless others, all of whom drop their professional demeanor and let loose by joining in the sketch comedy fun. 
Since the premiere of "Saturday Night Live" Season 47 on October 2, 2021, audiences have continued to enjoy quite the star-studded lineup of famous hosts, including actor Owen Wilson. Appearing on the season's first episode, Wilson participated in a sketch that allowed him to return to his Disney days as "Cars" protagonist Lightning McQueen. Other hosts this season were Kim Kardashian, Billie Eilish, Oscar Isaac, and returning "SNL" legend John Mulaney.
With "SNL" set to air on Saturday, March 12, let's take a look at which celeb will be at the coveted helm of the next Season 47 episode.
Zoë Kravitz is hosting SNL on Saturday, March 12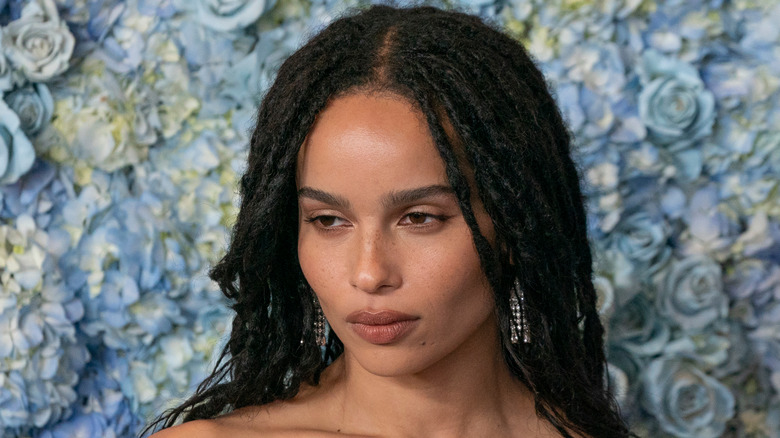 lev radin/Shutterstock
A mere week after the highly-anticipated Warner Bros. pic "The Batman" hit theaters, the film's leading lady is heading to the "Saturday Night Live" stage. Back in mid-February, Zoë Kravitz announced on Instagram she would be hosting the March 12 episode of "SNL." Kravitz's post also revealed the musical guest set for her episode is Rosalía. Considering how close the episode is in relation to the release date of "The Batman," eager fans can expect the upcoming episode to be chock-full of references to her portrayal of Selina Kyle, aka Catwoman, opposite Robert Pattinson as the Dark Knight.
According to Kravitz, it was exciting to provide an "origin story" for the character. She told Empire, "It's the beginning of her figuring out who she is, beyond just someone trying to survive. I think there's a lot of space to grow and I think we are watching her become what I'm sure will be the femme fatale."
Aside from a few critiques about her character's mask, Kravitz received much praise from moviegoers. On Reddit, u/nesenn said, "Better than I anticipated and I already knew she was going to be great." U/kevonnotkevin added, "The most organic feeling Catwoman. Her attitude, motivations and interactions with Batman all felt natural and believable. Wasn't overly sexual or villainous..." Even Taylor Swift raved over Kravitz's performance (via People), calling her "the Catwoman of my dreams."
Given Kravitz's growing fanbase, her "SNL" hosting gig might help with the show's plummeting ratings. In its 47-year run, the current season's premiere received the lowest rating to date among its core 18 to 49-year-old demographic (via ComicBook). Sounds like the perfect job for Catwoman, TBH.