The Hilarious Props Robert Pattinson Took From The Batman's Set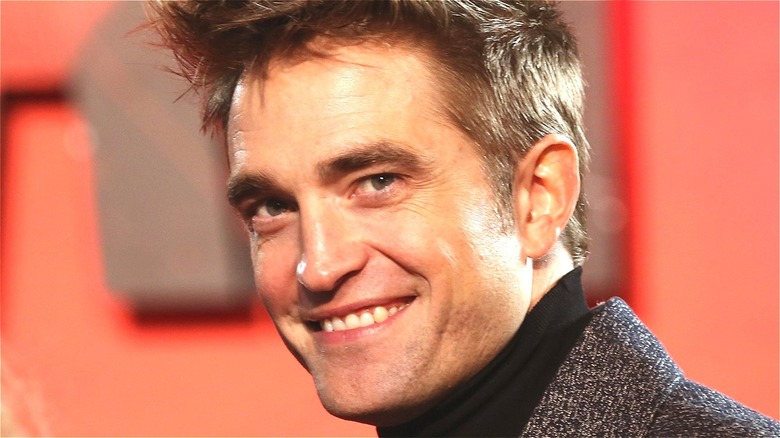 Lia Toby/Getty
For several years, Robert Pattinson was best known for his brooding performance as Edward Cullen in the "Twilight" film series, but that's no longer the case anymore. For many die-hard film fans and cinephiles, Pattinson gradually cemented himself one of the more versatile and talented actors of his generation with his post-"Twilight" performances in films like "Good Time," "The Lost City of Z," "The Lighthouse," "The Rover," and "High Life." Now, he seems to have permanently shed his "Twilight" reputation with his turn in "The Batman."
Directed and co-written by "War for the Planet of the Apes" director Matt Reeves, "The Batman" finds Pattinson taking on the film's coveted, titular superhero role, one that has already been played in recent decades by actors like Christian Bale, Ben Affleck, Michael Keaton, and George Clooney, among others. Fortunately, while the character's beloved status and extensive film past may have made assuming the role a particularly daunting challenge for Pattinson, all signs seem to suggest that it's one the actor has pulled off with flying colors.
Playing a much younger version of Bruce Wayne than viewers are used to seeing on the big screen, one who is only in his second year of operating as Gotham City's most fervent defender, Pattinson has given DC Comics fans a totally new take on the character in "The Batman." In spite of that, it sounds like Pattinson may not have been given quite as many on-set privileges by Warner Bros. as most comic book readers would likely think.
Robert Pattinson didn't get to keep many Batman souvenirs
In a recent interview with BBC Radio 1, Robert Pattinson opened up about what it was like shooting "The Batman" and shared some behind-the-scenes stories from the film. The actor even revealed at one point in the conversation that he didn't get to take very many souvenirs home with him while he was shooting the high-profile DC Comics movie. Apparently, that includes a version of his batsuit, which Pattinson described as being "so well-designed," but also said was part of the reason why "The Batman" ended up being the toughest acting job he's had "by miles."
Taking all that into account, Pattinson did note that he was able to take part of his Batman costume home with him while he was making the film. That said, his "Batman" souvenirs definitely aren't what most fans might expect them to be.
"It's impossible to take anything home from [the film's set]," Pattinson initially remarked when asked about any possible "Batman" souvenirs he might have managed to snag during the making of the movie. The actor did, however, go on to reveal that he took home some things from the film's set, saying, "I think the only thing I really got was... I did get a lot of socks. Like all of my socks from 'The Batman.'"
Pattinson admitted that, over the course of the film's lengthy production process, he brought home an obscene amount of the socks that came with his "Batman" costumes. As a matter of fact, he took home so many socks from "The Batman" that he apparently received some complaints from Warner Bros. about it.
DC fans are loving Robert Pattinson's Batman
During his interview with BBC Radio 1, Robert Pattinson said that he took enough of his character's socks home while shooting "The Batman" to earn the ire of certain representatives from Warner Bros., the studio behind the superhero film. "I kept getting told from Warner Bros., 'You know, it's fine to have a few, but you take them every day,'" Pattinson revealed. The actor added that the studio essentially asked him at one point, "How many socks do you need? Because we've been shooting for a year."
The good news is, even though Pattinson didn't get to take home any souvenirs from the "Batman" set outside of his character's socks, he's receiving something much better for his work on the film: widespread acclaim. Indeed, in the days since "The Batman" was finally released in theaters, Pattinson has received largely positive reactions from both fans and critics alike for his moody, introspective performance as Bruce Wayne in the Matt Reeves-directed superhero crime thriller.
For instance, in their review for The Atlantic, David Sims called Pattinson's turn in the film an "excellent, committed performance" and further noted that the actor's "preternatural grumpiness in the role make 'The Batman' sing." Thrillist writer Esther Zuckerman similarly wrote that the film itself is "anchored by Robert Pattinson's eerie take on the Caped Crusader."
In other words, it seems like Pattinson has already cemented his place as one of the best actors to ever don the Batman cowl. Should he ever reprise the role in a future sequel or TV show, here's to hoping that the overwhelmingly positive reception he's received also results in him being able to take home some slightly better souvenirs than the ones he snagged while making "The Batman."
After all, how many Batman socks can one actor have?