Mr. Robot Season 3 Introduces Bobby Cannavale's Mysterious Character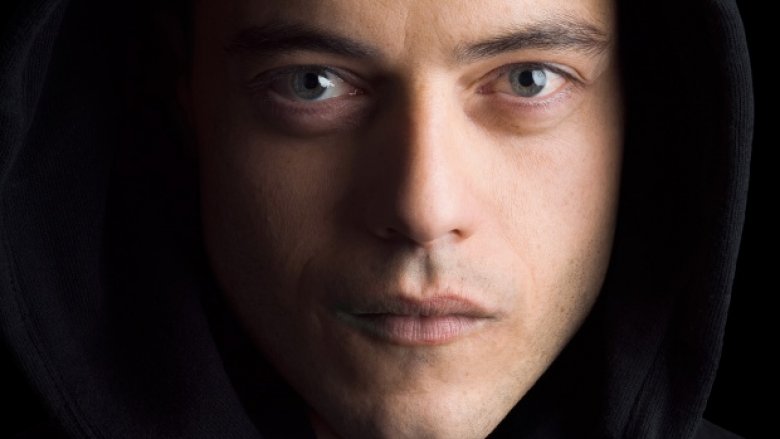 Warning: This post contains spoilers for Mr. Robot season 2. 
A new face has joined the Mr. Robot mix. 
Though USA Network's acclaimed drama series Mr. Robot is still a few months out from its season three premiere, fans have been treated to a first look at what (or rather who) Rami Malek's Elliot Alderson might face up against in future episodes. 
Courtesy of The Hollywood Reporter, USA Network pulled the veil back on a single image that reveals a new character: Bobby Cannavale's mysterious salesman, Irving.
Known for his work in films like The Other Guys, Spy, and Ant-Man, Cannavale dons a slightly unsettling look that's quite a far cry from his typical clean-cut style. Cannavale's Irving is "a laconic, no-nonsense used car salesman" who sports a thick glasses and mustache combination a la Clive Owen and Bryan Cranston's Walter White (in the early days, of course). 
Beyond aesthetics, the image doesn't offer up much information about who Irving is or exactly how he fits into the overall Mr. Robot narrative, which isn't necessarily surprising, as showrunner Sam Esmail has a penchant for secret-keeping. The character description alone seems packed with secrets and conjures up questions about what's to come. Is he truly a car salesman, or is he another manifestation of Elliot's dissociative identity disorder? Will be play a role in "Phase 2," or has he been hiding in the shadows since day one?
In any case, since Mr. Robot series ended its second season on a violent note—Martin Wallstom's Tyrell Wellick shooting Elliot, leaving him bleeding on the ground—it seems that Irving will undoubtedly be a key part of the fallout that will unfold next season.
Mr. Robot fans will find out who Irving is when the series returns in October for season three, which is said to pick up "immediately following the season two cliffhanger."
Until then, take a look at the Mr. Robot fan theories that could be total game-changers.