Kristen Stewart Weighs In On Whether She Should Play The Joker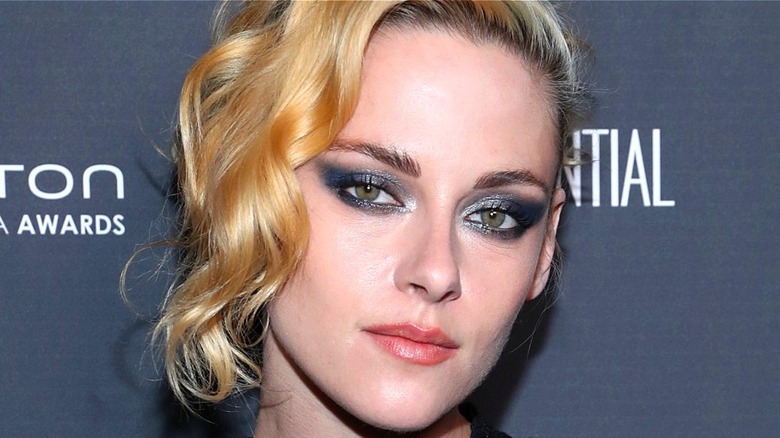 Randy Shropshire/Getty
Kristen Stewart and Robert Pattinson ended their romantic relationship in 2013 (via People), but their connection and powerful on-screen chemistry seen in the "Twilight" films are coming back into the press in a big way. Stewart has been on the awards season campaign trail for her critically acclaimed performance as Princess Diana in "Spencer," for which she has been nominated for an Academy Award at the upcoming ceremony (via Academy of Motion Picture Arts and Sciences). Pattinson, meanwhile, is reaching new heights of stardom as his long-awaited turn as Bruce Wayne, aka Batman, in Matt Reeves' "The Batman" hits theaters. Pattinson embarking on such a high-profile superhero role has brought tons of speculation about the future of DC Comics' beloved character, including when fans can expect a sequel to the new film and an array of spin-off television series for HBO Max.
Chief among this speculation is if and when Pattinson's Bruce Wayne will encounter the Joker, Batman's archnemesis turned bonafide movie star role thanks to beloved 21st-century portrayals of the character by Heath Ledger in "The Dark Knight" and Joaquin Phoenix in the standalone film "Joker." The Hollywood Reporter noted in May 2021 that "Joker" director Todd Phillips had agreed to co-write a "Joker" sequel, but it's unclear if and when that might come to pass. Even if it does happen, Phillips has said that "Joker" and "The Batman" do not take place in the same universe — leaving the role seemingly up for the taking moving forward (via IndieWire).
Kristen Stewart said she'd play a 'freaky, scary person,' but not the Joker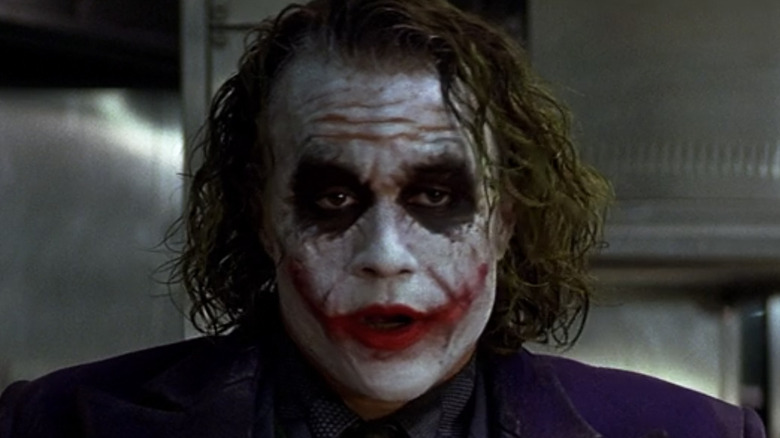 Warner Bros. Pictures
Kristen Stewart, much like Robert Pattinson, has made daring professional choices since her days as "Twilight" lead character Bella Swan came to an end following the release of "The Twilight Saga: Breaking Dawn — Part 2" in 2012. Her latest role as Princess Diana in Pablo Larraín's "Spencer" takes an absurdist, psychological drama-driven look at the real-life princess during a pivotal moment in her life, drawing a stark contrast with how streaming series like "The Crown" have approached Diana's life.
Given Stewart's penchant for oddball roles and apparent fan interest in her taking on the Joker in the future, Variety asked the 31-year-old actor last year if she might be interested in portraying Gotham's Clown Prince of Crime, prompting her to suggest something slightly less straightforward than herself in clown makeup. Stewart didn't outright say she wouldn't want to play the character but suggested it's not a prospect she's particularly fascinated by: "[The Joker has] really been done so well. I feel like, maybe, we don't traipse over, but I love that gusto. Let's figure something else out. I'm totally down to play a freaky, scary person."
Shortly thereafter, Stewart told Howard Stern (via Twitter) that she feels she's asked questions related to Pattinson's career for the sake of headlines and clarified that she isn't interested in the part: "No, I don't want to play the Joker, and they're like, 'Kristen Stewart considers playing the Joker.' I'm like, "I literally said I didn't want to, but okay.'"
Why should Kristen Stewart play the Joker, anyway?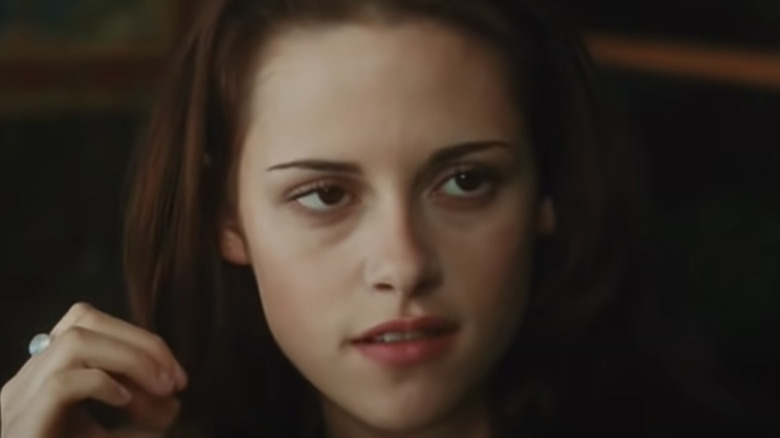 Summit Entertainment/YouTube
Surprisingly, it's not hard to see why some fans out there would be interested in seeing such an odd actor-character combination: Batman and the Joker's relationship is often depicted as an odd, antagonistic yin and yang scenario. In the character's final scene in "The Dark Knight," Batman prevents the Joker from falling to his death so as not to break his rule regarding not purposefully killing people, prompting the Joker to tell him, "I think you and I are destined to do this forever." While the Joker has always been Batman's chief antagonist, he's often suggested that he loves Batman throughout their comic book runs (via Screen Rant). The character rarely even tries to kill Batman himself. When Batman asks the Joker in "The Dark Knight" why he wants to kill him, the Joker takes offense, telling Batman, "You complete me."
A romantic dynamic between the Joker and Batman has never really been explored in live action. Adding Kristen Stewart to Robert Pattinson's Batman universe could capitalize on that opportunity both on-screen and subtextually; the pair dated for years after meeting on the set of "Twilight," in which they play lovers. And while there's no reason to believe they have any animosity toward each other nearly a decade after they broke up, it's hard not to imagine the potential for on-screen tension between them if they were ever to appear in a movie together again.