The Batman Just Beat The Dark Knight In A Major Way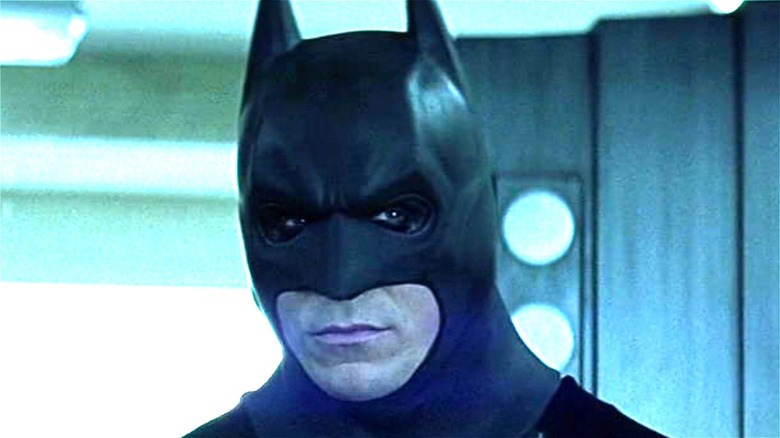 Warner Bros. Pictures/DC Entertainment
Not many beloved fictional characters have been brought to life on-screen as many times as Batman. The DC Comics icon has been played by everyone from George Clooney and Michael Keaton to Ben Affleck and Christian Bale, and an equally diverse array of talented filmmakers have tried telling their own Batman stories over the years, including Tim Burton, Christopher Nolan, Joel Schumacher, and Zack Snyder. In addition to the character's big-screen adventures, there have also been numerous video games and animated titles released in recent decades that have all offered their own interesting takes on the Dark Knight.
Taking all that into account, it seems safe to say that making a unique and surprising Batman movie in 2022 isn't an easy thing for a filmmaker to do. Fortunately, it looks like that's exactly what writer-director Matt Reeves has done with "The Batman." Starring Robert Pattinson as a noticeably younger version of Bruce Wayne than fans are used to seeing on-screen, the film pits DC's Caped Crusader against a sinister and formidable antagonist in Paul Dano's Edward Nashton AKA The Riddler, a serial killer who chooses in the movie to embark on a bloody and violent crusade that wreaks havoc in Gotham City.
After years of waiting, fans are finally starting to see "The Batman," and it looks like they're even happier with Reeves and Pattinson's versions of Gotham and its determined protector than anyone could have seen coming.
The Batman is earning rave reviews from both fans and critics
The internet has been flooded in recent weeks with both professional reviews and fan reactions to "The Batman," and to say that the film has been received well up to this point would be a massive understatement. The movie, which was directed and co-written by "War for the Planet of the Apes" filmmaker Matt Reeves, has so far received largely positive reviews. On Rotten Tomatoes, it currently holds an impressive 84% Tomatometer score, which is based on over 200 reviews from critics, many of whom have praised Reeves for bringing the Caped Crusader to life in a unique and fresh way.
The film's Tomatometer score is higher than those held by "Zack Snyder's Justice League," 2017's "Justice League," and 2016's "Batman v. Superman: Dawn of Justice" (via Rotten Tomatoes), which are three recent films that also heavily featured a live-action version of the Dark Knight. In other words, it looks like Warner Bros. and Matt Reeves' decision to invest in yet another new Batman-centric franchise has paid off for both parties.
Considering just how many live-action Batman movies Warner Bros. has produced up to this point, the fact that "The Batman" has been received so well is a testament to the strength of both Reeves' vision for the film and Robert Pattinson's layered performance as the movie's titular figure. However, what's even more impressive than the critical reaction to the superhero film, is the reception that "The Batman" is receiving so far from both die-hard comic book fans and casual moviegoers alike.
The Batman has surpassed The Dark Knight's audience score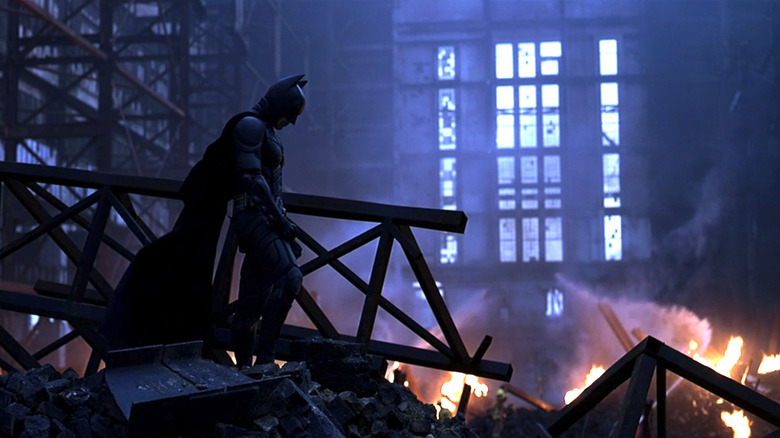 Warner Bros. Pictures/DC Entertainment
Prior to the release of "The Batman," 2008's "The Dark Knight" and 2005's "Batman Begins" had the highest audience scores on Rotten Tomatoes of all of the live-action Batman movies. In fact, both "The Dark Knight" and "Batman Begins" hold high 94% audience scores. However, 14 years after "The Dark Knight" hit theaters, "The Batman" appears to have become viewers' new favorite live-action Caped Crusader movie.
Indeed, as of this writing, "The Batman" currently holds a staggeringly high 96% audience score on Rotten Tomatoes. That's currently based on over 250 verified user ratings, though, that number will likely only continue to grow in the months and weeks after the theatrical release of "The Batman." With that in mind, the 94% audience scores for both "Batman Begins" and "The Dark Knight" are, notably, based on higher numbers of user reviews. To date, the two Christopher Nolan-directed superhero flicks have each received over 250,000 ratings from verified Rotten Tomatoes users.
Additionally, while "The Batman" has topped the audience score held by its 2008 predecessor, the Robert Pattinson-led film hasn't quite impressed as many critics as "The Dark Knight" did. Currently, "The Batman" holds an 85% Tomatometer score, which is undeniably strong but still a bit below the 94% score that "The Dark Knight" boasts.
Regardless, these scores make it clear that "The Batman" has already made a considerable impact among comic book readers, many of whom seem to be quite fond of the superhero crime thriller. As a matter of fact, despite only just becoming available to most moviegoers, the film is already inspiring plenty of conversations online, with many fans currently speculating about which of the Caped Crusader's comic book adventures could be adapted in any future sequels to "The Batman."