Lucy And Desi Review: A Hollywood Love Story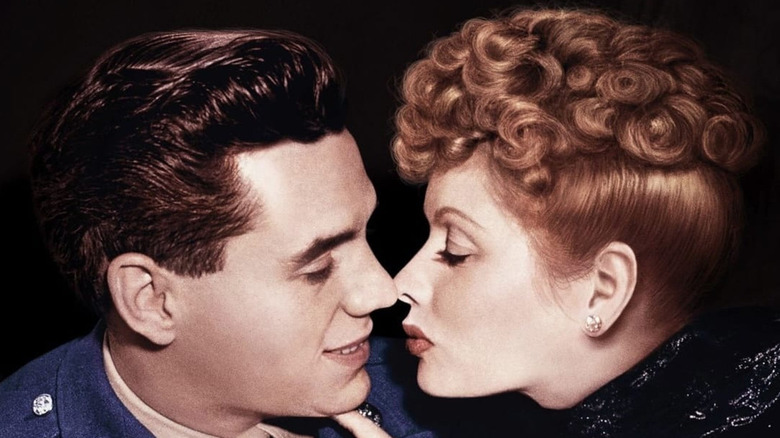 Prime Video
It's been more than three decades since they left us, but our collective cultural fascination with Lucille Ball and Desi Arnaz seems to only grow stronger with time. There are a few reasons for this, beginning with the enduring comedic power of their career-defining sitcom, "I Love Lucy." But "Lucy" and its ability to draw seemingly endless laughter from generations of viewers is only the start of our fascination with the couple, a bridge connecting to many other compelling aspects of their lives.
Individually, their careers are both stories of determination and persistence, from Ball's rise through B movies to Arnaz's journey from penniless immigrant to nightclub sensation. Collectively, their early marriage has the makings of a Hollywood fairytale, while their professional collaboration remade television and Hollywood in ways many "I Love Lucy" viewers have only just begun to understand. And of course, those careers went on well beyond the success of "I Love Lucy," and even beyond the success of their marriage.
In other words, the story of Ball and Arnaz is complicated, but the trick to their enduring appeal is that, at least publicly, they somehow always managed to make it look easy. Amy Poehler's emotional new documentary, titled simply "Lucy and Desi," is a front row seat to how that sense of public ease came to be, what it cost Ball and Arnaz behind the scenes, and why they remain so fascinating to us all, more than 60 years after "I Love Lucy" taped its final episode.
The love story behind the love story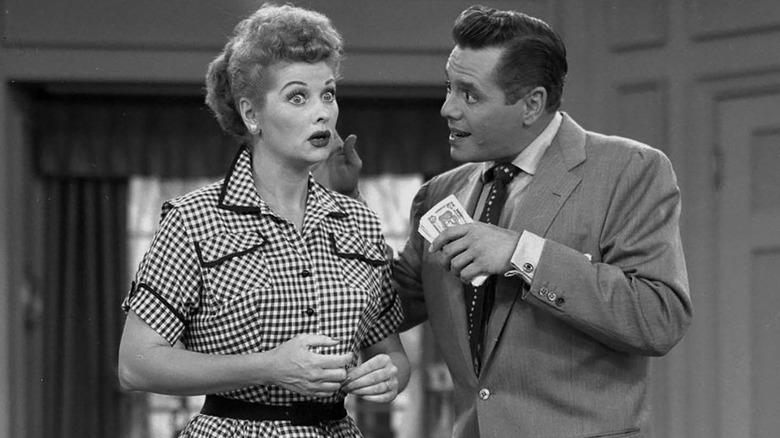 Prime Video
It's no secret to anyone at this point that, behind the scenes of their forgiving TV marriage, Lucille Ball and Desi Arnaz led an often tumultuous married life, one documented in other recent film efforts like the fictionalized "Being the Ricardos." It's also no secret that "I Love Lucy" as a concept eventually formed as a way to keep their marriage intact, allowing Ball and Arnaz to work side by side every day rather than catch stray moments together between separate projects. Poeher's documentary focuses on this dynamic, of course, but her camera is often more interested in what came before and after those moments than the show itself.
Structurally, the documentary takes a rather predictable form, using rare home movies and family audio recordings of Ball and Arnaz to tell their story, in between interviews with their children, their collaborators, and other notable friends and fellow luminaries like Carol Burnett and Bette Midler. You've seen this style of Hollywood documentary dozens of times, so of course the trick is in where the focus goes, what the director chooses to spend precious runtime on.
Here too, Poehler often takes a predictable route, weaving Ball and Arnaz's individual routes to stardom together through archival photos and footage, contextualizing their meeting and eventual marriage through their respective places in show business at the time, and of course connecting all of that to the eventual "I Love Lucy" phenomenon. But "predictable" does not mean "bad," particularly when these threads are woven together with the confidence Poehler brings as both a director and a lifelong celebrant of Ball and Arnaz's collective legacy. There's an intense curiosity in the way she wields all the assets afforded her by the documentary, a sense of love but also a hint of Ball's own determination to work her way to the center of the maze. It's that determination, and the spirited pace of the film, that makes even the well-worn aspects of this story very watchable. Then, Poehler has the thoughtfulness to go a little deeper.
Beyond 'I Love Lucy'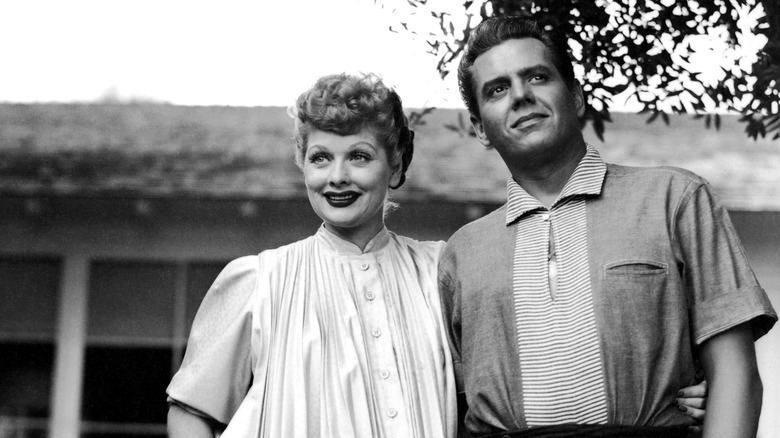 Prime Video
As a pleasant, somewhat by-the-numbers retelling of Ball and Arnaz's story, "Lucy and Desi" works just fine for much of its runtime. What sets it apart, and where Poehler really cashes in all the goodwill she's built up for much of the documentary, is the way in which it digs just a little deeper into the triumphs and tragedies of one of Hollywood's most famous marriages, and the ways in which it endured even beyond their divorce.
With an eye toward exploring what drove Ball and Arnaz not just separately, but apart, Poehler digs into Arnaz's work as a producer and executive at Desliu beyond the realm of "I Love Lucy," as well as Ball's continued desire to explore the sitcom space beyond the role for which she became most famous. She explores their lives as parents, as romantic partners beyond each other, and as showbusiness people whose careers and public images grew far beyond their ability to control them. She examines the weight the demands of their success placed on them, how it lingered even after their heyday as the It Couple, and how it affected their relationship later in life. She even manages to go far enough to examine what their final moments together were like as Arnaz's death approached in 1986, lending deeper context to a lifetime shared making things, even if what they made wasn't always a masterpiece.
It's these moments, and Poehler's deft handling of them, that makes "Desi and Lucy" a truly worthwhile experience as both a portrait of two icons and a portrait of one the most-watched and perhaps most misunderstood love stories of the 20th century. It's the kind of film both longtime fans and newcomers to the Ball and Arnaz story can rally behind, and a wonderful way to spend a couple of hours with Hollywood history.
"Lucy and Desi" arrives March 4 on Prime Video.