Zelenskyy's Sitcom Is Gaining Momentum In Other Countries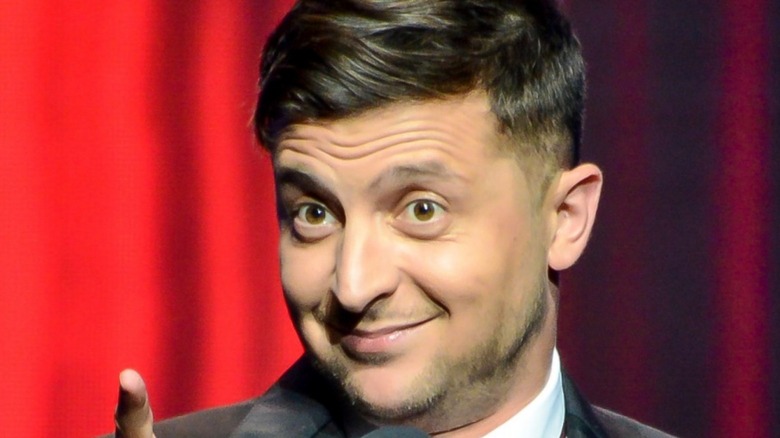 Review News/Shutterstock
All eyes have been on Ukraine in recent days following Russia's invasion of the country and the violence that has ensued across the nation. The invasion has resulted in deadly attacks, hundreds of thousands of refugees fleeing their homes, and an influx of global sanctions on Russia in an effort to halt the violence (via NBC News). The world has found a hero in Ukrainian President Volodymyr Zelenskyy, who was elected to office in 2019 following Ukraine's revolution in 2014 (via The Economist). Zelenskyy has found worldwide support as he defends his country against the attack, rather than fleeing and ensuring his personal safety. He's also been encouraging citizens to stand their ground and fight for their home against the invasion led by Russian President Vladimir Putin (via Washington Post). 
Zelenskyy has always been an opponent of corruption, even before his recent career in national politics. Prior to becoming president, Zelenskyy worked in the entertainment industry as a comedian and actor. He has over a dozen acting and producing credits on his IMDb page, with his most popular being his satirical comedy series "Servant of the People," which premiered in 2015 on Ukraine's 1+1 network.  
"Servant of the People" may not have been well-known outside of Ukraine prior to the 2022 conflict. But since Zelenskyy has garnered the attention of the world, it has reignited a larger interest in the politician's early acting career. 
Zelenskyy's political satire gets renewed interest outside of Ukraine
Volodymyr Zelenskyy created, produced, and starred in the dramedy series "Servant of the People" that ran for three seasons in Ukraine (via IMDb). He portrayed Vasyl Petrovych Holoborodko, a history teacher who, in an unlikely turn of events, becomes president of Ukraine. This was prior to his own presidential run, which was influenced by the series. According to Deutsche Welle, the Servant of the People party was officially developed in 2018. Subsequently, the series fueled Zelenskyy's social media-heavy campaign in 2019 and his ability to win over 73% of Ukrainian voters (via Tony Solovjov/Medium). 
Although the show ended its run once Zelenskyy moved on to really leading Ukraine, the ongoing war with Russia has people revisiting the series. Deadline reports that there's a global interest in the show, with stations in several countries looking to license it from Swedish TV group Eccho Rights. Channel 4 in the UK has purchased the series and its spinoff film, and plans to begin airing episodes on Sunday, March 6. Additionally, MBC in the Middle East, ANT 1 in Greece, and PRO TV in Romania have all purchased the series from Eccho. 
There has also be significant interest in the show on social media, with people from around the world sharing eerily prescient clips and asking where they can watch the series. One Twitter user @michaeldweiss wrote, "Hey @netflix, you should bring back "Servant of the People." Many Americans are just now learning who Volodymyr Zelensky [sic] is. And it's a genuinely mordant and brilliant series." Another user @abbythetweet said, "Wherever you live, watch it. I randomly found it over a year ago and then life imitated art."
Zelenskyy created a show that ended up paralleling his unconventional political career
"Servant of the People" is filled with outrageous comedic scenes, many rooted in reality. One example that is going viral, according to Daily Mail, is when Holoborodko receives an invitation from German Chancellor Angela Merkel for Ukraine to join the European Union on the show. However, she quickly realizes she called the wrong number, meaning the message for Montenegro. The scene completely echoes Ukraine's longtime ambitions to break away from its former Soviet Union ties (via NPR). 
"Servant of the People" is the sort of comedic relief people need in times of anguish. But this series just so happens to star the real-life wartime leader who's on the frontlines. It's amusing to see Volodymyr Zelenskyy in a comedic and light-hearted way, which is a stark contrast to his brave and somber attitude on news networks today (via YouTube). Also, "Servant of the People" showcases his ability to communicate his points of view in ways that are not only engaging but often humorous to others. 
It's also amazing to see how one TV show was impactful enough to help a man like Zelenskyy rise to real-life power in his country. Although the show was filled with outrageous humor, his character's distaste for corrupt politics and greed seem to be true to his morals in real life. The ethos of the show has never been more relevant, so it's not shocking that it's a popular revisit for TV viewers in times of struggle.