The Criminal Minds Character You Likely Forgot Tricia Helfer Played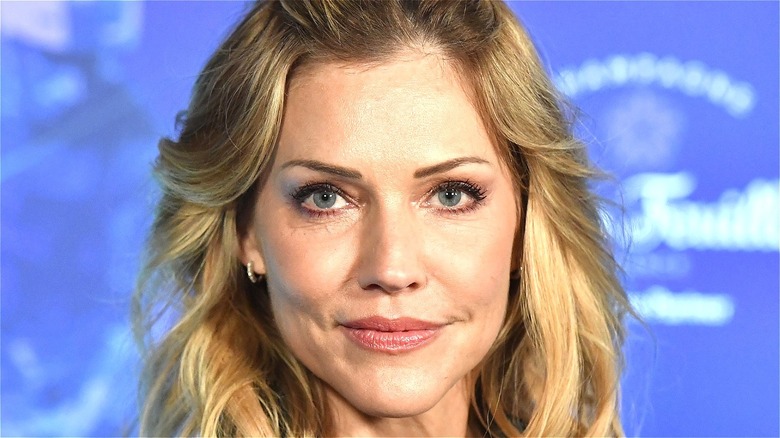 Frazer Harrison/Getty
For most TV viewers, Tricia Helfer is probably best known for her seductive, layered performance as Number Six in "Battlestar Galactica." Playing various versions of the Cylon model, Helfer brought an important and substantial presence to the sci-fi series. However, Helfer has also played a number of interesting roles outside of her work on "Battlestar Galactica." The actor gave a particularly memorable performance, for instance, as Dracula in the SyFy original series, "Van Helsing," and made an undeniable impact in Netflix's "Lucifer" with her recurring turn as Charlotte Richards, the goddess of all creation.
What not even Helfer's most dedicated fans may remember, though, is that the actor also guest-starred in two back-to-back episodes of the CBS procedural crime series, "Criminal Minds." Appearing in one of the show's two-part season finales, Helfer gave a cold and calculated performance as one of the many uncaring "unsubs" that "Criminal Minds" brought to life over the course of its 15-season run.
While Helfer didn't show up in "Criminal Minds" quite as many times as she did on several other TV series, she still made a lasting impression with her limited number of appearances on it. With that in mind, here's the "Criminal Minds" character that you probably forgot the "Battlestar Galactica" actor played.
Tricia Helfer played a cold-hearted assassin in Criminal Minds
CBS
Tricia Helfer appears in the final two episodes of "Criminal Minds" Season 7 (via IMDb). The episodes, titled "Hit" and "Run," follow members of the BAU as they are forced to try to take down a group of unpredictable and sadistic bank robbers. Helfer plays the de facto leader of the group, a former assassin named Izzy Rogers, who takes extreme pleasure in causing others pain and wreaking as much havoc as possible. Like many of the show's unsubs, she proves to be a uniquely formidable foe for the BAU too.
Not only does Izzy manage to cause some serious destruction during her time on the show, but she also comes dangerously close to killing two central "Criminal Minds" heroes, as well as their young son. The character's dangerous skills only become increasingly clear over the course of her two "Criminal Minds" episodes, which culminate with a tense stand-off between her and JJ (A.J. Cook). That confrontation cements Izzy as a surprisingly capable, deadly, and cold-hearted villain, and Helfer's charismatic performance as the character only makes her that much more terrifying to watch.
In other words, while Izzy Rogers may not be as substantial of a character as some of Helfer's other notable TV roles, she's still one that deserves to be remembered well by "Criminal Minds" fans.