Legends Of Tomorrow EP Talks Introducing A Muslim-American Superhero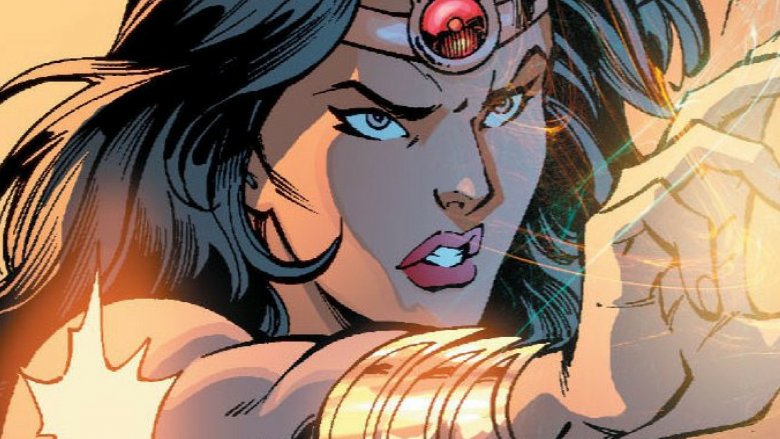 The Legends of Tomorrow are set to get a new member in season three in Zari Adrianna Tomaz, a Muslim-American hero from the year 2042 who will be played by American Odyssey's Tala Ashe. The character, described as a "grey-hat hacktivist" who has secret, latent powers derived from an ancient, mythical source, will bring a new perspective to the Waverider, according to executive producer Marc Guggenheim, who discussed the character at the Television Critics Association's summer press tour. (via Entertainment Weekly)
While Tomaz is inspired by the DC Comics character Isis, she won't bear that name on the series, with Guggenheim saying he didn't want to draw connections between the character and the terrorist group. Guggeinheim said that the show won't get too political, but that it was hard to deny that Tomaz's introduction wasn't at least in part due to the current social climate. "It's something we've been looking to address," he said. "We all gravitated towards in the writers' room was the character being Muslim. That was a very important to us not to make a political statement or make it a thing... [because] someone's race, religion, or sexual orientation is not the only aspect of their character." 
It was important to the show's producers that the new character be distinctly different than the past and current residents of the Waverider. "Whenever we bring someone new on the ship, there's no duplications," said EP Phil Klemmer. "We want somebody to bring a new point of view. Everybody has to have a distinct voice or you lose yourself in the scene. For us, we want to change the dynamic on the ship because it's a family story. It makes it really interesting to invite somebody in who has a totally different perspective."
Part of Tomaz's different perspective will come from her being from the future. Klemmer said that the Legends have gotten a little secure in the idea that they are good at their jobs and are making a better world, something which Tomaz will disagree with. "To have Zari come in and say, 'All the history you're fixing didn't amount to anything for me,' [it] forces the Legends to push themselves a bit more," he teased.
Forcing the Legends to reevaluate themselves won't be the only conflict that Tomaz brings. Ashe teased that Tomaz will bring some "philosophical challenge[s]" to the Legends as she points out "anachronisms" in history. "She challenges the Legends... to improve history and not just fix history," she teased. "So there will be some tension there. She's also very guarded because of what she has to do in her world, so she's reticent to go into the fold of the Legends at first."
Still, though, the Legends and Tomaz will eventually come together, as they need to to fight against Rip Hunter's (Arthur Darvill) newly formed Time Bureau, which has nearly made them obsolete. "It's these guys trying to find their purpose," Klemmer teased. "It's a much more personal story about them realizing that they need each other. There's a real love and to me, the heartbreaking, bittersweet heart of the story, for most of you guys, there's nowhere else you fit in this world. You're the only family you have." The family will also have to come together to face off against a number of villains, including The Flash's Gorilla Grodd and a new version of Neal McDonough's Damien Darkh. 
Legends of Tomorrow returns for season three on Oct. 10 on The CW. Brandon Routh, Victor Garber, Caity Lotz, Dominic Purcell, Franz Drameh, Nick Zano, Amy Pemberton, Matt Letscher, and Maisie Richardson-Sellers also star in the show, which comes from Greg Berlanti. While we wait for the third season to premiere, see why Legends is a must-watch series.