Leaked Game Of Thrones Promo Teases Epic Reunion Scene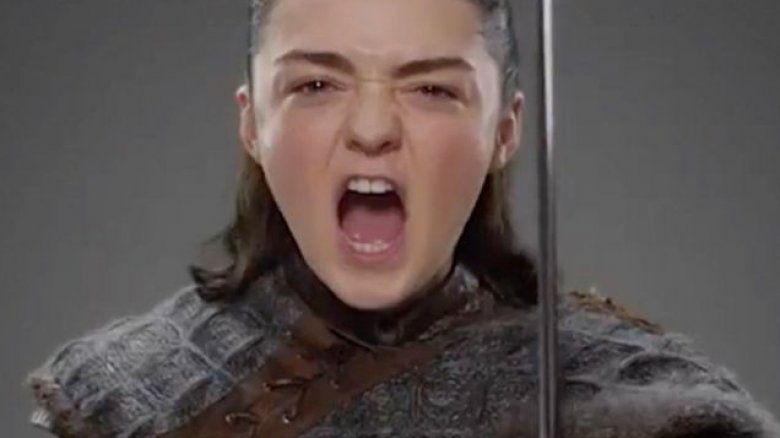 HBO
Warning: This post contains spoilers for Game of Thrones season 7. 
Earlier this week, premium network HBO fell victim to a massive cyber attack, hit with a security breach that reportedly resulted in a script for an upcoming Game of Thrones episode leaking on the internet. While no actual full-length episode footage has made its way online at the time of writing, a promo has—and it features a reunion of epic proportions. 
British broadcaster Sky Atlantic first ran the promotional clip, which is said to be a scene from season 7, episode 4, "The Spoils of War." It later popped up on Twitter. 
The footage shows Arya Stark (Maisie Williams) back in Winterfell, a position in which viewers were expecting her to be given her previous decision to abandon her quest to King's Landing to kill Cersei Lannister (Lena Headey) and return home. We even saw Arya and the castle of Winterfell in the trailer for "The Spoils of War." 
However, the promo takes things much further: Arya is in the courtyard of Winterfell, her razor-sharp sword Needle in her hand and a still, studied look on her face. We see her flourish Needle behind her back and then in front of her, where none other than Brienne of Tarth (Gwendoline Christie) is standing. Sansa (Sophie Turner) watches as Brienne and Arya spar, with the scrappy young Stark sister appearing to be winning. 
Thrones fans last saw Arya and Brienne together in the show's fourth season, where Brienne pledged to keep Arya safe in order to fulfill her knightly obligations to the late Catelyn Stark (Michelle Fairley). Somewhat surprisingly, Arya denied Brienne's assistance and carried on without her. Needless to say, this promo footage is quite an incredible development in terms of the characters' relationship and the overall Thrones narrative.
Arya wasn't included in any of HBO's official photos for "The Spoils of War," so it's likely that the network didn't want fans to see any part of this scene before the episode airs. 
While we wait to see Arya and Brienne battle this Sunday, check out the Game of Thrones moments that were so much better in the books.