The Transformation Of Danny Pino From Childhood To Law And Order: SVU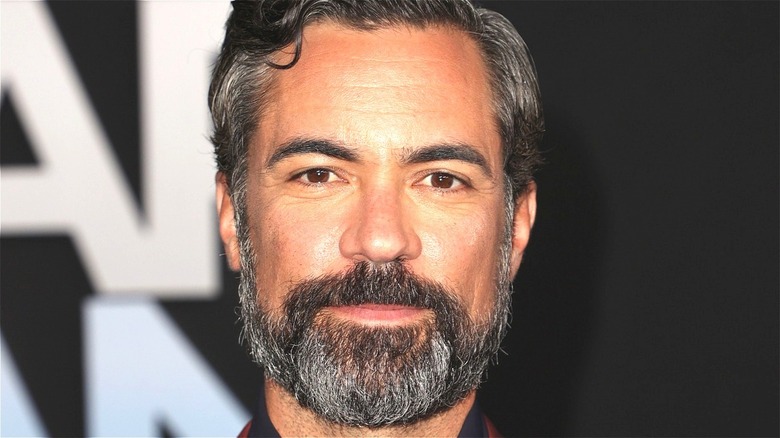 As prime time police procedurals go, few have a darker premise than "Law & Order: Special Victims Unit." The show focuses its lens on the nastier crimes out there, and the members of the 16th precinct Special Victims Unit tasked with investigating them. As an added chill factor, many episodes of the show are inspired by real crimes. 
Audiences have loved what the show has to offer, to the tune of 23 seasons and counting. This is far beyond the life cycle of your average TV show, so it's only natural that the show's main cast has gone through lots of changes over the years, with Mariska Hargitay's Olivia Benson the sole constant as seasons have gone by. Still, the "SVU" faithful remember those who have left the franchise behind. 
Take Danny Pino, who portrayed Nick Amaro from 2011 to 2015. The actor hasn't been with the show for a long time, but it's still all too easy to picture him as the iconic SVU detective. But what else has he done, and what path took him to the "Law & Order" universe in the first place? Let's take a closer look at the actor's transformation from childhood to "Law & Order: SVU."
Danny Pino's early years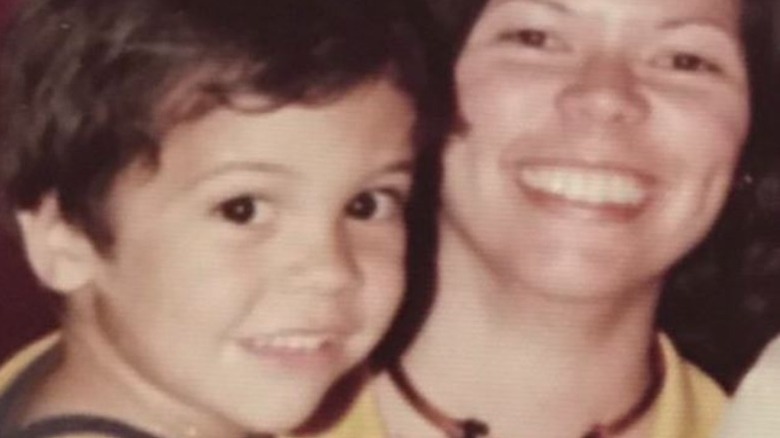 If you're wondering what Danny Pino looked like as a child, the actor has been happy to reveal it. In 2018, Pino celebrated his birthday by sharing an old image of himself and his mother, Consuelo de Armas (via Twitter). "Thanx 4 the bday love," he wrote in the tweet. "I'd like 2 share that love with Consuelo de Armas. Who at the age of 11 left Cuba to start a new life in the US. She taught my four brothers & I to pursue dreams w/ hard work, the importance of empathy, education, honesty & the power of love. Love you, Mom."
According to US Weekly, Pino was born in Miami, and studied at the Florida International University. Though he graduated in 1996, one can't help but feel that the years 2001 and 2002 might carry even more meaning to him. After all, 2001 is the year of his first screen credit — a starring role in the one-season The WB sitcom "Men, Women & Dogs." In 2002, he got married to Lilly Pino, with whom he has two sons. 
The 2000s were a busy time for Pino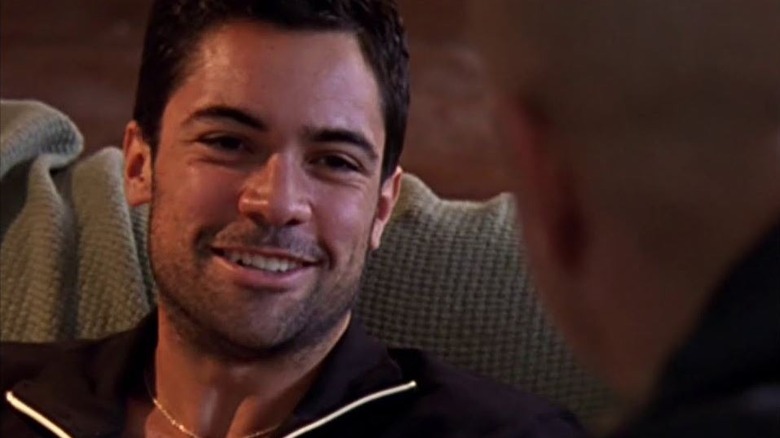 FX
After "Men, Women & Dogs" ended after its first season, Danny Pino soon gained further notoriety in the FX police drama "The Shield" as Armadillo Quintero. The character is a ruthless gang leader and drug dealer who decides to take over the Farmington underworld. A major Season 2 antagonist, Armadillo performs some truly heinous acts that soon put him on a collision course with Vic Mackey (Michael Chiklis), his team, and pretty much every other person in the Barn.  
After this eye-catching role, Pino understandably stayed pretty busy throughout the 2000s. Though he often appeared in TV movies and one-off roles, he also worked steadily in his arguably best-known pre-"NCIS" show. From 2003 to 2010, Pino portrayed main character Scotty Valens in "Cold Case." The CBS procedural focuses on a cold case expert, Detective Lilly Rush (Kathryn Morris). He's initially partnered with Chris Lassing (Justin Chambers), but Pino's Scotty Valens soon takes over the assignment, and remains on Rush's side throughout the rest of the series. 
Danny Pino joined the Law and Order universe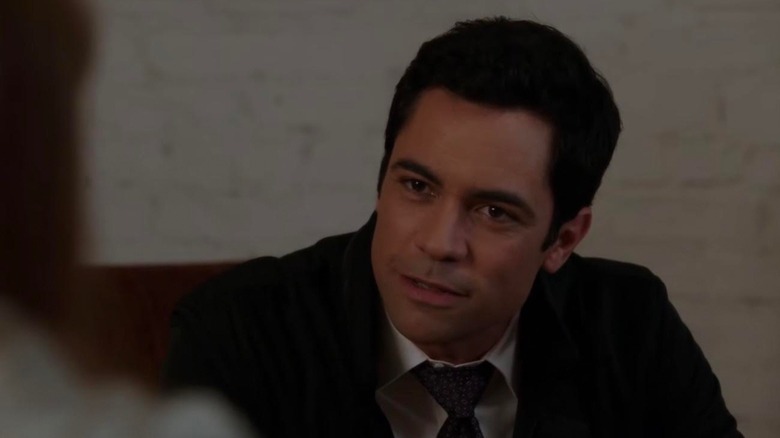 NBC
Though his career is full of well-known roles, Danny Pino's stint as Detective Nick Amaro in "Law & Order: Special Victims Unit" still has a pretty good chance of being his most famous one. Nick replaced Elliot Stabler (Christopher Meloni) as Olivia Benson's partner in 2011, and though their relationship is initially difficult, Nick turns out to be a capable and valuable member of the show's crime-fighting squad ... even though he's certainly not without his own issues. 
Compared to some of his co-stars, Pino spent a relatively short time with the show, clocking in "just" 94 episodes between 2011 and 2015. He also returned to reprise the role in 2021. 
In an interview with ET Online, Pino reminisced his temperamental character, and Nick's many highs and lows during his stint with the show. "His life was rather tumultuous, with his relationship to his career," Pino said. "His time at SVU is certainly dramatic, to say the least."
Danny Pino's life after SVU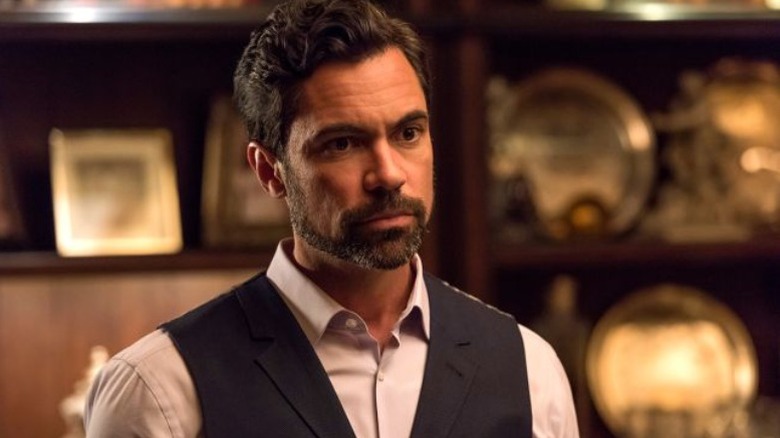 FX
Though it took until 2021 before viewers saw Danny Pino return as Nick Amaro, there were plenty of opportunities to see the actor during the intervening years. In 2016, he appeared in ABC's political drama "Scandal" as Alex Vargas, and from 2017 to 2018, he starred as FBI agent John Bishop in the international co-production cop drama "Gone." However, you're arguably most likely to remember him for his role as cartel leader Miguel Galindo in FX's "Mayans M.C.," the Kurt Sutter crime drama that spun off "Sons of Anarchy." 
In an interview with Icon, Pino noted that despite Miguel's ruthlessness and many heinous acts, he somewhat associates him with the protagonist characters he's played in the past. This is because within the show's context, Pino feels that Miguel is the closest thing there is to "the law." 
"I don't think Miguel is a villain," Pino revealed. "Listen, I know that he does a lot of reprehensible things but I think that he realises that the business he is in, is a business where violence, threats and fear take the place of the legal system. Take the place of law enforcement in order for him to make good on the contracts and agreements that he has ... I don't see him as a sociopath, I don't see him as a psychopath. I see him as someone who is very deliberate and intelligent and does what should be done to protect his business, his family and his associates."
Pino made a grand return as Nick Amaro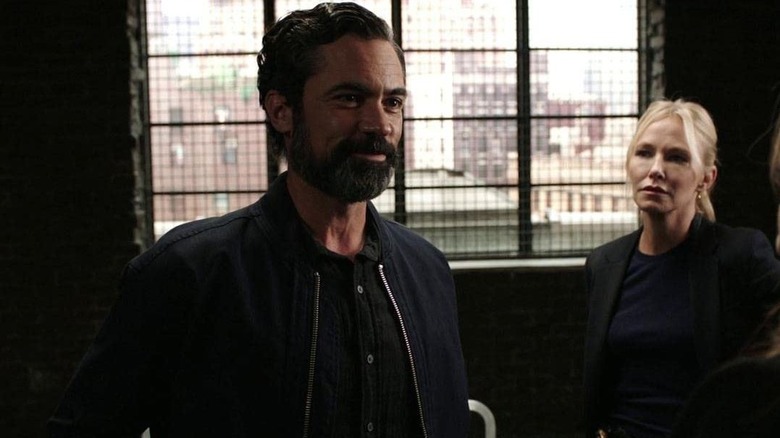 NBC
In 2021, Nick Amaro made a dramatic comeback in the aptly named 500th episode of "Law & Order: SVU." "The Five Hundredth Episode" features the welcome returns of Amaro, Melinda Warner (Tamara Tunie), and Donald Cragen (Dann Florek), all of whom temporarily return in the SVU fold to investigate a case that ties into Olivia Benson's own past. The episode also reveals what Nick has been up to since his departure from the SVU. Funnily enough, Pino — who starred in "Cold Case" — now plays a Nick who has become a magnificently bearded researcher type who's working with a company that specializes in cold-case DNA analysis.  
As he told ET Online in 2021, Pino had a hoot reprising the role, and while he's fine to leave things where they are, he wouldn't necessarily be opposed to return as Nick further down the line. "I've learned in this business never to say never," he said. "I think that the show's in fantastic shape, it's been doing incredibly well without me. So, I'm just happy to reconnect and to give the fans something back because there has been so many people reaching out to me over the years, asking if and when Amaro would come back."