The Voices Of Billy Butcher And Hughie In Diabolical May Surprise You
Contains some spoilers for "The Boys Presents: Diabolical," Episode 3, "I'm Your Pusher."
Every so often, when a live-action film or television show spins off into animated form, one concern is whether the new project is going to capture the exact vibe and energy of the original work. Occasionally, key characters you've seen on the big screen transfer over but something, like their voice, is different when they go from 3-D to 2-D. Does it cheapen the transition? Sometimes. But, in the case of Amazon's all-new addition to "The Boys" universe, "The Boys Presents: Diabolical," it may have made a better choice with one key switch to your favorite super-skewed TV show.
In the particularly memorable episode "I'm Your Pusher," a drug dealer who caters primarily to superheroes (voiced by Kieran Culkin) has his world wrecked after being introduced to none other than Billy Butcher, leader of The Boys, and his good mate Hughie. Unlike the live-action version of the character TV fans may know, this interpretation of the street-level duo looks much more like the original versions brilliantly put on the comic book page by Darick Robertson in the Garth Ennis-written comic book. Square-jawed and with nowhere near the same amount of facial hair as Karl Urban's version, Butcher is brought to life by an interesting casting choice and joined by a familiar voice that adds some humor to Hughie.
Jason Isaac and Simon Pegg breathe life into Billy and Hughie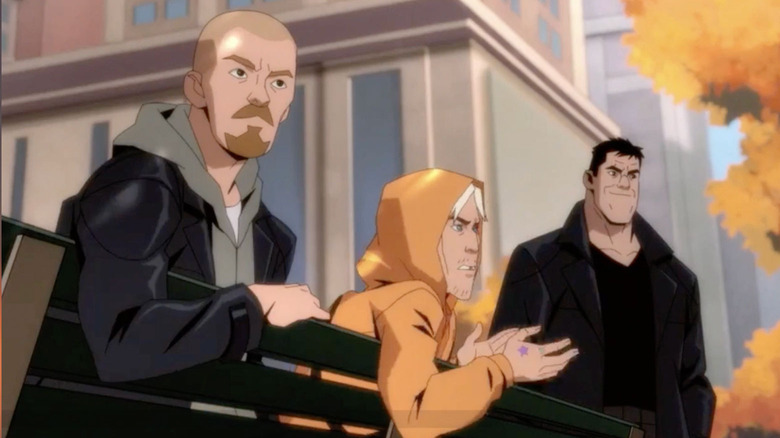 Amazon Prime Video
In what feels like the dream casting you never knew you wanted, Billy Butcher is voiced by former Death Eater and "Good Sam" star Jason Isaacs, who, in a single episode, manages to apply the perfect pitch for the OG fans of Billy Butcher who may have always heard the character in a specific way as they read Garth Ennis' comics. Meeting the four-letter curse word quota we've come to expect from this character, Butcher's rendering in "I'm Your Pusher" is great and is matched only by Simon Pegg, who gets the chance to perform the character he was always meant to be.
Since the inception of Amazon's "The Boys," Ennis deemed that Pegg was the character Hughie was modeled on in the original comics for "The Boys," which is why he was cast as Hughie's (Ryan Quaid) father in the live-action version (via Comicbook). He's not as vocal as the leader of The Boys, but it's a great double-act from a variant that works just right in this animated version. Should "Diabolical" ever come back for a second season, getting these two actors to reprise their animated roles should be on the top of the to-do list.