Bryan Cranston, Kevin Hart's Intouchables Remake Gets New Title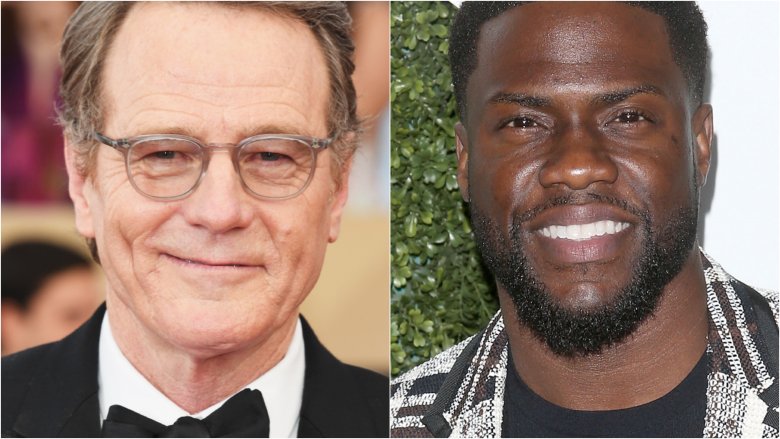 Getty Images
The American remake of the Golden Globe-nominated French film The Intouchables is getting a second title change, the Weinstein Company announces (via Entertainment Weekly). 
Previously titled Untouchable, the forthcoming flick is now called The Upside.  
In The Upside, comedian Kevin Hart stars as Dell Scott, a former convict who starts life anew when he comes the caretaker of Phillip Lacasse, a Park Avenue billionaire who becomes a quadriplegic after a tragic hang-gliding accident. Breaking Bad alum Bryan Cranston plays Lacasse, and the film documents the unlikely but heartwarming friendship that grows between the two lead characters.  
Director Neil Burger (Limitless, Divergent) spoke about the film's premise and how he believes Cranston and Hart will do the characters justice in the remake. "The film is about two people giving life a second chance and learning to connect through small acts of respect and compassion," said Burger (via EW). "We're all very proud of the movie and especially the performances of these two brilliant actors who have amazing chemistry together. The whole team behind the film is incredibly eager for audiences to experience this very funny, heartfelt story."
During production, which took place earlier this year in Philadelphia and New York, Hart took to Instagram to express his passion for the film. "I am so excited to play this character. He is a character that is in the prison of his own making. He feels that the system is not only holding him back but that it refuses to give him a fair shot. Learning to care for others and other people's needs is what ultimately changes him," Hart wrote. "I can't wait for you guys to meet Dell."
Joining Cranston and Hart are Nicole Kidman (Big Little Lies), Aja Naomi King (How to Get Away with Murder), and Genevieve Angelson (Backstrom, Good Girls Revolt). 
The Upside is slated for a theatrical release on March 9, 2018, but will be shown at the Toronto International Film Festival this September. In the meantime, take a look at the remakes you didn't know were being made right now.