Why Nat Wolff Calls Joe Vs. Carole A Painful Experience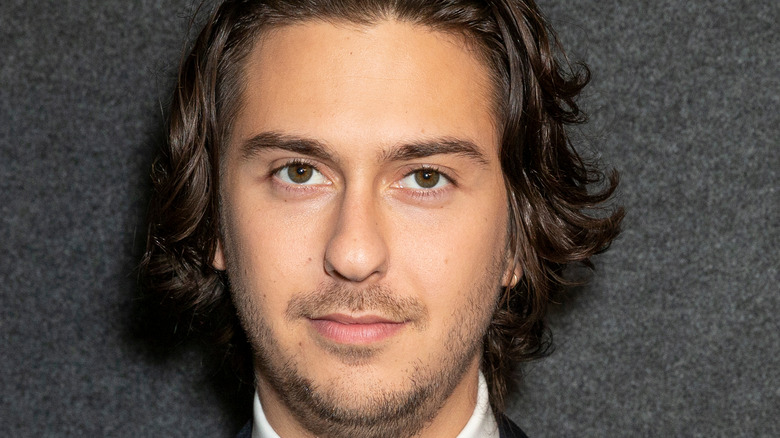 Lev Radin/Shutterstock
It's been nearly two years since "Tiger King" took the world by storm. It was the beginning of pandemic lockdowns for the United States, so all anyone could do in those first few weeks was bake banana bread and watch "Tiger King" on Netflix. People couldn't stop talking about it on social media, as each episode introduced new twists and turns and unique characters that could all support docuseries of their very own. Naturally, when something that hot strikes the zeitgeist, everyone wants to get in on the action, so it perhaps should come as no surprise when shortly after the Netflix show came out, a scripted, fictional series was announced titled "Joe vs. Carole," which would air exclusively on Peacock.
As part of the ensemble, Nat Wolff is playing Travis Maldonado, who was Joe Exotic's husband. In an interview with Backstage, Wolff revealed how he knew he wanted to play this particular character from when the original "Tiger King" came out, saying, "I sent an email to my agents a year before the audition process even happened, and I said, 'If they ever make a version of 'Tiger King,' I have to play this guy.'" As it turns out, Wolff may have gotten more than he bargained for signing up for the Peacock series.
Nat Wolff went to a 'dark place' to play Travis in Joe vs. Carole
People who watched "Tiger King" know all too well about Travis Maldonado's tragic story. He married Joe Exotic but died at the age of 23 due to a self-inflicted gunshot wound (via Men's Health). Maldonado's death hit everyone he was close to hard, so it perhaps should come as no surprise to hear that embodying a character who suffers such a fate was tough on Nat Wolff. He spoke with Backstage about getting into the proper mindset and how the role stayed with him long after filming was over, stating, "I found it to be a really painful process because what he goes through is really tough. There are a bunch of roles I've played where at the end of each shooting day, I can shake it off, watch 'Family Guy,' and feel fine. For this role, I intentionally tried to stay in the mindset the entire shoot, and then even when we wrapped, it was lingering."
However, it doesn't sound like Wolff regrets taking on the role in the slightest. He concludes the thought by saying, "Going through it was really beautiful and life-affirming. At the end of that project, I had grown as a person even more than I had grown as an actor. It tends to be that, when I grow as a person, it seeps through into the acting."
You can see how that acting came through when "Joe vs. Carole" premieres on Peacock on March 3.