The Improvised Meryl Streep Line That Changed The Devil Wears Prada Forever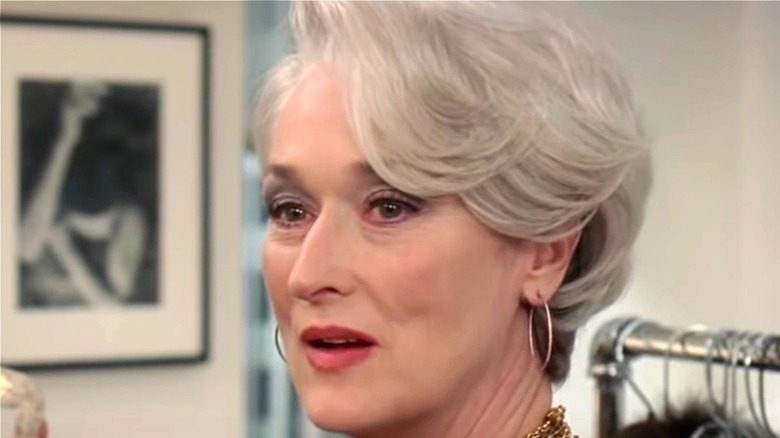 20th Century Fox
Based on the 2003 novel of the same name by Lauren Weisberger, 2006's "The Devil Wears Prada" was adapted for the screen by Aline Brosh McKenna and directed by David Frankel. The film follows recent college grad and aspiring journalist Andy Sachs (Anne Hathaway), who, looking to get a prominent gig on her resume, lands a job as the junior personal assistant to the Runway Magazine editor-in-chief, the prominent and commanding Miranda Priestly (Meryl Streep) — despite Andy's aversion to high fashion. After first fumbling through the job, Andy soon adapts by immersing herself into the world of high fashion. Emily Blunt and Stanley Tucci co-star as Miranda's first assistant and the magazine's art director, respectively.
"The Devil's Wears Prada" became a massive success and earned a whopping $326 million worldwide, far exceeding its budget of $41 million (via Variety). Further, Streep even earned herself a Best Actress Oscar nod for her now-iconic performance of Miranda Priestly (alongside an apt nomination for Best Costume Design). The film continues to play a major role in the cultural zeitgeist, in major part to its many quotable lines — Blunt told Variety, "I never had any idea that me lines would get quoted to me every single week of my life since the movie has come out."
McKenna's script is undeniably impeccable, but, as it turns out, one of the best lines of the film was improvised by Streep — read on to find out which one of Miranda's many iconic lines came from Streep herself.
Streep changed Miranda's last line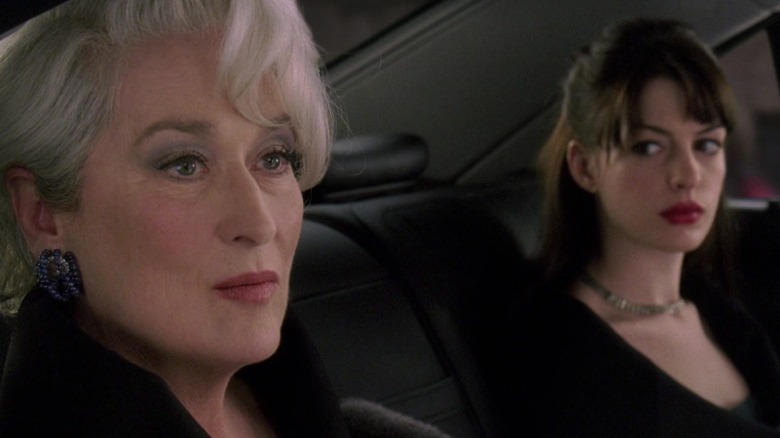 20th Century Fox
In one of the final scenes of the film, after Miranda has stunned everyone by manipulating her way into keeping her job, Miranda tells Andy that she was impressed by Andy's determination to warn her that her job was in danger (even though Miranda already knew) and that she sees "a great deal of" herself in Andy. Andy disagrees and says she doesn't know if she wants to live the way that Miranda lives. Miranda responds, "Oh don't be ridiculous, Andrea. Everybody wants this. Everybody wants to be us." It's Miranda's last line of the film and it certainly packs a punch.
However, as it turns out, it was written slightly differently in the original script — Miranda was meant to say, "Everybody wants to be me." For the 10th anniversary of the film in 2016, Variety spoke with the cast and crew to discuss all things "The Devil Wears Prada." In the piece, it's revealed that Streep is the one who suggested they change the line to "Everybody wants to be us."
It's hard to imagine the line any other way — by Miranda including Andy in her statement, she's emphasizing the fact that Andy is already deep in the world that she is trying to maintain her distance from. Andy has already started to become like Miranda — like Miranda points out to her, Andy took Emily's spot in the Paris trip despite knowing how hard Emily had worked to secure it — thus it would have made far less sense for Miranda to end the line excluding Andy from the sentiment. Luckily, Streep was there to elevate the line and finish off her iconic performance with the most impact possible.