Hugh Jackman Wasn't Supposed To Star In The Series That Launched His Career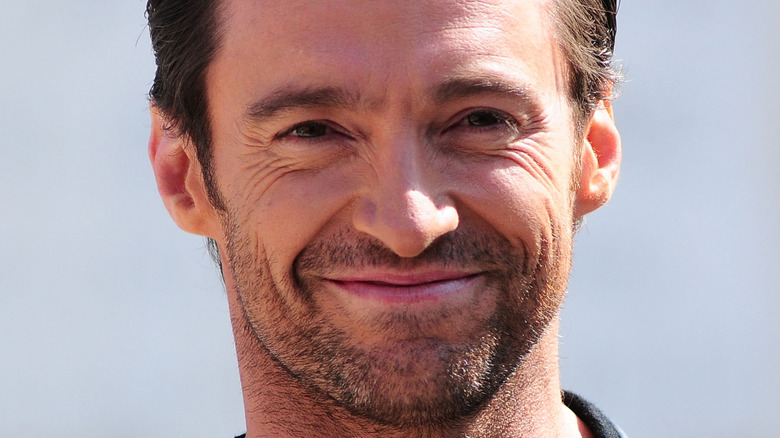 lucacavallari/Shutterstock
Hugh Jackman has been around the block for quite some time now, starring in some fan-favorite films such as "The Greatest Showman" and "Real Steel." He began his career with some small television roles with one recurring character role on a mini-series titled "Correlli" back in 1995. His big break came right after appearing in 1999's "Oklahoma!" when he landed the role of Wolverine in "X-Men." Jackman went on to play the iconic Marvel hero in many sequels and spinoffs while collecting other impressive roles along the way.
Jackman has appeared in some animated films such as "Flushed Away," "Happy Feet," and "Rise of the Guardians." He has starred in action based roles other than Wolverine including "Van Helsing" and "Real Steel." Let's not forget his more serious and dramatic roles when he starred in the mystery drama "Prisoners" and the musical adaptation "Les Misérables." Then there was, of course, one of his most iconic roles as P.T. Barnum in "The Greatest Showman."
He truly has had a remarkable career, not only starring in fan-favorite films, but some modern classics as well. However, this career could have been entirely different for the actor all based on one casting decision. Jackman almost did not star in the film franchise that gave him his start.
Jackman was not the original pick to play Wolverine
In a 2017 interview with The Hollywood Reporter, "X-Men" screenwriter David Hayter revealed some behind the scene secrets about the beloved comic film. One of which being that Hugh Jackman was not the original choice to play Wolverine. Originally, the comic book hero was going to be played by "Mission: Impossible's" Dougray Scott.
Hayter explained that a Fox executive at the time wanted Scott to play Wolverine; however, Scott was wrapping up filming on "Mission: Impossible 2." "X-Men" director Bryan Singer continually received calls from Tom Cruise telling him that they were going to need Scott longer, "Tom Cruise kept calling Bryan and saying, 'We just need him a little while longer, a little while longer.'" Eventually, Singer became suspicious and sent a costume designer to Scott for "wardrobe shots," but it was actually a ruse to get to the bottom of the situation. Upon arrival, they discovered that Scott had been injured while filming, "What we found out was Dougray had been in a motorcycle accident filming the climax of 'MI2.' He was pretty messed up. It was a real shame he couldn't do it."
So, where does Jackman come in? Although it's not specified exactly how, apparently Jackman was involved earlier in development. Once they realized Scott was out, they brought Jackman back in as Hayter explains, "And Hugh had been somebody who had been in the mix earlier and it was [executive producer] Lauren Shuler Donner who said, 'Why don't we bring him?'" Ultimately, Jackman played the role of Wolverine, but it's crazy to think he almost missed out on such a huge opportunity.