The Staggering Amount Of Money Batman's Detective Comics Debut Is Actually Worth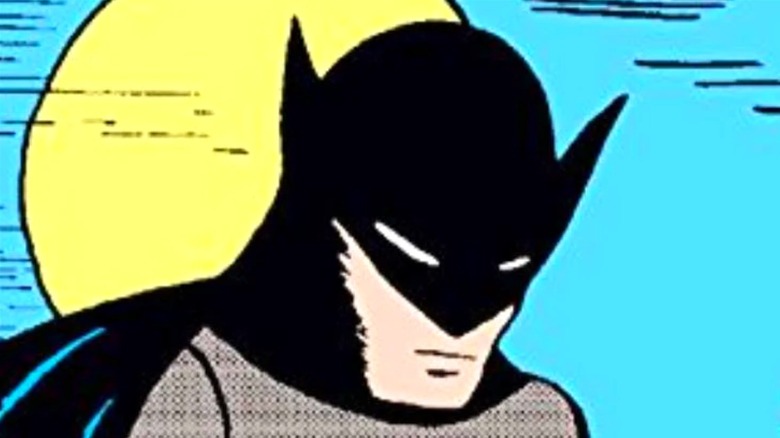 DC Comics
DC Comics' Batman character is a cultural monolith that has appeared in comic books, television shows, books, and movies of varying tones and subject matter. Created by Bob Kane and Bill Finger in 1939 (via Fast Company), Batman got his start fighting street-level crimes, but as his legend and popularity grew, the character went through several different changes. In the 1960s, Batman was played by Adam West in a television series, and the show was marked with puns, camp, and over-the-top and highly stylized fights that involved written versions of the sound effects strewn across the screen like "Blam!" and "Wham!"
Later, Batman was played by the likes of Michael Keaton, George Clooney, Val Kilmer, Christian Bale, Ben Affleck, and most recently, Robert Pattinson, while comics inspired by the Dark Knight continue to dominate. Considering that "Batman" comics have been in circulation for over 80 years, it may be truly surprising to know how much Batman's first comic really goes for.
Detective Comics No. 27 can go for anywhere from $150,000 to $3.5 million
Batman's first comic is "Detective Comics" No. 27, which was released in 1939. At the time, the comic went for a paltry 10 cents, but now even slightly worn copies of the famous comic have an immense worth, all things considered (via Dave & Adam's Card World). The Certified Guaranty Company, which is a third-party company that grades comic book value, has graded 59 copies of "Detective Comics" No. 27, and the five highest sales of the comic range from $492,938 at the low end to $1,075,000 at the high end.
However, these sales were in the early 2010s, and the value of "Detective Comics" No. 27 has only gone up further. The CGC uses a 10-point scale that grades comic books anywhere from poor to "gem mint" (via MyComicShop). Currently, the highest CGC-rated "Detective Comics" No. 27 has a rating of a Near Mint 9.4, and it is expected to go for around $3.5 million if it ever goes up for sale, and even low-quality and unrestored versions can go for around $150,000 to $200,000 (via Quality Comix). It seems, then, if fans want to snag this vaunted comic, they'll need to have as much money as Bruce Wayne himself.