The Blue Bloods Star Who Appeared In A Backstreet Boys Video
The CBS police procedural drama "Blue Bloods" may not seem like it would have a lot in common with boy bands, but the connection runs surprisingly deep. Donnie Wahlberg, who leads the series as the hot-headed Detective Danny Reagan, is a founding member of the boy band New Kids On The Block.
While the pop group and the crime series are wholly unrelated, Wahlberg does what he can to slip in references for NKOTB fans, including using song titles in conversations and referring to his character's affinity for music. His bandmate Jordan Knight even briefly appears in a Season 1 episode of "Blue Bloods."
Danny Reagan may never break out into song and dance, but the Easter eggs are there if you look closely. The unique link between boy bands of the 1990s and "Blue Bloods" doesn't end there, though. Another detective on the series starred in a Backstreet Boys music video in 1997.
Marisa Ramirez starred in As Long as You Love Me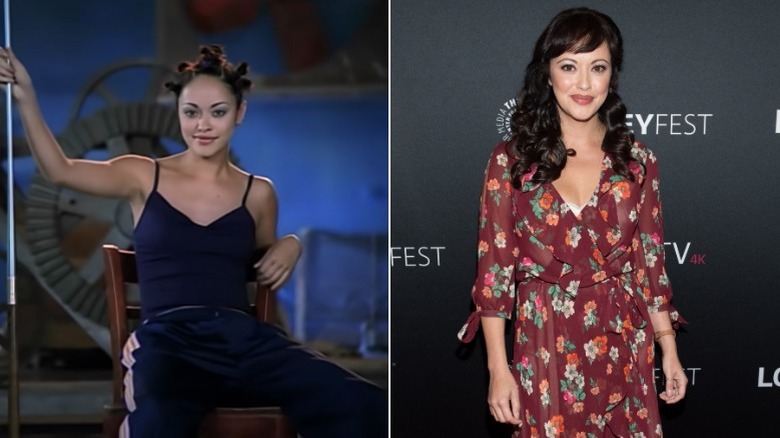 Jive Records/YouTube, Noam Galai/Getty Images
Before she was known as Detective Maria Baez on "Blue Bloods," Marisa Ramirez starred in the Backstreet Boys music video for their hit single "As Long as You Love Me." The critically-acclaimed song comes from their self-titled debut album and remains one of their most popular releases.
The music video follows AJ McLean, Howie Dorough, Nick Carter, Kevin Richardson, and Brian Littrell as they audition in front of six women, singing, dancing, and trying out various appearances. The tables then turn as the women participate in these screen tests as the boys look on. Ramirez stars as Gina, transforming from a businesswoman into a sporty model.
"Blue Bloods" fans took to the show's subreddit to point out that Donnie Wahlberg isn't the only star connected to the Backstreet Boys. "I remember when that came out... d*** I'm old lol," wrote one fan. "Love seeing her! Nice to know she has a history with Boy Bands!"
Ramirez has also starred in other music videos — including Jordan Knight's "Give It To You" in 1999.