The Better Call Saul Season 3 Scene That Went Too Far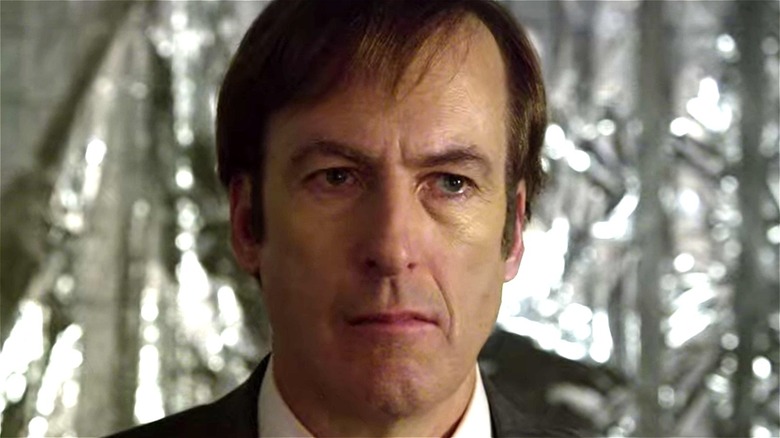 AMC
Throughout the first few seasons of "Breaking Bad" spinoff "Better Call Saul," its protagonist, portrayed by Bob Odenkirk, only seldom refers to himself as Saul Goodman. Whereas in "Breaking Bad," his character is only ever referred to as Saul, his "Better Caul Saul" debut reveals that his birth name is Jimmy McGill. His ensuing journey toward becoming the criminal lawyer known to fans of "Breaking Bad," then, can be chronicled in part by his gradual adoption of the name contained in the show's very title.
One key contributor to Jimmy's transformation into Saul Goodman is his brother, Chuck McGill (Michael McKean). Whereas Chuck is an accomplished lawyer, Jimmy is in the earliest stages of his law career at the series' outset. Rather than supporting his brother's ambitions, however, Chuck sometimes seems to view Jimmy as little more than a conman and a nuisance, oftentimes actively undermining or undercutting Jimmy's accomplishments.
In the final moments of Season 3 Chuck takes his own life. Prior to his tragic end, Jimmy has one last conversation with Chuck, which culminates in one of the most heart-wrenching moments from throughout the third season of "Better Call Saul," arguably taking their relationship with one another a tad too far.
If you or anyone you know is having suicidal thoughts, please call the National Suicide Prevention Lifeline​ at​ 1-800-273-TALK (8255)​.
Chuck claims he doesn't care about Jimmy
Near the end of "Better Call Saul" Season 3 Episode 10, Jimmy visits Chuck with the intent of reconciling their relationship. Chuck, however, is entirely unreceptive, and ends up telling Jimmy, "you've never mattered all that much to me." These words, which amount to the last exchange between Jimmy and his brother, continue to reverberate in Jimmy's psyche as the series progresses, as evidenced by Jimmy's decision to hide them from Kim the following season.
In a Reddit thread about the moment, user 127crazie argued that Chuck is "trying to consciously or subconsciously alleviate other people of his burden" in that moment, while describing his words, nevertheless, as cruel. Commenter CrimsonPig recounted how the exchange "hit me like a punch in the gut," and characterized it as "Chuck's last desperate attempt to retain his sense of superiority over Jimmy." Meanwhile, in another, similar Reddit thread, user myloveLily38 recounted how the scene made them want "to give Jimmy a big hug and punch Chuck in the face."
Whether Chuck was attempting to sever ties with Jimmy long-term or simply hurt Jimmy in that moment, most viewers seem to agree that Chuck's final words to his brother were needlessly cruel and difficult to watch. However, it's the fact that "Better Call Saul" pushes a bit too far in this moment, ending Jimmy and Chuck's relationship in irreconcilable tragedy, that continues to fuel Jimmy's transformation into Saul as the series continues into its sixth season.