Why We Love To Hate Meryl Streep And Jonah Hill In Don't Look Up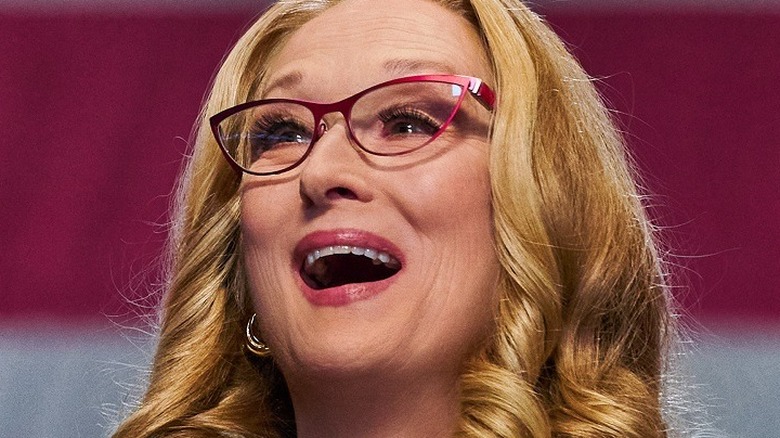 Niko Tavernese/Netflix
This content was paid for by Netflix and created by Looper.
Some say that "elections have consequences," and that is certainly the case in "Don't Look Up," Adam McKay's stunning new political satire. (Spoilers to follow.) If not for the decisions of a certain president and her sycophant son turned chief of staff, Earth quite possibly could be saved from total destruction by the planet-killing comet that's barreling towards it. However, even after being surrounded by people with scientific facts — some of whom literally scream at the top of their lungs to get her to listen — it's the POTUS who has all the power. And she only wants to use it for her own benefit.
Portraying the unabashedly self-absorbed President Janie Orlean and her son, Jason, are Meryl Streep and Jonah Hill, who each have a history of bringing screen characters with a sinister streak to life with great success. Throughout the events of "Don't Look Up," these two actors represent the absurdity of the conundrums our heroes face, and they bring some new layers of both comedy and contemptibility to their characters. Let's take a closer look at why we love to hate Meryl Streep and Jonah Hill in "Don't Look Up."
Meryl Streep's moves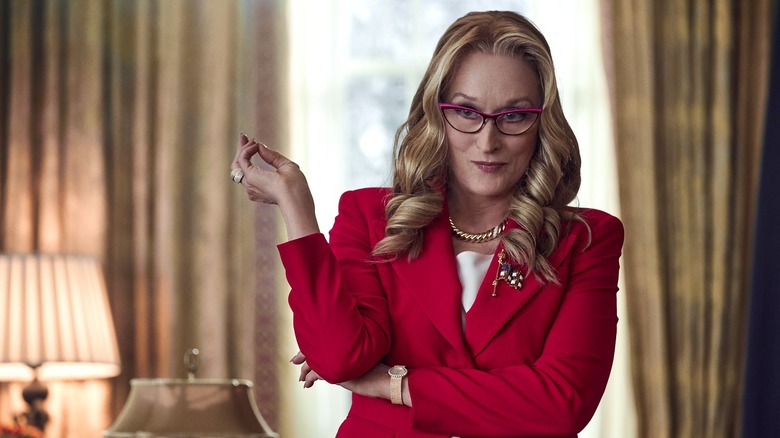 Niko Tavernese/Netflix
There's no doubt that Meryl Streep is one of the most legendary and decorated actresses of all time and for good reason: She simply does not miss. And she continues that professional tradition of total screen dominance with her portrayal of Janie Orlean, the president of the United States, who's much more concerned with midterm poll numbers and keeping her constituency in a total tizzy than fretting over the certain doom of all life on Earth.
Audiences have certainly seen Streep take on terrifying characters before. Consider her iconic portrayal of the kill-you-with-a-look magazine mogul Miranda Priestly in "The Devil Wears Prada," for example, or her bone-chilling turn as the relentless Mary Louise Wright in "Big Little Lies." Still, her performance in "Don't Look Up" offers something new from the actress who's given fans so many treasured performances in the past.
As Janie, Streep is steely-eyed and severe, but she's also quite disconnected at the same time. When confronted with a crisis, she turns completely inward, convinced that her own ego and self-interested instincts are strong enough to overcome anything. With a single glance, stray remark, or a shift of attention, Streep manages to say so much between the lines of her dialogue. Even more menacing are the moments when she brings the character an air of satisfaction, as audiences quickly come to understand that a smile from her will undoubtedly bring a frown to millions of others.
Jonah Hill's jokes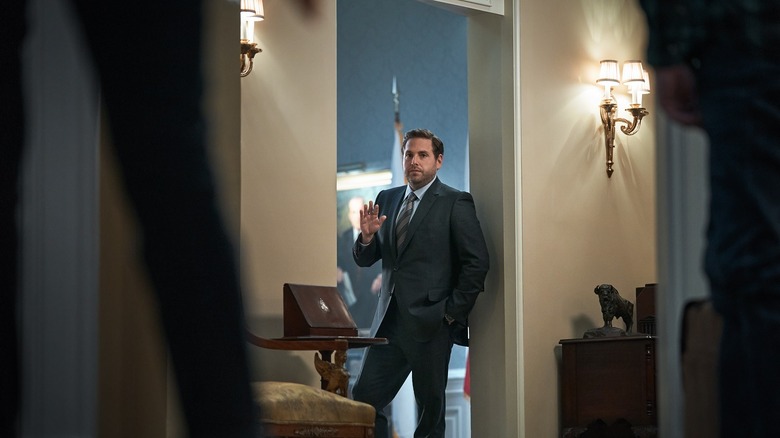 Niko Tavernese/Netflix
Meanwhile, Jonah Hill is also a celebrated actor — with two Oscar nominations under his belt thus far — who's successfully balanced a career filled with comedy, drama, and fascinating sci-fi fare. Alongside Streep, Hill brings some delightful spite to the film with his role as Jason Orlean, a highly unqualified and undeserving man who's ridden his mother's fiery coattails right into the second-most powerful job in the White House.
Hill initially became known, of course, for his breakthrough work in stitch-inducing pics like "Superbad" and "Forgetting Sarah Marshall," thanks to his ability to truly commit to the physical and cerebral comedy in every scene. And while he's continued to dominate the funny film world, he's shown off his immense range in screen stories like "Moneyball" and "Maniac" too. Hill has also proven to be quite good at playing scoundrels, as evidenced by his hysterically pretentious portrayal of himself in "This Is the End" and the corrupt huckster Donnie Azoff in "The Wolf of Wall Street," the latter of which earned him one of his Academy nods.
So audiences are in for a real treat when it comes to his portrayal of the sniveling Jason in "Don't Look Up." As Jason, Hill is self-righteous and dismissive and seems to regard his post as one of both gatekeeping for the president and professionally heckling anyone who dares to doubt her. Here, his quippy improv skills are on hilarious display as his character often loses the plot just to make fun of others. Together with Streep, the two are total screen-stealers as their characters oversee the entire federal apparatus' response — or lack thereof — to an existential crisis without a care in the world.
A gruesome twosome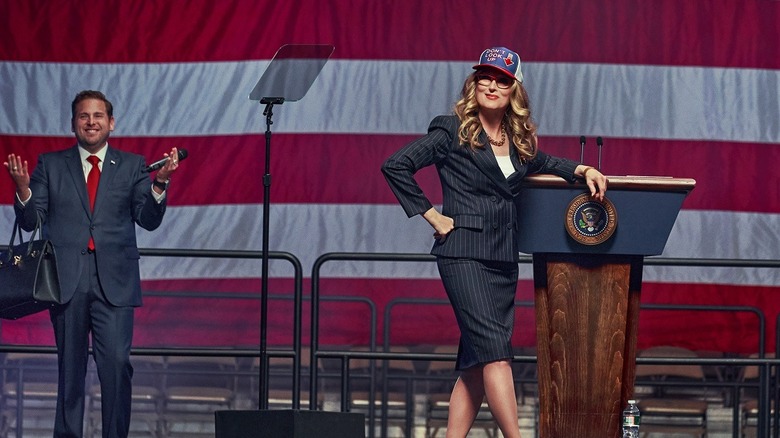 Niko Tavernese/Netflix
From the very first moment we meet the Orleans, it's completely clear that these are not serious people, and they have no business being within 100 miles of the Oval Office, let alone running the place. 
First, when our heroic astronomers show up for a critical meeting with the president, Jason lets us know how much he doesn't care by leaving them there for hours and totally ignoring them before blowing them off. Then, when our heroes are finally granted an official visit with the president, Janie and Jason tag-team the trio with a volley of doubts and cynicism that leaves everyone's head-spinning. Both Streep and Hill commit to the preposterousness of their characters' reaction to the news that the world is ending, and it's their utter glibness and self-satisfaction that gives these two an eerie and dystopian vibe.
As the story progresses, their egocentrism continues to manifest itself in different ways. For Janie, destroying the comet becomes a convenient PR stunt to get her through some bad press, and for Jason, it's a way to keep his mom in office so he can continue having unfettered power and make fun of important people. Together, they are an unabashed train wreck of poor leadership, and Streep and Hill don't miss a beat in cleverly souring up the energy in whatever room they can.
By the end of the film, as the comet invariably makes its way to Earth, the two actors have done such a marvelous job rendering their characters almost inhuman with their disdain for mankind that audiences can only hope to see them reap what they sow, even as everyone suffers the consequences alongside them. Put simply, in "Don't Look Up," Meryl Streep and Jonah Hill both bring their excellence to bear with this tempestuous twosome, making audiences truly love to hate them.