Donald Trump Almost Played The President In Sharknado 3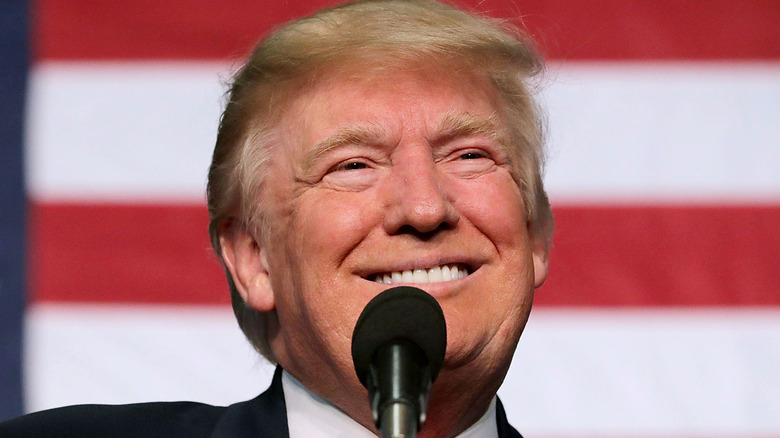 Getty Images
Sharknado 5: Global Swarming is borrowing its tagline, "Make America Bait Again," from the campaign of Donald Trump, but as it turns out, he almost had a much bigger impact on the franchise. According to The Hollywood Reporter, Trump was once set to have a part in Sharknado 3: Oh Hell No!– as the president of the United States.
Trump was attached the project way back in 2015. Producers had first pursued former vice presidential candidate Sarah Palin to play the president, but negotiations had fallen through. That's where the series' star, Ian Ziering, came up with the idea to approach Trump, who he had met while filming The Celebrity Apprentice.
Trump apparently agreed to the project almost immediately, according to David Latt, the founder of The Asylum, the brand assembly line behind the Sharknado films. "The Donald said yes," Latt said. "He was thrilled to be asked." The "serious" talks apparently got so far that a contract was written and sent to Trump's attorney Michael D. Cohen. (The same Cohen who is now under investigation in connection to the Russia inquiry.)
However, it was Trump's real-life political ambitions that ended up stalling his Sharknado dreams. "Donald's thinking about making a legitimate run at the presidency, so we'll get back to you," Latt remembers Cohen saying. "This might not be the best time." Feeling that Trump would back out, producers then offered the role to Mark Cuban.
When Trump's camp found out, though, Latt says they were upset. "We immediately heard from Trump's lawyer," Latt said. "He basically said, 'How dare you? Donald wanted to do this. We're going to sue you! We're going to shut the entire show down!'... I took it personally, but I get it now. That was my moment of doing business with Donald Trump. And that's Sharknado." (Cohen, for his part, says that he remembers talking to Ziering about casting Trump, but not his angry response to Cuban's casting.)
The reported drama over Trump's casting isn't the only trouble that the Sharknado franchise has run into over the years. Nowadays, the Sharknado franchise attracts a bevy of C- and D-list guest stars each outing. (The upcoming Global Swarming will see Fabio as the pope, Charo as the Queen of England, and Chris Kattan as the English prime minister, alongside many, many more.) However, when it came to the first movie, it was tough to even get any main stars on board. 
The film, which was greenlighted as soon as a Syfy exec heard the word "sharknado," tried unsuccessfully to sign Kevin Dillon, Dave Foley, Seth Green, John Stamos, Fred Durst, Crispin Glover, and more to the lead role, which Ziering eventually agreed to fill at the behest of his wife, who wanted him to qualify for SAG medical insurance. Ziering's involvement came after John Heard and Tara Reid signed on, with both being huge gets for the project. (Teri Hatcher, Rebecca Romijn, and Tiffani Thiessen all turned down Reid's part.)
However, after the first film took over social media, everyone wanted to be involved in the second, and casting directors decided to let them. While many people, including James Franco and William Shatner, passed on the chance to cameo, many leapt at the opportunity, and the franchise's reputation as a cameo machine was born. According to Scotty Mullen, the screenwriter for Sharknado 5 who also doubled as a casting director, the key to getting people to cameo in a Sharknado film is to approach their publicist, not their agent. "You're always selling them on the publicity value," he said. "You're here to ride the hell out of that crazy publicity train."
Despite declining ratings, Syfy is still enthusiastic about the Sharknado series, and it shows no signs of slowing down anytime soon. With the latest installment estimated to have over 80 cameos, it should be interesting to see who Syfy managed to wrangle for the inevitable Sharknado 6. Global Swarming will debut on Aug. 6 at 8 p.m.; for now, see some other terrible movies that you should watch just once.