The Dark Tower Reportedly Had A Troubled Road To The Big Screen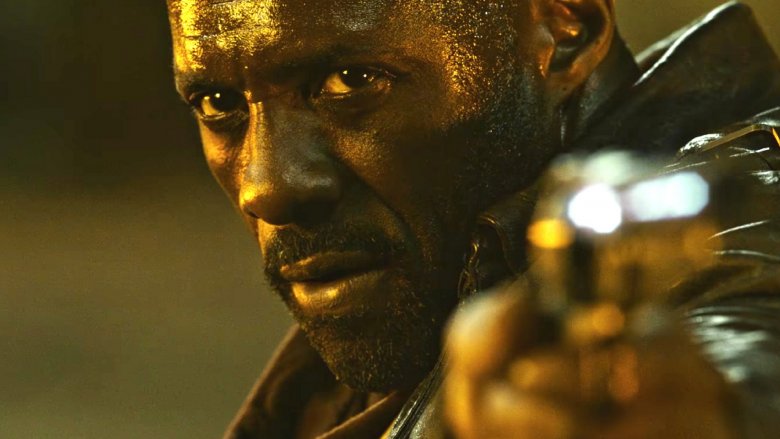 The Dark Tower is finally completing a decade-long journey to the big screen this weekend, with the long-awaited Stephen King adaptation officially set to hit theaters on Friday after being bounced around between different studios and directors for years. A recent report from Variety details those struggles, specifically focusing on the ways in which the competing interests between Media Rights Capital (MRC) and Sony Pictures hindered the project.
The first to option King's series of eight novels was J.J. Abrams, but he eventually left the project. It was then picked up by Universal Pictures, who tried to make a series of films and television series under Ron Howard; however, they eventually dropped those plans as well. It was then that The Dark Tower went to Modi Wiczyk, co-founder of MRC, who set the project as a co-financing deal with Sony. In 2015, the team began to move forward with the project, getting Nikolaj Arcel on board to direct. 
Arcel, while a talented filmmaker and an Oscar nominee, reportedly had trouble with the scale of the project, and Wiczyk and Sony chief Tim Rothman apparently were unhappy with an early cut of the film they were shown. Their unhappiness was further enforced by three blind screenings in October, in which audiences had a negative reaction to the film and were confused by its mythology. (For a full breakdown of the complicated underpinnings of the world of The Dark Tower, check out its untold truth.)
The pair reportedly considered bringing in a more experienced director to do another cut, but the cost was too high, so instead execs from the studio got involved. Rothman reportedly spent hours in the editing bay giving advice on the recut, while Howard, who remained on board as a producer, gave advice on music and producer Akiva Goldsman helped with the edit.
The companies also shelled out $6 million for reshoots that helped to fill out the backstory of why Idris Elba's Roland Deschain had such a contentious relationship with Matthew McConaughey's Man in Black, along with adding a new scene to better explain Mid-World with more imagery and less exposition.
Still, though, there were reportedly issues stemming from disagreements between MRC and Sony. As part of their agreement, the companies split the cost of the film, with MRC given "kill rights" to anything they didn't like, be it in the marketing or the final cut. One insider described the project as having "too many cooks in the kitchen," with the two companies finding difficulty agreeing.
Rothman and Wiczyk deny that they had an issue with each other or with Arcel's work, and Wiczyk noted that the project was shot on time and on budget. "On a film with two studios and powerful producers, obviously there is much passionate creative debate on how to work certain ideas or beats," Arcel added. "But I felt supported throughout, and they all looked to me for answers. If someone had jumped into my editing room and taken over— I would have left instantly."
It is possible that these reported disagreements were part of why The Dark Tower was delayed so often, an early sign that it was in trouble. The release, initially set for February, was previously pushed back to July before being moved another week to August. However, that appears to have been a smart decision, as the crowded summer box office is finally beginning to clear out, leaving the way for The Dark Tower to track in the mid-$20 million range. While reviews for the movie have yet to be released, it already has King in its corner, with the author reportedly telling Arcel in an email, "You have remembered the faces of your fathers."