Tom Holland Reveals His James Bond Pitch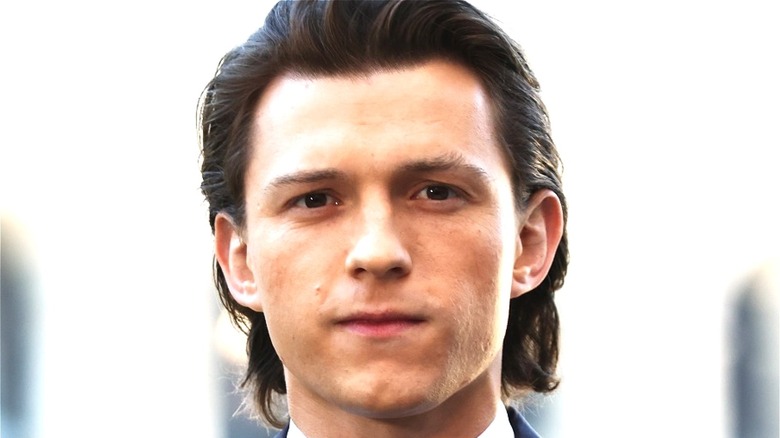 Ernesto Ruscio/Getty
Tom Holland is on top of the world right now. Between the unmitigated success of "Spider-Man: No Way Home" and the surprising reception of "Uncharted," the young actor is practically everywhere these days. Starting his acting career at the age of 11 as a supporting character in the West End production of "Billy Elliot," before taking over the title role for two years (via BETM), Holland slowly fell into the acting career and originally had no intention of getting into the profession (via Variety). Luckily for us, he did, as we've been graced with a highly agile and charismatic new Spider-Man — a character shared between Marvel Studios and Sony Pictures.
In another major franchise, James Bond is a legendary super spy who has appeared in many movies and been played by several different actors. The first Bond movie, "Dr. No," stars Sean Connery and was released in 1962 (via IMDb), while the most recent one is "No Time to Die," which stars Daniel Craig and was finally released in 2021. Overall, the entire franchise has made $7.8 billion at the worldwide box office over 27 films (via The Numbers), and many are wondering who will take on the iconic character next. Recently, Holland shared his own thoughts on a potential Bond movie.
Tom Holland wanted to play a young James Bond in a secret movie
In a recent episode of "Late Night with Seth Meyers," Holland was plugging his most recent endeavor, "Uncharted," and Seth Meyers asked him about how he wanted to play a young version of the British spy and had a big idea for a new movie.
The actor then explained his unsuccessful James Bond movie pitch, saying, "It didn't work out quite as planned ... Essentially, I'm such a big fan of James Bond, and, you know, I've loved Daniel Craig's movies. And I just thought, if they were to move on, it would be really exciting to see how James Bond becomes James Bond. So I pitched this idea for a movie, which is kind of a stupid idea where, essentially, you wouldn't tell the audience that it was a James Bond movie until the end. But from a marketing point of view, that's a nightmare. Like that just doesn't make any sense."
Both Holland and Meyers joked that even if this movie was somehow made, Holland would ruin it, poking some fun at Holland's habit of inadvertently spoiling movies. Holland jokingly agreed, and said that he would immediately tell everybody he was cast as Bond on Twitter, and basically destroy his own super-spy twist.