Deadpool 2: First Look At Domino Revealed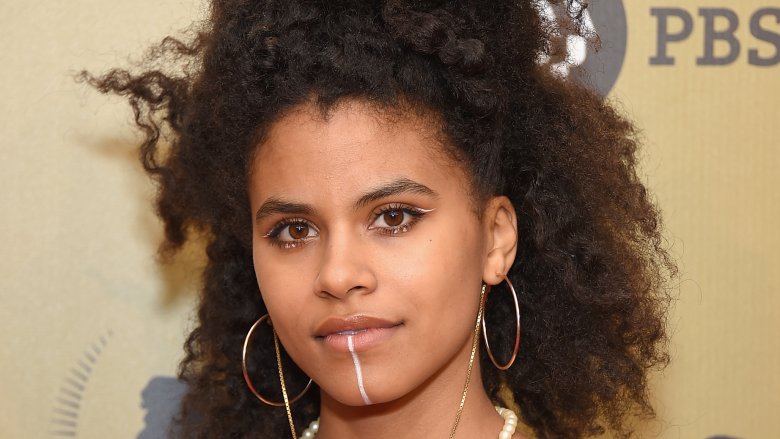 Getty Images
The odds are good that Domino is going to look amazing in Deadpool 2. Ryan Reynolds shared the first glimpse at his new co-star Zazie Beetz in costume as the lucky mutant on his Twitter Monday, showing Domino laying on top of a flattened Wade. The photo's setting is reminiscent of one of Deadpool's first promo images, although in this one, Domino clearly rules.
Some people just know how to work a red carpet. #Domino #DeadPool2 pic.twitter.com/llCc8JfKT6

— Ryan Reynolds (@VancityReynolds) July 31, 2017
Domino's look is very reminiscent of her comics costume, which should be welcome news to fans. We have yet to see a look at the movie's other notable addition, Josh Brolin's Cable, although he has shared plenty of pics of him in the gym bulking up for the part. Hopefully Reynolds will grace us with a photo of him as Cable soon, although the reveal of Beetz as Domino should be enough to hold fans over for a while.
Domino is a tough character to bring to the big screen, and the movie's director David Leitch recently discussed the difficultly of showing off Domino's unique probability influencing powers. "As a choreographer, having a character with her abilities is really a trick," he told Screen Rant. "I think at first it seems like a problem. Like oh my god, how do you demonstrate luck? And then you just see it like, oh, this is the coolest opportunity ever, so we're really excited and we're creating really great stuff for her character." 
Domino and Cable are not the only notable additions to Deadpool 2. Other new cast members include The Strain's Jack Kesy as the villain, who many believe is Black Tom, a mutant who can fire concussive blasts using a wooden object and who can manipulate energy through plants, and The Outsider's Sioli Kutsuna in an undisclosed "key role." Hunt for the Wilderpeople breakout Julian Dennison is also a part of the cast, and rumor has it that the film could include a number of other notable X-Force characters as well.
In addition to Reynolds, the movie will also see the return of a few other notable actors from the first movie, including T.J. Miller's Weasel, Morena Baccarin's Vanessa, Brianna Hildebrand's Negasonic Teenage Warhead, Stefan Kapacic's Colossus, Leslie Uggams' Blind Al, and Karan Soni's Dopinder. Leitch takes over as director for Tim Miller, working off a script from the first movie's Rhett Reese and Paul Wernick. The movie is set for a June 1, 2018 release; while we wait, see why the finished product will blow everyone away.