How Jenna Fischer Changed The Office Finale Forever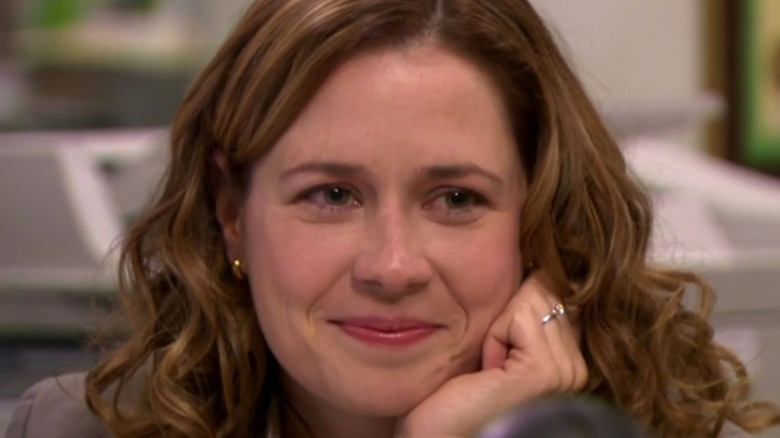 NBC
Pam Beesly (Jenna Fischer) might have had some questionable moments later on in "The Office." In the grand scheme of things, however, she's one of the show's most popular and beloved characters. Most fans of the workplace sitcom will agree that her romance with Jim (John Krasinski) is the gold standard or television's greatest love stories. At the same time, there was more to Pam's life than her relationship with her significant other. She had many memorable moments in "The Office," some of which were heartbreaking. However, every single one of them added to her legacy as a beloved member of the Dunder Mifflin Paper Company.
Of course, when it comes to the Pam character, no one understands her more than Jenna Fischer. She played her for nine seasons, after all, becoming invested in her storylines as a result. As such, Fischer was forced to step in and veto an idea that would no doubt have outraged fans and had serious ramifications on the show's emotional finale.
Jenna Fischer fought to save Pam's watercolor painting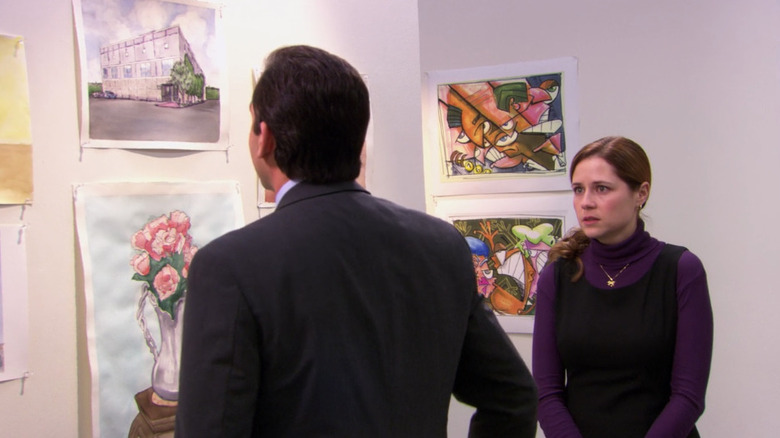 NBC
Pam's watercolor painting of the Dunder Mifflin building is symbolic of every special moment that's made in the office. When she lifts the painting from the wall and takes it home in the finale, it feels like a definitive goodbye, albeit one that's wrapped up in cozy, happy memories. However, there was one proposed Season 6 episode in which Erin (Ellie Kemper) and Kelly (Mindy Kaling) would have accidentally ruined the watercolor while Pam was on her honeymoon, effectively removing it from the show and spoiling the emotional power of the finale. Fortunately, Jenna Fischer was having none of it.
Fischer recalled how she had to fight long and hard to have the proposed scene removed. Her concerns were initially shot down at a table read, even though she explained how much the painting meant to the series. "I was like, 'Listen, you cannot destroy Pam's painting,'" she revealed during the latest Office Ladies podcast. "'You can't do it. It's the heartbeat of the show. It's on the wall. It's her relationship with Michael. It's hope. It's so many things you don't understand. You can't make this a gag.'"
According to Fischer, the creators wanted to press ahead with the scene even after she raised her concerns. In the end, she convinced editor Dave Rogers and writer Brent Forrester to see sense, and they agreed to leave the painting intact. They made the right decision.