Dunkirk Tops The Emoji Movie At Weekend Box Office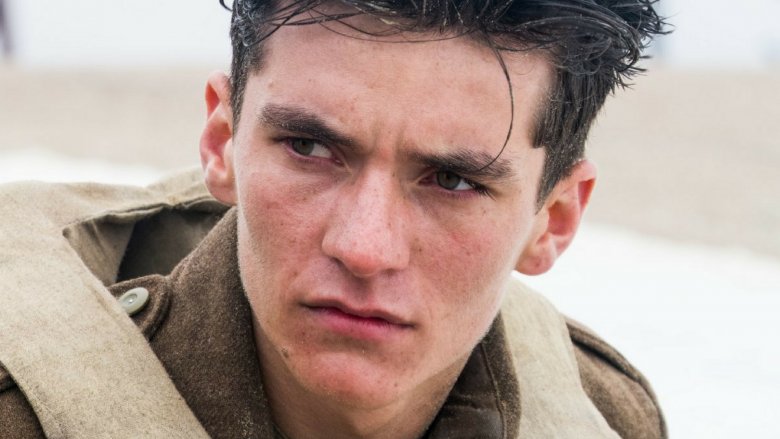 The emojis are no match for Dunkirk. Christopher Nolan's war drama came out on top over the children's film at the weekend box office, beating out the competition for the second week in a row. (via Box Office Mojo)
Dunkirk tells the story of the 1940 evacuation of the French city of Dunkirk, where thousands of soldiers were left stranded on a beach surrounded by enemy forces. Fionn Whitehead, Kenneth Branagh, Cillian Murphy, Mark Rylance, Tom Hardy, Harry Styles, James D'Arcy, Jack Lowden, Tom Glynn-Carney, and Aneurin Barnard star in the movie, which was written and directed by Nolan.
Dunkirk was an immediate favorite with critics, being hailed as a sure-fire Oscar contender and Nolan's latest chance at bringing home the coveted best director statue. The film defied box office expectations in its first weekend, opening to $50.5 million, and continued to show a strong hold in its second week, taking in an additional $28.1 million. This 44.3 percent drop fits the pattern of Nolan's past films, which tend to stick around on the box office charts for quite a while.
The Emoji Movie was a vastly different story than Dunkirk when it came to critical reception. The film had the dubious honor of holding a zero percent rating on Rotten Tomatoes, and, while it has since been raised slightly thanks to a handful of positive reviews, it still didn't bode well for those heading out to see the film. The movie stars T.J. Miller as Gene Meh, a should be straight-faced emoji who goes on a quest to figure out who he truly is after realizing that he doesn't fit the mold of his counterparts. Maya Rudolph, Anna Faris, and James Corden also star, while Sir Patrick Stewart infamously lends his voice to the Poop Emoji.
Even with the bad reviews, though, The Emoji Movie's box office performance earned a thumbs up. The film took second place with $25.6 million, a solid performance fitting with the studio's expectations. The movie benefitted from the fact that it was aimed at children, who aren't basing their consumption off of critics. It also received a strong advertising push prominently featuring characters who its young audience was familiar with. "We're thrilled," Sony's marketing chief Josh Greenstein told Variety about the movie's performance. "The audience has spoken and made The Emoji Movie a family event."
Third place went to last weekend's surprise hit Girls Trip, which, like Dunkirk, used its positive critical reviews to post a strong hold, dropping just 35.6 percent for another $20 million. Fourth place went to the weekend's other notable release, Atomic Blonde. The action flick, from John Wick and Deadpool 2's David Leitch, stars Charlize Theron as Lorraine Broughton, an MI6 spy trying to pick up a dossier containing information on who is murdering her fellow operatives in Berlin during the Cold War. The movie, which also stars James McAvoy and Sofia Boutella, fell slightly below expectations, bringing in only $18.5 million. However, on just a $30 million budget, the movie should still make a profit, which spells good things for Leitch's sequel plans.
The rest of the top 10 was filled out by familiar movies, with Spider-Man: Homecoming and War for the Planet of the Apes continuing to bring in viewers and Wonder Woman getting close to falling out of the top group after nearly two months in theaters. Luc Besson's Valerian and the City of a Thousand Planets, last weekend's big flop, fell even further, seeing a massive 60 percent drop and bringing in just $6.8 million for a domestic gross of $30.6 million against an at least $180 million budget. The movie has yet to be released in some massive overseas territories (including China), though, so it could still have a chance to bring back in some of its big budget.
You can view this weekend's top 10 box office results below.
Top 10 Weekend Box Office Gross
1. Dunkirk: $28,130,000 (-44.3 percent), $102,836,220 Total Domestic Gross  
2. The Emoji Movie: $25,650,000 (–), $25,650,000 Total Domestic Gross 
3. Girls Trip: $20,085,540 (-35.6 percent), $65,524,760 Total Domestic Gross 
4. Atomic Blonde: $18,554,000 (–), $18,554,000 Total Domestic Gross 
5. Spider-Man: Homecoming: $13,450,000 (-39.3 percent), $278,356,805 Total Domestic Gross 
6. War for the Planet of the Apes: $10,375,000 (-50.3 percent), $118,687,629 Total Domestic Gross 
7. Despicable Me 3: $7,725,895 (-40.6 percent), $230,425,800 Total Domestic Gross 
8. Valerian and the City of a Thousand Planets: $6,800,000 (-60 percent), $30,626,147 Total Domestic Gross 
9. Baby Driver: $4,050,000 (-33.3 percent), $92,046,188 Total Domestic Gross 
10. Wonder Woman: $3,540,000 (-23.2 percent), $395,443,706 Total Domestic Gross