The Highest Grossing Will Ferrell Movie Isn't What You Think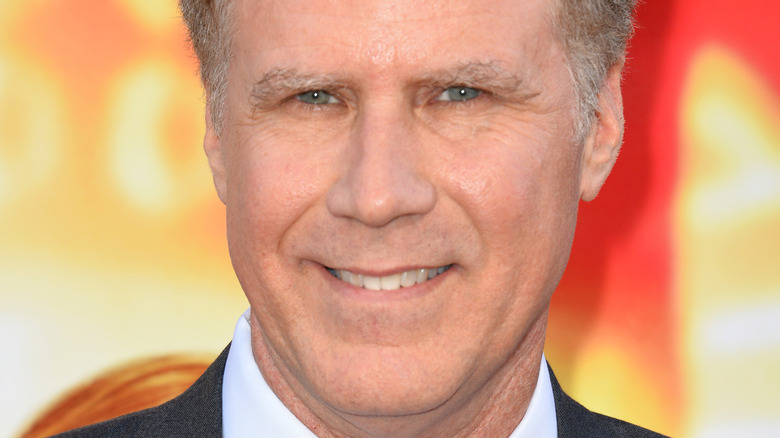 Featureflash Photo Agency/Shutterstock
When Will Ferrell left "Saturday Night Live" and began to focus his career on the big screen, fans weren't sure what to expect. Sure, during his seven seasons on the NBC late-night sketch comedy show, he made his mark as a funnyman. From 1995 to 2002, Ferrell was known for playing everything from a peppy Spartan cheerleader to then-President George W. Bush. But when he made the leap to movie star, even Ferrell was worried about what fans would think.
One of Ferrell's first big post-SNL movies was 2003's "Elf," which saw him starring as a human named Buddy who is employed at Santa's (Ed Asner) workshop and lives as an elf. Fans were enamored by the Christmas character, but Ferrell told The Hollywood Reporter that despite the movie going on to be a hit, while filming it he thought, "Boy, this could be the end." While on "The Late Late Show with James Corden" he also said of his thought process at the time, "This is either going to be a home run or people are going to go, 'Whatever happened to you? Why did you do that one about the elf?'"
"Elf" ended up becoming a holiday movie hit, bringing in over $220 million worldwide, according to Box Office Mojo. The film made Ferrell a bona fide movie star but, believe it or not, it's not his biggest movie success to date. 
Will Ferrell's biggest movie of all time was one he was barely seen in
After making a splash with "Elf," Will Ferrell had a lot to live up to. In the following years, he starred in comedy classics like "Anchorman," "Talladega Nights: The Ballad of Ricky Bobby," and "Step Brothers." However, all of them pale in comparison to Ferrell's biggest box office hit. Per a roundup on The Numbers, that title goes to "The LEGO Movie."
The 2014 computer-animated film featured Ferrell as the voice of Lord Business, the resident tyrant of Bricksburg and the Lego Universe. But near the end of the movie, he showed his face when the animation turned into live-action and revealed he was a Lego collector known as The Man Upstairs, whose extensive collection of colorful building bricks had been reimagined by his son Finn (Jadon Sand) in the animated segments of the movie.
Ferrell opened up about the twist ending in a 2014 interview with USA Today. "It's the poignancy of that," he said. "The fact you have been in this animated world for so long and all of a sudden you are live action and you see what you've truly been watching. I thought it was so well done."
Fans thought so, too. According to The Numbers, "The LEGO Movie" made just over $468 million at the global box office, making it Ferrell's hugest movie ever. It would take a lot of "Elf" magic to top that total.