The Deleted Wedding Scene From The Office That Fans Never Got To See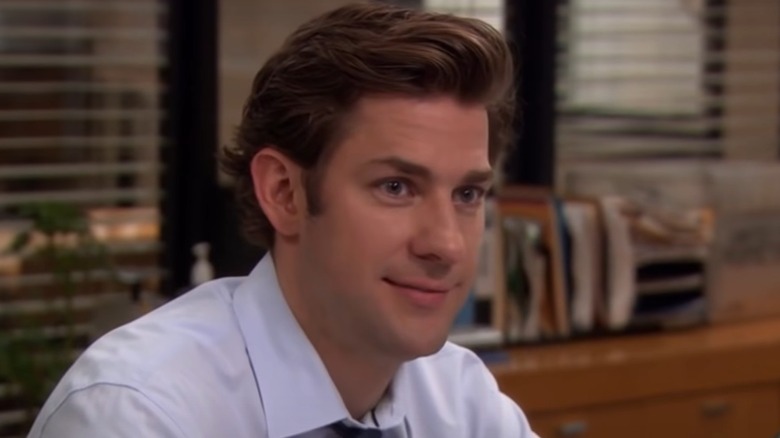 NBC/YouTube
Whether it's Ross and Rachel on "Friends" or Cory and Topanga on "Boy Meets World," many sitcoms have two characters that are destined to be together. It just takes them a little while to realize it. A prime example of this scenario is Jim Halpert (John Krasinski) and Pam Beesly (Jenna Fischer), who waste three seasons of "The Office" with other people before taking their adorable friendship to the next level.
At the beginning of the series, audiences watch as Jim and Pam enjoy a sweet, seemingly platonic bond. However, both exude minor signs of jealousy as Pam continues her lengthy engagement to Roy Anderson (David Denman) and Jim goes on a few dates. In Season 2, Jim admits his feelings toward Pam to boss Michael Scott (Steve Carell), who urges Jim to never give up. Despite a brief relationship with Dunder Mifflin Stamford branch co-worker Karen Filippelli (Rashida Jones), Jim's love for Pam doesn't go away. At the start of Season 4, they're finally an item.
By Season 6, the pair is ready to tie the knot with a destination wedding at Niagara Falls, but thanks to the attendance of their Dunder Mifflin colleagues, chaos ensues. Michael strikes up a connection with Pam's mother Helene (Linda Purl), and the secret that Pam is pregnant is blown to her conservative Meemaw (Peggy Stewart). After Pam breaks down following a wardrobe incident, Jim whisks her away from the church for a private ceremony aboard the Maid of the Mist ferry boat. When they return, their work friends surprise them with the 2009 viral dance down the aisle (via Today) to Chris Brown's "Forever."
However, there was supposed to be yet another wedding day surprise that was scrapped from the original script.
Pam's ex-fiancé Roy was going to make a grand appearance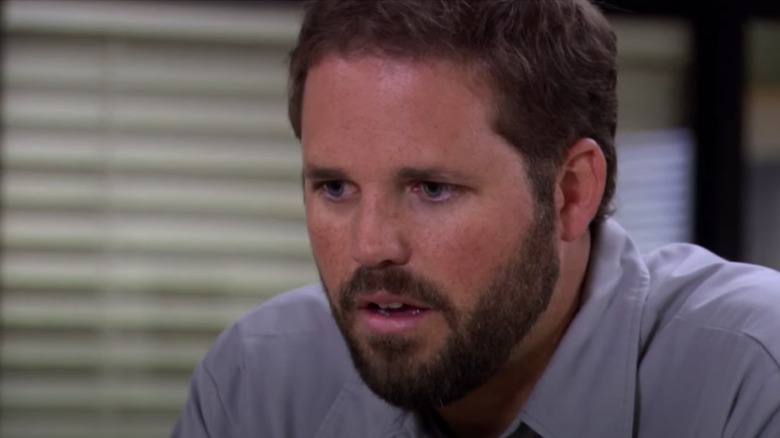 NBC/YouTube
On a recent episode of the "Office Ladies" podcast, co-hosted by Jenna Fischer and Angela Kinsey, who plays Angela Martin, showrunner Greg Daniels revealed a scene that was cut from the finished product of the "Niagara" episodes. Initially, Roy was scheduled to crash the wedding on horseback while Jim was reciting his vows in a grand gesture to win Pam back. 
"And it just goes terribly," said Daniels. "This was a card that we had on the board early on about, when those things happen in romantic comedy movies, they usually work. How awkward is it when it doesn't work and nobody wanted it and nobody was rooting for it?" After Roy's failed attempt, Dwight Schrute (Rainn Wilson) would have stolen the horse to test whether or not animals survive a drop in the Niagara Falls. As Jim and Pam privately tie the knot on the boat, this would have been playing out in the background.
"I think we had overstacked the comedy and understacked the joy. There was just too much bad things happening to Pam and Jim," Daniels said of the decision to exclude the horse. "The emotional balance of the episode was off." We certainly can't imagine the emotional moment of Jim and Pam getting married on the boat underscored by the murder of a horse in the background, so it was probably the right decision.