Who Plays Freydis On Vikings: Valhalla?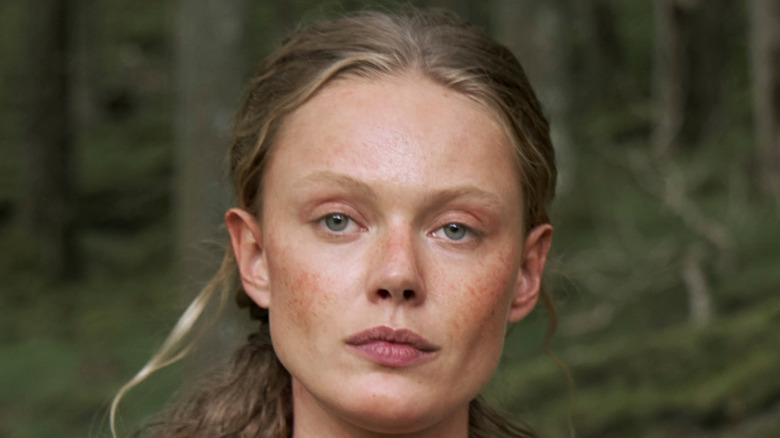 Bernard Walsh/Netflix
"Vikings: Valhalla," Netflix's upcoming spinoff of History's "Vikings," features an almost entirely new cast of fresh (and often bloody) faces. Set a whole century after the life of the celebrated Ragnar Lothbrok (Travis Fimmel), "Vikings: Valhalla" focuses on the cultural descendants of Ragnar's civilization, a society composed of people mostly unknown to "Vikings" fans. Though these new protagonists are obviously far removed from the exact threats faced by Ragnar and his contemporaries, they nonetheless confront a variety of similar threats and struggles.
Freydis Eriksdotter, the sister of legendary Norse explorer Leif Erikson (Sam Corlett), faces some of the most grueling difficulties in the first season of the new series. Like most other characters in the "Vikings" universe, Freydis is not one to be trifled with lightly and is a cunning warrior. Though she starts the series with one very specific task in mind, Freydis quickly proves herself capable of succeeding at any potential mission, no matter the cost.
If you've just started watching "Vikings: Valhalla," here's a quick look at the background of the actress playing Freydis. Hint: You may recognize her from another well-known Netflix series.
Frida Gustavsson is Vikings: Valhalla's Freydis Eriksdotter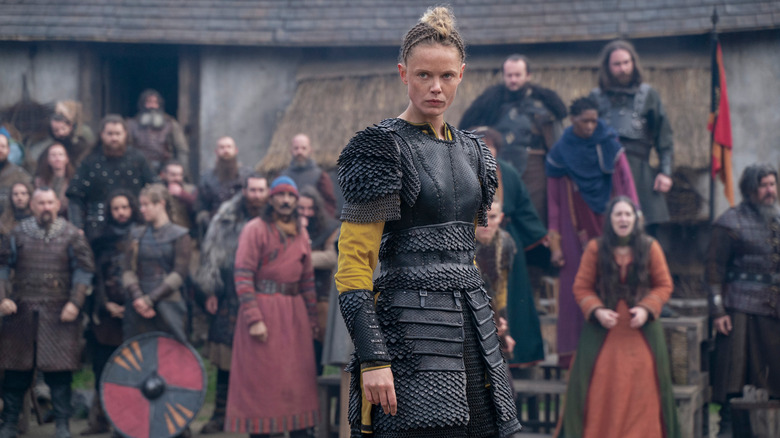 Bernard Walsh/Netflix
Freydis Eriksdotter is played by Swedish actress Frida Gustavsson. Though Gustavsson plays a major role in "Vikings: Valhalla," the 28-year-old actress hasn't had much of a substantial on-screen career prior to this role. Indeed, for much of her life, Gustavsson's career has centered on work as a model. She first appeared on the cover of German Vogue in 2010 and subsequently won Elle Sweden's Model of the Year award a year later, gracing the cover of yet another high-profile fashion magazine. In 2012, Gustavsson walked in the Victoria's Secret Fashion Show, one of many times she has appeared on a runway stage (via E! Online). 
Gustavsson appears to have caught the acting bug after starring in a 2013 short film by Eugenio Recuenco (via IMDb). In the years since, Gustavsson is only credited in a total of 12 non-Vikings related projects, mostly Swedish productions. American television audiences are likely to remember Gustavsson from her brief appearance in Season 1 of Netflix's "The Witcher." Though she has only appeared in one episode of the fantasy series so far, her short appearance is rather important. In Season 1, Episode 8 ("Much More"), Gustavsson appears in flashbacks as Visenna, the mother of Geralt of Rivia (Henry Cavill). 
Outside of Netflix, Gutavsson has appeared in Swedish TV series like "Partisan," "De utvalda," "The Inspector and the Sea," and "Dröm," plus a handful of Swedish films such as 2019's "Swoon" and 2020's "Tigers" (via IMDb).
You can watch Gustavsson as Freydis Eriksdotter when "Vikings: Valhalla" premieres on Netflix on February 25 (via IMDb).