Joel From The Last Of Us Is Gorgeous In Real Life
With a "The Last of Us" TV series on the way, fans might be wondering who will bring the animated characters to life on screen. "The Last of Us" follows the story of Joel Miller after a mutant virus takes over the United States. His daughter tragically dies during the initial outbreak, but 20 years later, while on a task, he is joined by Ellie, a teenage girl. The two bond as Joel tries to keep her alive, and he soon discovers that Ellie has immunity to the virus. Now, she is being sought after to help develop a cure, a task that would likely lead to her death.
The game is a fan favorite, full of great storylines and suspense as players try to avoid "runners," "stalkers," and "clickers" — the three stages of those who have been infected by the virus. It will be exciting to see the story play out on the small screen and see if any of the game's actors will return to their roles. However, since "The Last of Us" is a video game, players might familiar with the characters they play as, but not necessarily the actors behind them. The main character of Joel is an attractive gentleman in the game, but so is the actor who plays him. Here's who plays Joel in "The Last of Us."
Joel is played by Troy Baker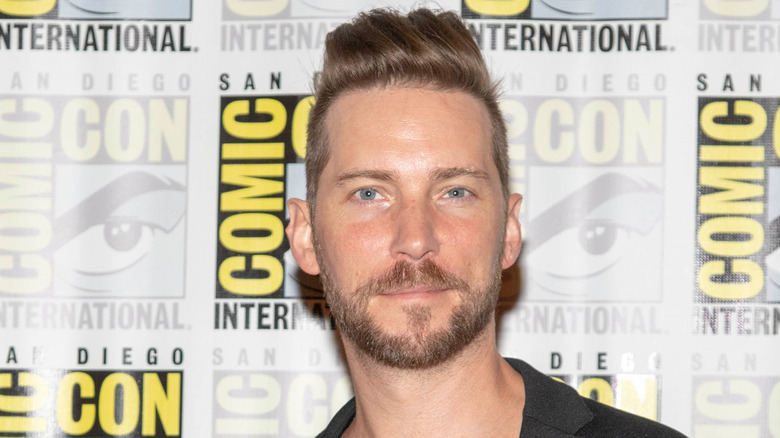 Eugene Powers/Shutterstock
Joel is played by voice actor Troy Baker, whose voice many game fans might recognize. Baker has a very long list of acting credits that includes some fan-favorite games, not to mention voice acting gigs in some pretty notable TV shows as well. In 2021 alone, he voiced characters in "American Dad!", "Rick and Morty," and "Family Guy." Prior to this, he did stints in shows like "Naruto: Shippuden" and "Regular Show" — his IMDb page is quite impressive, with more than 380 acting credits.
In the world of video games, Baker has been a part of some big projects. Of course, he voiced Joel in "The Last of Us" and "The Last of US: Part II," but this is not the only beloved video game character he has had the pleasure of playing. In 2013, Baker voiced Booker DeWitt in "BioShock Infinite," and in 2014, he voiced Delsin Rowe in "inFamous: Second Son." Baker's video game work spans two decades, with his first credit going all the way back to 1999 as Eikichi Mishina in "Persona 2: Innocent Sin."
To go over every single video game Baker has been a part of would be an impossible task, as he has had the honor of working on many major projects. Over the years, Baker has voiced characters in "Call of Duty: Advanced Warfare," "Far Cry 4," "Mortal Kombat X," and "Fortnite." His efforts have not gone unnoticed, as in 2013 he won the award for Best Voice Actor for his role as Joel at the 2013 VGX Awards (per Wccftech). Baker has also worked on the soundtracks for "Batman: Arkham Origins," BioShock Infinite," and more.
Troy Baker will not be playing Joel in the HBO series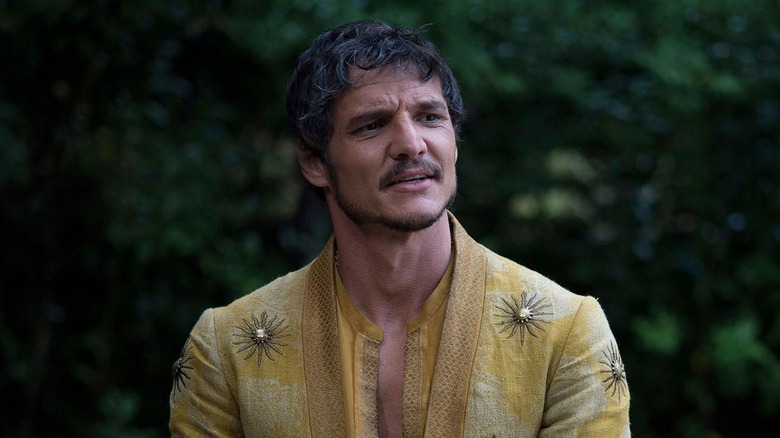 HBO
Although Baker is the original voice actor for Joel in the video game, he will not be reprising his role in the live-action TV series. Joel will be played by actor Pedro Pascal. However, this is not Pascal's first dip into video games either, as Pascal voiced Paolo in "Dishonored 2."
Pascal has been active for years, and his IMDb page has credits that go all the way back to 1996. He got his start doing smaller roles, appearing in shows like "Law & Order" and "Buffy the Vampire Slayer." In 2009, Pascal landed his first recurring role as Nathan Landry in "The Good Wife," which led to more recurring roles in the future. Most fans likely know of Pascal from his role in "Game of Thrones" as Oberyn Martell, the charming prince of Dorne. Who knew "Game of Thrones" and "The Last of Us" would have a crossover? Even more interesting is that HBO is the home of "Game of Thrones," and this is where "The Last of Us" TV series will air.
Other exciting roles Pascal has played are Whiskey in "Kingsman: The Golden Circle" and Maxwell Lord in "Wonder Woman 1984." Pascal also plays a very iconic and fan-favorite character as the Mandalorian, a.k.a. Din Djarin, in "The Mandalorian." Pascal has gotten to play a lot of cool characters throughout his career so far, particularly in major franchises. Now, fans eagerly await his approach to Joel in "The Last of Us" TV series.