The Game Of Thrones Reunion You Likely Missed In Masters Of The Universe: Revelation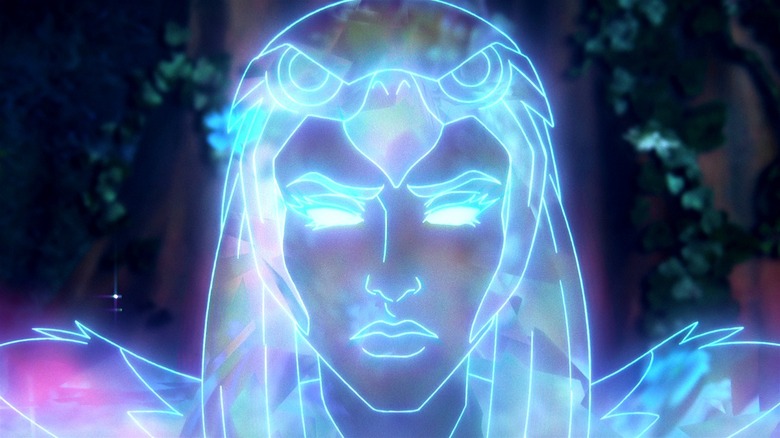 Netflix
Both "Masters of the Universe: Revelation" and "Game of Thrones" share a fair amount of magic swords, sorcery, and skeletal-looking antagonists who seek to doom the world for their own gain. These similarities do not stop there, as both popular shows also deal with prophecies, betrayals, combat-ready pets, a "chosen one" protagonist, and a titanic battle between the forces of good and evil that will ultimately decide the fate of all living beings. "Masters of the Universe: Revelation" is a recent Netflix adaptation that takes the popular He-Man franchise from the 1980s and brings it into the modern age. "Game of Thrones" is an adaptation of George R.R. Martin's "A Song of Fire and Ice" book series that dominated the pop-culture world from 2011 to 2019 like an unrelenting army of the frozen undead.
Besides sharing a multitude of story elements, the casts of Netflix's "Masters of the Universe: Revelation" and HBO's "Game of Thrones" also share two veteran actors. Intriguingly, it seems the respective characters each actor plays in both series seem to be cut from the same cloth, with one actor settling comfortably into the role of a ruthless leader who will stop at nothing to achieve their goals and the other playing a seasoned and pragmatic second-in-command.
Lena Headey and Liam Cunningham are connected by GoT and Masters of the Universe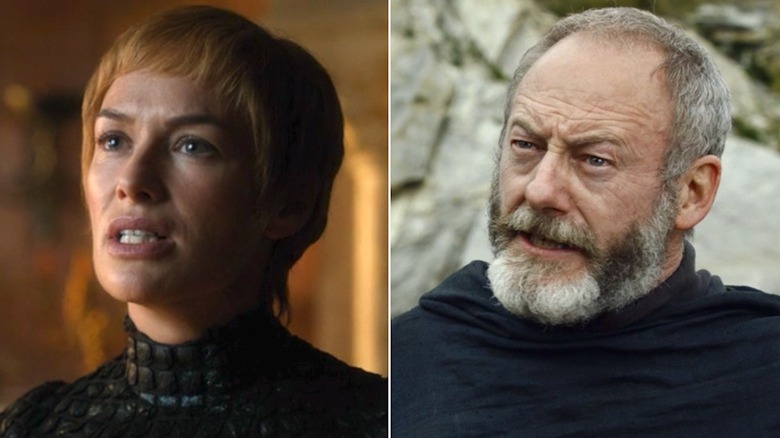 HBO
Fans of both shows may have recognized the talents of Lena Headey and Liam Cunningham. Headey lends her voice to the character of Evil-Lyn, a powerful sorceress who acts as on the commands of Skeletor (Mark Hamill) until she betrays him and puts in motion events that may shatter reality and bring oblivion to all. In doing so, she sets the stage for an epic confrontation with Teela (Sarah Michelle Gellar). On "Game of Thrones," Headey plays the brutal Cersei Lannister, Queen Regent of Westeros, and one of the major antagonists of the series. The actor was a main character on the acclaimed HBO fantasy series, playing the doomed Lannister daughter for all eight seasons.
As for Cunningham, he voices Man-At-Arms, aka Duncan, on "Masters of the Universe: Revelation." Duncan acts as the weapon master for Eternia and outfits He-Man and his allies with most of their armaments. He is also the adoptive father of Teela and one of He-Man's best friends. On "Game of Thrones," Cunningham plays Davos Seaworth. Originally in service of Stannis Baratheon (Stephen Dillane), this reformed criminal watches as Stannis attempts to harness powerful dark magic in an attempt to claim the Iron Throne. When Stannis' efforts go a step too far, it drives a wedge between himself and Davos, pushing the latter to change allegiances. Eventually, he aligns himself with Jon Snow (Kit Harington), becoming a trusted advisor to the heir to the Iron Throne. While Headey appears to have enjoyed playing a tyrannical role, Cunningham seems comfortable with his wizened ally status.