The Blue Bloods Star Who Was Cut From Green Lantern
Fans of the CBS cop drama "Blue Bloods" are a committed breed. Fortunately, the show's stacked ensemble cast has a pretty good body of work between them, giving the most dedicated of "Blue Bloods" addicts plenty of opportunities to see their favorite actors in other projects — albeit ones that might not be quite as satisfying as the show itself.
In another life, where things went a little bit differently than they did in the world we know, one of those projects would have been "Green Lantern," the little-loved superhero adventure from 2011 starring Ryan Reynolds as the titular space cop. A performer that any "Blue Bloods" viewer will recognize was cast in the film and even filmed scenes, but unfortunately (or fortunately, depending on how you look at it), they were all cut shortly before release, severing any chromatically intriguing "Green Lantern" and "Blue Bloods" connection there would have been. But, all hope is not lost, as you'll soon learn.
Amy Carlson was cut out of Green Lantern, but she appears in the extended cut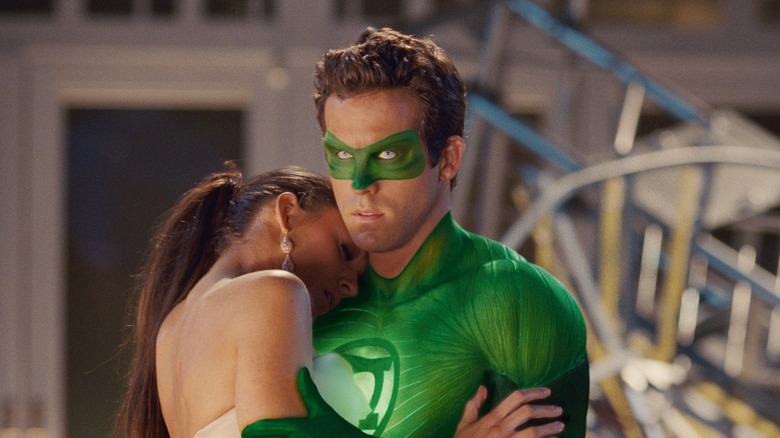 Warner Bros. Pictures
Amy Carlson, who plays Danny Reagan's nurse wife Linda on "Blue Bloods" (up to the character's tragic death), was cast in "Green Lantern" as Hal Jordan's (Reynolds) suffering mother Jessica Jordan. Unfortunately for fans of Carlson, the scenes were cut prior to release.
As a Daily Herald press clipping from Carlson's own website puts it, she got the news from co-star Mike Doyle (who plays Jack Jordan in the movie), following the film's premiere. Carlson says she "had a feeling that might happen," and her rationale is pretty strong: "I had a sense they were going to make this an all-superhero thing. The only thing they could cut would be the family. And that's what they did!"
If you want to check out Carlson's performance in "Green Lantern," there is a way for you to do so: by acquiring a copy of the film's extended cut, which accompanied its release on Blu-ray.