Horizon Forbidden West's Skill Tree Explained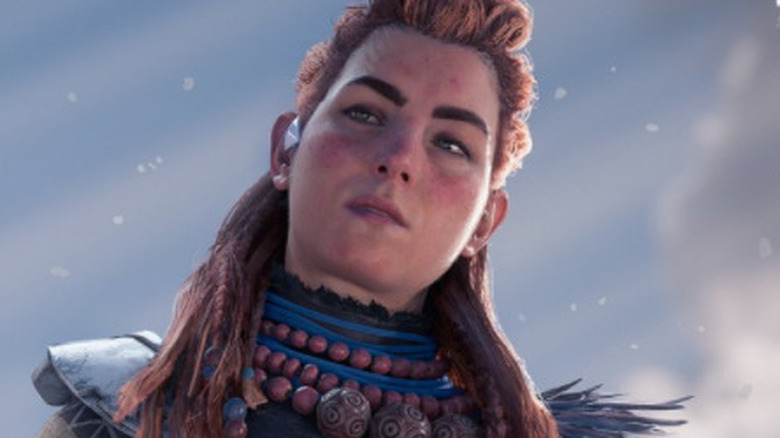 It's been a long time coming for "Horizon Forbidden West." After months of anticipation, delays, leaks, and thrilling sneak peeks at what's to come, fans are finally able to play the game as of Feb. 18, 2022. So far, the critic reviews are generally strong, yet nuanced, with praise for the game's stunning graphics and immersive gameplay as well as critiques of its climbing features and cultural insensitivity. Through its triumphs and tribulations, "Horizon Forbidden West" remains poised to please fans of its popular predecessor "Horizon Zero Dawn" with dozens of hours of gameplay, including an abundance of new features like never-before-seen machines, abilities, weapons, and more.
It'd be easy for players to assume their experience from "Horizon Zero Dawn" would provide adequate preparation for the sequel, but given all that's new to "Horizon Forbidden West," fans will be wise to brush up on what's new in the game to get a jump-start on Aloy's next chapter. Specifically, "Horizon Forbidden West" features a skill tree setup that is key to strategic gameplay. Here's how it works.
Six Style-Specific Skill Trees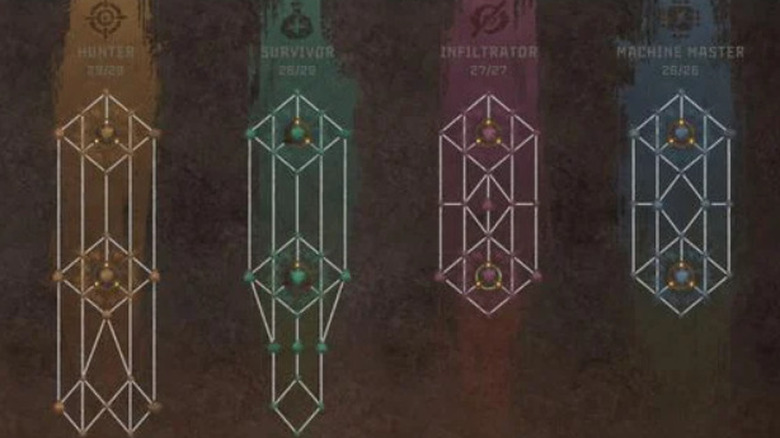 While the original iteration of "Horizon Zero Dawn" had three skill trees, plus a fourth added in "The Frozen Wilds," "Horizon Forbidden West" will feature six skill trees that are each catered to a unique playstyle. Not only are there more branches this time around – the total number of skills available to unlock through skill points has increased from 44 to 162.
Though this new skill tree system is more extensive and complex than players have seen before, it's fairly intuitive once one gets the hang of it. The secret is not getting overwhelmed and taking the time to understand the pros and cons of prioritizing a certain tree. The Gamer recommends not overthinking it or trying to save up skill points, as the course of the game will consistently grant players more opportunities to upgrade. It all comes down to personal preference, with special consideration for the weapon of choice and the situation at hand.
As for the trees themselves, their names are fairly self-explanatory. The Warrior tree, the largest of the bunch, is great for melee combat as well as some bow skills, while the Hunter tree is the most geared towards bow and arrow combat. The Trapper tree is a strong choice for those savvy with setting traps, which might also pair well with the stealth-centered Infiltrator tree. For machine-specific tactics, the Machine Master tree is a must. Finally, the Survivor tree's plentitude of health, potion, and other protective boosts will weave in well with any weapon choices. In addition to unlocking new skills, players can spend points upgrading existing skills or unlocking Valor Surges (via ScreenRant).
Valor Surges: A Brand-New Bonus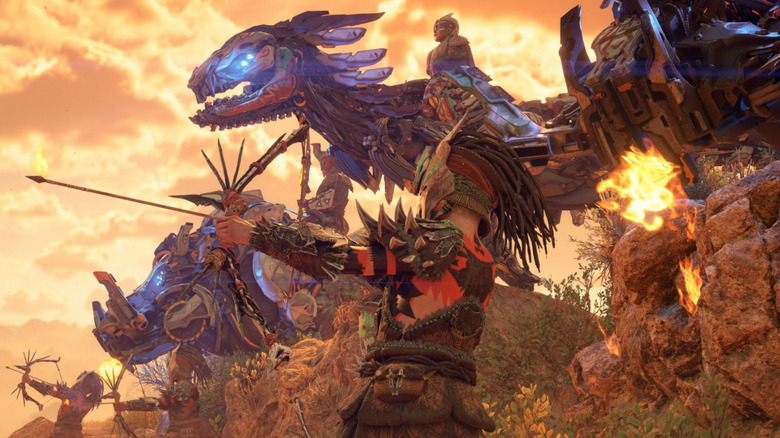 A big perk of the new skill tree system in "Horizon Forbidden West" is the addition of Valor Surges, which are represented on each skill tree as large orbs. As players make smart, strategic choices throughout the game, they earn Valor that is tracked in the Valor Meter, a bar that sits right below the Stamina Meter. According to IGN, Valor Surges "can be triggered intermittently throughout combat to really turn the tables in a fight."
While players can unlock multiple Valor Surges, only one can be used at a time once it's selected and activated through the skill tree. In combat, players just have to hit L1 and R1 at once to trigger these special abilities. Some examples of Valor Surges players can look forward to include bonus damage, increased critical strike chance, the power of invisibility, healing boosts, and more (via Twinfinite). On top of the power they pack out of the gate, Valor Surges can be upgraded with skill points, though players will probably want to focus on unlocking more skills before investing all of their points in one special ability.
As complex as the new "Horizon Forbidden West" skill trees may seem at first glance, the real key is for players to know what they're working towards and balance short-term benefits with long-term goals, like Valor Surges that may be particularly appealing. Since Aloy's story will likely include twists and turns, flexibility is advised, especially since it's currently unknown whether or not skill points can be redistributed. With a wealth of options to explore in the new skill tree setup, "Horizon Forbidden West" is helping players branch out like never before.