Loki Season 2 Has Found Two New Director Variants
When it comes to the Disney+ television shows that premiered in 2021 as part of Marvel's Phase 4 – "WandaVision," "Falcon and the Winter Soldier," "Loki," "What If?," "Assembled," and "Hawkeye" – so far "Loki" has been one of the most popular and successful of the bunch. The Tom Hiddleston-led series about everyone's favorite God of Mischief being brought back from the dead and forced to work with the Time Variance Authority to preserve his existence has already been picked up for a second season. Disney+ and Marvel didn't waste time making up their minds, as they announced the decision in the end credits to Season 1 (via Deadline).
So far, little is known about the upcoming second season of "Loki." Plot details have not been made public, and Tom Hiddleston is the only cast member confirmed to be coming back. The rest of the cast of Season 1 includes Owen Wilson, Gugu Mbatha-Raw, Sophia Di Martino, Wunmi Mosaku and Richard E. Grant. Kate. "Loki" Season 2 also doesn't yet have a release date.
However, today, Disney+ and Marvel Studios announced some of the directors who will be helming "Loki" Season 2. Here's everything we know so far.
Justin Benson and Aaron Moorhead will be directing some of Loki Season 2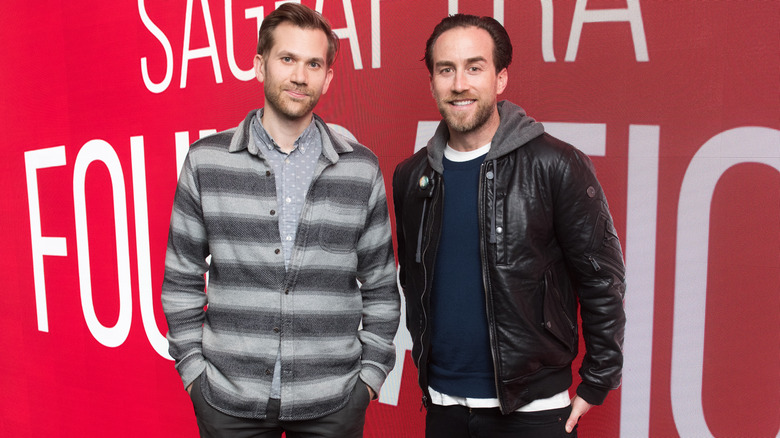 Noam Galai/Getty Images
As reported by Deadline, Disney+ is bringing on Justin Benson and Aaron Moorhead to direct part of "Loki" Season 2. The Deadline report indicated that Benson and Moorhead would be directing "a majority" of the episodes in Season 2, although it didn't specify which ones. If "Loki" Season 2 follows other recent Marvel TV shows, like "Loki" Season 1 and the upcoming "Moon Knight" series, that would put it at six episodes.
Benson and Moorhead got the job thanks to their work on the above mentioned "Moon Knight" show, which stars Oscar Isaac as a museum gift shop worker with no memory of the fact that he is a powerful mercenary who's been granted superpowers by the Egyptian god Khonshu. Benson and Moorhead directed two of Season 1's six episodes. Getting to direct the bulk of "Loki" Season 2 is definitely a step up.
"Loki" and "Moon Knight" are the first two Marvel projects the directing duo have worked on. Previously, Benson and Moorhead were best known for directing horror and psychological thriller fare, working as directors on the "Twilight Zone" series as well as the recent Netflix thriller "Archive 81." Before that, Benson and Moorhead contributed one of the segments for the 2014 indie horror movie "V/H/S" (via IMDb).
Given that "Moon Knight" has darker and more supernatural aspects, it makes sense why Benson and Moorehead were chosen to direct that show. As a time-bending crime thriller, "Loki" should offer a fresh challenge.