John Carpenter's Elvis Biopic You Totally Forgot Existed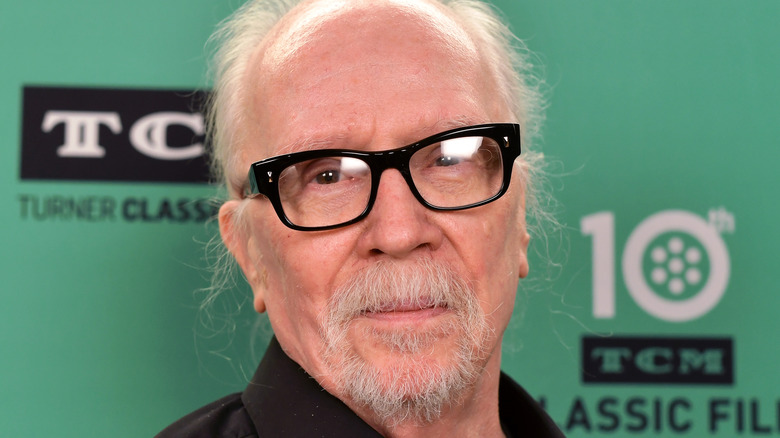 Emma Mcintyre/Getty Images
Elvis Presley hasn't been this hot a commodity in the world of cinema since the man's own acting days. This is, of course, largely thanks to Baz Luhrmann's upcoming "Elvis" movie, which is set to premiere on June 24, 2022. The musical biopic features "The Shannara Chronicles" and "The Dead Don't Die" star Austin Butler as the titular superstar, and none other than Tom Hanks as Elvis' manager, Colonel Tom Parker.
Luhrmann's "Elvis" seems highly likely to join the club of notable artist biopics like "I Walk the Line," "Straight Outta Compton," "Bohemian Rhapsody," and "Ray," but you may not have known that it's not the first "Elvis" biopic out there. In fact, there's a somewhat obscure Elvis movie that premiered way back in 1979 ... and it was directed by none other than horror master John Carpenter himself, between projects like "Halloween" and "The Fog." Let's take a look at the legendary director's Elvis biopic you totally forgot existed.
Elvis: The Movie features Kurt Russell as Elvis
1979's made-for-TV "Elvis: The Movie" is a must-watch regardless of where your pop culture preferences lie, thanks to the triple whammy of talent it features. If you aren't into the talents of John Carpenter or Elvis Presley, there's always the inimitable Kurt Russell. The actor and the director have worked together numerous times, but even then, it can be weird to find out that their very first collaboration involved Russell in full Elvis getup. Yet, this is the movie that started the pair's fruitful collaboration, which gave the world movies like "Escape from New York," "The Thing," and "Big Trouble in Little China" — all stone cold 1980s classics.
If you watch the films in order from "Elvis: The Movie" to "Big Trouble in Little China," there's a natural progress. However, since the viewer has almost certainly seen at least one of the classic Carpenter-Russell films — if not all of them — before diving into "Elvis: The Movie," experiencing Cameron's film-making sensibilities in such a movie might be disorienting. 
Still, that's not to say the biopic is a bad movie. In fact, "Elvis: The Movie" has a perfectly acceptable 65 percent audience score on Rotten Tomatoes, which means that it might not be the kind of masterpiece Carpenter's more famous films are, but it's still a perfectly nice motion picture. Besides, while he doesn't perform the vocals himself, Russell's take on Elvis is eerily good — which is just as well, considering that he appeared onscreen with the King himself in 1963's "It Happened At The World's Fair."