Captain Marvel Isn't In Avengers: Infinity War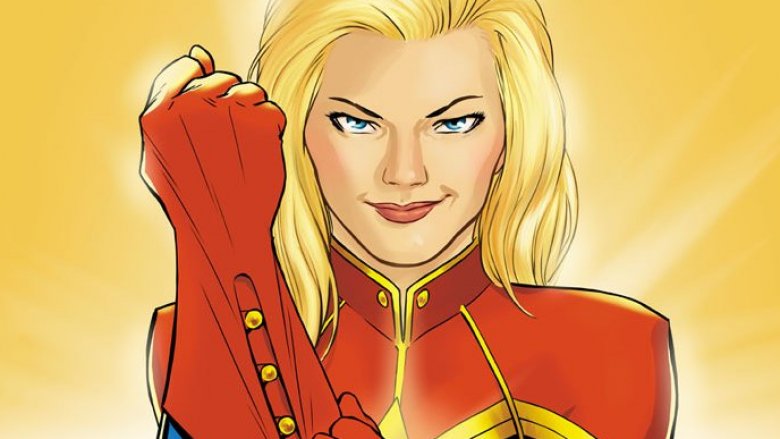 Marvel Comics
Avengers: Infinity War is set to feature a slew of iconic Marvel characters, but, according to recent reports, one important hero will be missing: Captain Marvel.
Speaking to ComicBook.com during a Marvel Studios press event during San Diego Comic-Con this past weekend, Infinity War co-director Joe Russo shut down the possibility of seeing Captain Marvel in the first of an enormous, two-part Marvel Cinematic Universe climax. "She's not in Avengers 3," Russo said.
However, the heroine's absence from Infinity War leaves the door open for her to appear in the fourth Avengers flick, which is set to be release after the Captain Marvel standalone movie is rolled out. 
Captain Marvel, also known as Carol Danvers, will be played by Room actress Brie Larson. The character's solo film will be set in the early 1990s, feature a two-eyed Nick Fury (Samuel L. Jackson), and see Captain Marvel battle against the evil alien race known as the Skrulls. Additionally, the Quantum-realm is set to play a large part in the standalone, just as it will in the Paul Rudd-led Ant-Man and the Wasp, which is also set for release between the two upcoming Avengers films. Given these facts, some have speculated that Captain Marvel will pop up in Ant-Man and the Wasp ahead of her appearance in Avengers 4. 
During the interview, Russo also discussed that he's looking forward to working on Avengers 4, which he promises will be different than Infinity War. "I think it's important for both [Avengers 3 and Avengers 4] to be distinctly different. It's important for them to have different tones, different narratives, and to have different surprises for the audience. We've worked really hard with [screenwriter Christopher] Markus and [scribe Stephen] McFeely in ensuring that the films are tonally different and structurally different."
Perhaps one of the biggest differences will be the inclusion of Captain Marvel, but only time will tell if that proves true.
Avengers: Infinity War is set to hit theaters on May 4, 2018. Until then, check out all the superheroes confirmed to appear in the epic Marvel ensemble movie.