The Part Of Filming Harry Potter That Terrified Robert Pattinson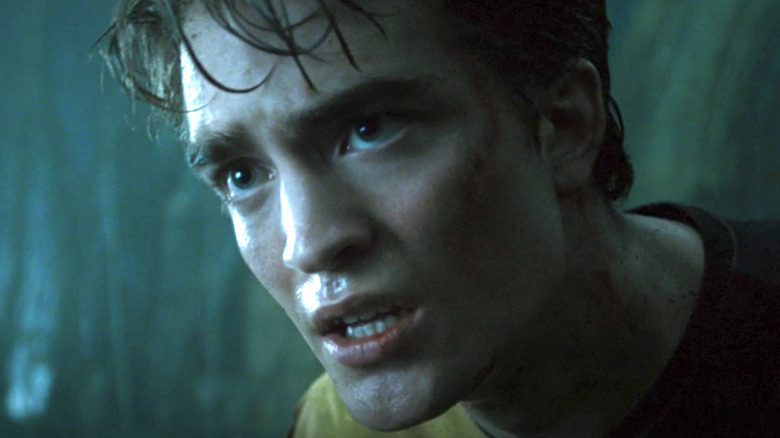 Warner Bros. Pictures
For most people, the first time they saw Robert Pattinson on the big screen was in "Harry Potter and the Goblet of Fire." The 2005 film, which is the fourth installment in the "Harry Potter" franchise and an adaptation of the novel of the same name, features Pattinson as Cedric Diggory, the Hufflepuff student chosen to compete as one of Hogwarts' champions in the Triwizard Tournament. While Pattinson's presence in the "Harry Potter" franchise begins and ends in "Goblet of Fire," the impact Cedric makes on the series is one that is felt throughout all of its subsequent installments.
Prior to "Goblet of Fire," Pattinson had only appeared in an uncredited role in the 2004 Reese Witherspoon film, "Vanity Fair," and as a character named Giselher in a TV movie titled "Ring of the Nibelungs" (via IMDb). All of which is to say that the "Harry Potter" film was easily the biggest production that Pattinson had ever been a part of when he worked on it. Taking that into account, it'd be easy to see why Pattinson might have felt a lot of pressure when he first stepped on the set of "Goblet of Fire."
As it turns out, the experience was, indeed, pretty "terrifying" (via GQ) for the future "Twilight" and "Batman" star.
Robert Pattinson didn't have a lot of acting experience when he played Cedric Diggory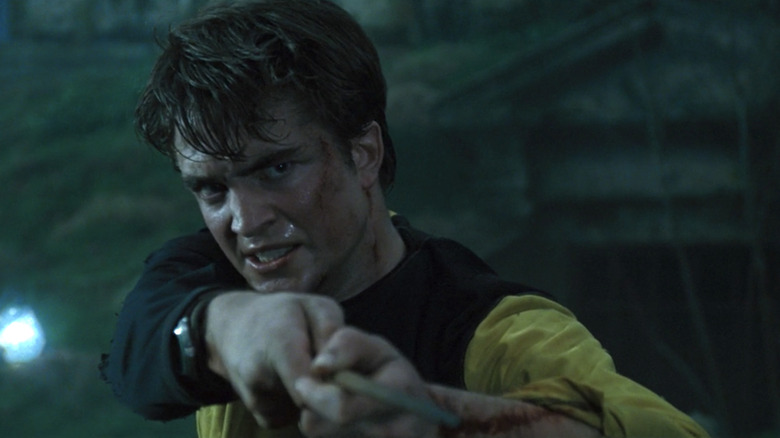 Warner Bros. Pictures
During an interview with GQ about his most iconic film roles, Robert Pattinson discussed everything from his performance as Edward Cullen in "Twilight" to his ferocious lead turn in the 2017 thriller "Good Time." The actor was his usual candid self throughout the interview, and he didn't hold back when it came to talking about what it was like making "Harry Potter and the Goblet of Fire."
Calling the entire experience "terrifying," Pattinson revealed that the first scene he shot for the movie took place in the magical maze during its third act, which proved to be quite the challenge for the actor. "I'd never done anything with special effects and stunts, and it was a big deal at the time. It felt very, very intimidating," Pattinson recalled.
The actor went on to say that he'd "read a book on method acting" prior to working on the "Harry Potter" film, but said he didn't take much away from it at the time. "The only thing I really got out of that was just beating yourself up before every single scene. That was basically my only concept of how to prepare for a scene," Pattinson said. The arduous, punishing process he adopted as a result of that misconception ultimately made things very difficult for both him and his makeup team, who'd have to repeatedly reapply his prosthetic wounds because he'd accidentally "melt" them every time he "psyched" himself up for a scene.
In the end, Pattinson said the problem with his process on "Goblet of Fire" ultimately came down to the fact that he had "no concept of how to kind of get into a psyched up physical state." Fortunately, thanks to films like "Twilight" and "The Batman," it seems safe to assume that Pattinson has probably figured out a much healthier way of working on big-budget movies nowadays.