What's The Song In The Chip 'N Dale: Rescue Rangers Teaser Trailer?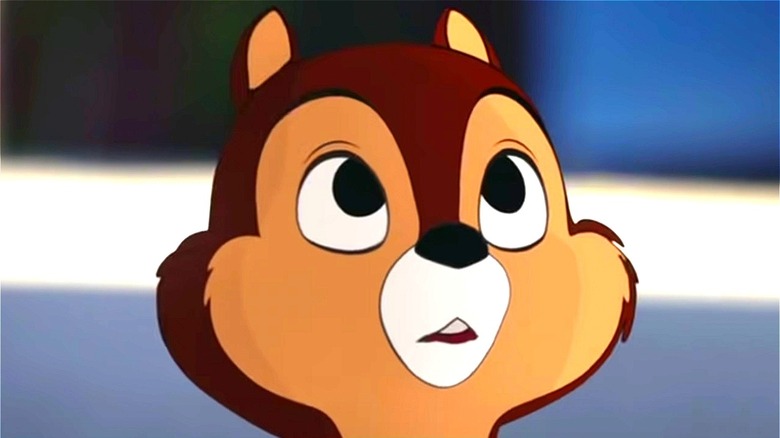 Disney+/YouTube
Chip and Dale are back. After over 30 years of hiatus, the squirrely pair of cartoon brothers are finally getting their own film. However, their long-awaited movie debut isn't picking up where their acclaimed animated series, "Chip 'n Dale: Rescue Rangers" left off. Instead, it's diverging from its source material in a number of ways. On top of mixing together a variety of animation styles with live-action settings and characters, the film treats the original series as a TV show in its own universe, and the Rescue Rangers themselves as washed-up celebrities.
At least, that's what we can glean from the film's first teaser trailer, which shows the bizarre "Roger Rabbit"-esque world that the Rangers now inhabit. One thing it does not show us, however, is exactly how or why the estranged chipmunk brothers decide to reunite for one more thrilling adventure. Instead, we only see parts of the adventure itself unfolds, and how Chip (John Mulaney) and Dale (Andy Samberg) repair their broken bond along the way. For that reason, it's fitting that the song in the "Chip 'N Dale: Rescue Rangers" trailer is one giant ode to friendship.
Saweetie's Best Friend brings a badass edge to this buddy comedy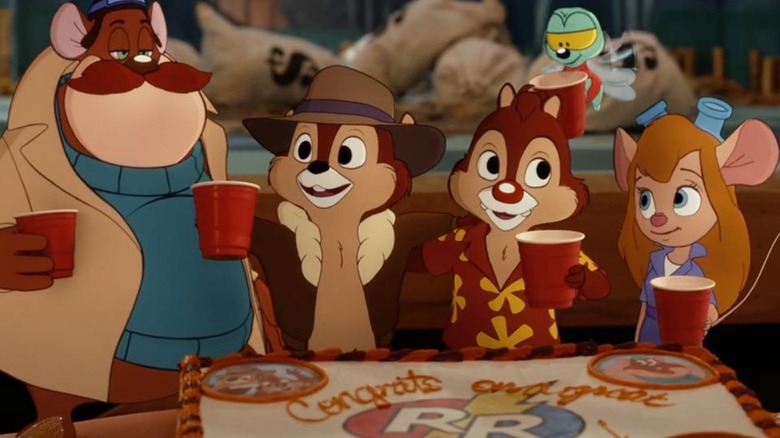 Disney+
While Chip and Dale may need to work to fix their long-lost friendship, rap superstars Saweetie and Doja Cat do not. Their hit single, "Best Friend," which was ranked No. 54 on Pitchfork's "Best Songs of 2021" list, and is certified double platinum with over 2 million units sold (via RIAA), serves as the backing track as the Rescue Rangers reintroduce themselves to the world.
Lining up with the film's themes of friendship, "Best Friend" discusses themes of trust and companionship between the two performers, with the music video in particular highlighting their shared distaste for disingenuous feminism. Though this latter element may not be an issue for the animated chipmunks, their need for a reliable partner certainly is. It also doesn't hurt that the song's intense beat suits the trailer's fast-paced, adventurous nature. All in all, the song serves as a fitting background track to remind people of what made these classic cartoon characters work in the past, as well as how they can work in a modern-day setting.