Bocchi The Rock! - What We Know So Far
Music and anime are often considered to be natural partners. Seriously, even considering just the opening for a series, a stellar anime theme song can propel a show deep into the ears and then the hearts of fans. And when music plays as a central plot point within a show, the result can be magical, especially if the story has to do with the growth of a promising animated band. From "Beck: Mongolian Chop Squad" to "K-On," we've witnessed the rise of beautiful soundtracks from some of the best anime bands the genre has to offer. And thanks to studio CloverWorks, it looks like we'll be seeing another new band join the ranks.
Per Anime News Network, based on the four-panel manga from author Aki Hamaji and published by Manga Time Kiara Max Magazine, CloverWorks is behind the anime adaptation of the upcoming "Bocchi the Rock!" The story focuses on the lonely but talented guitarist Hitori 'Bocchi-chan' Goto, who is invited by a cheery drummer to join a band. While the series is a unique love letter to Japanese rock and pop, and the story of a band trying to make it, it also tackles the theme of loneliness. The manga premiered in 2017 and has produced three volumes so far.
News of the anime adaptation appeared in 2021. Fortunately for fans looking forward to this adaptation, the wait shouldn't be too long.
Is there a release date for Bocchi the Rock!?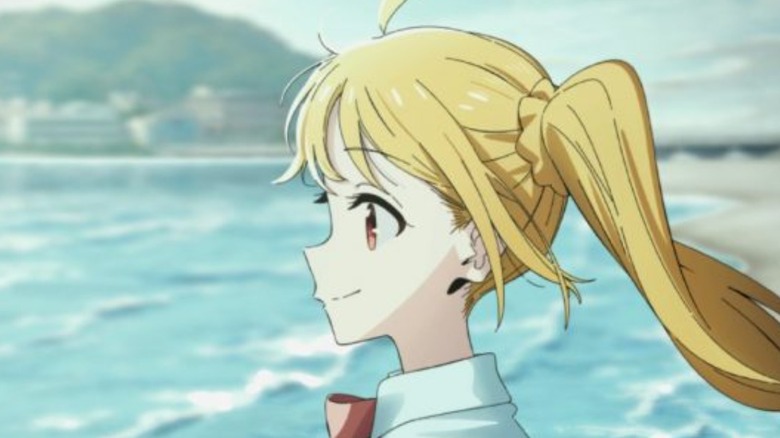 Aniplex
So far, the release date for "Bocchi the Rock!" has been confirmed to take place sooner rather than later. In December 2021, Aniplex's official YouTube channel posted a teaser video announcing that "Bocchi the Rock!" is slated to debut in 2022. However, while there's a definite year, there isn't a specific month confirmed or word on just how many episodes we can expect. Still, while the specific date is unknown, other information on the adaptation has managed to get out and should still keep fans excitedly anticipating its debut.
According to Crunchyroll, the anime character designs for the main character Hitori Goto and energetic drummer Nijika Ijichi have been revealed, as well as their voice actors. Yoshino Aoyama will voice Hitori, while Sayumi Suzushiro will voice Nijika. Since the manga includes a couple of other bandmates along with Hitori and Nijika, we can probably expect more details as we get closer to a release date. Also, via Anime News Network, the rest of the staff revealed so far will also include direction from first-time director Keiichiro Saito and the screenplay from Erika Yoshida, whose previous work includes "Lupin The III: Part IV."