This Lego Set Has Horizon Forbidden West Fans Going Wild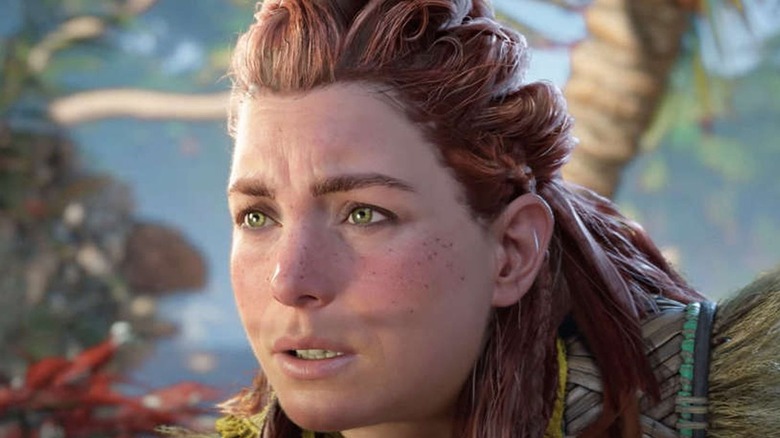 "Horizon Forbidden West" finally launches February 18, reuniting fans with Aloy on her adventures through a world reclaimed by nature and inhabited by fearsome machine creatures. Some critics have already offered their take on "Horizon Forbidden West," with SlashGear awarding the game a 9/10, solidifying fans' expectations. 
As if the hype wasn't enough, fans of the franchise with a collector's mindset and a knack for building might want to set their sights on a newly-announced Lego set. Lego has partnered with Geurrilla Games to bring fans an iconic scene they can build themselves (per VGC).
Lego collaborations with video game franchises have become a popular mainstay in recent years, with Lego sets for "Super Mario" and "Sonic the Hedgehog" going on to become some of the best-selling Legos the company has produced. So for onlookers, it seemed like it was only a matter of time until a large publisher like Sony dipped its toes into the solidifying fad and offered one of its own popular series up for Lego conversion. After all, a Lego PlayStation already exists out in the wild, so this seems like the next natural step. Here's everything fans need to know about the "Horizon Forbidden West" Lego set and why it has fans going wild.
What Is the Horizon Forbidden West Lego Set?
Fans first learned about the "Horizon Forbidden West" Lego set back in December after it was accidentally revealed too early (via PlayStation LifeStyle) by German retailer Wagner's. The impressive 1222-piece set includes everything fans need to build the iconic Tallneck mech, and it even includes Lego Aloy and Watcher pieces too. When fully constructed, the scene will depict the large giraffe-like machine, some foliage, and Aloy and Watcher arranged wheresoever fans choose (maybe at a safe distance).
Those interested in the "Horizon Forbidden West" Lego set should be prepared to spend a little more than the game itself to snag it, as the set has been confirmed to retail for $80. Despite what seems like a relatively high cost, some Lego sets have gone for much more. 
Commenting on the project, Lego Model Designer Isaac Snyder explained how his team worked to ensure the set's authenticity to the source material: "The Guerrilla designers were a huge inspiration and help in capturing the spirit of this universe in LEGO form. The 'Horizon' fan community is so creative, and this model is dedicated to their passion and imagination."
How Have Fans Reacted To The Horizon Forbidden West Lego Set?
The internet has reacted positively since the official announcement of the "Horizon Zero Dawn" Lego set. Commenting on a tweet from PlayStation showcasing a video reveal for the collectible, Twitter user @Nariko322 expressed their excitement, saying, "I'm not much into Legos but this is definitely a day one for me, assuming they make enough of them." Similarly, several users have expressed their hopes that this is just the first of more Sony and Lego collaborations in the future. If there's one thing gamers seem to love, it's unique gaming merch.
With all the excitement — and recent positive reception — for "Horizon Forbidden West," this Lego collaboration might just be the perfect goodie for a fan of the franchise. Who knows, if it proves popular, maybe Sony will undertake other Lego conversions with popular IPs, like "God of War" or "Ratchet and Clank."