This Is Who Played Andy In The Goonies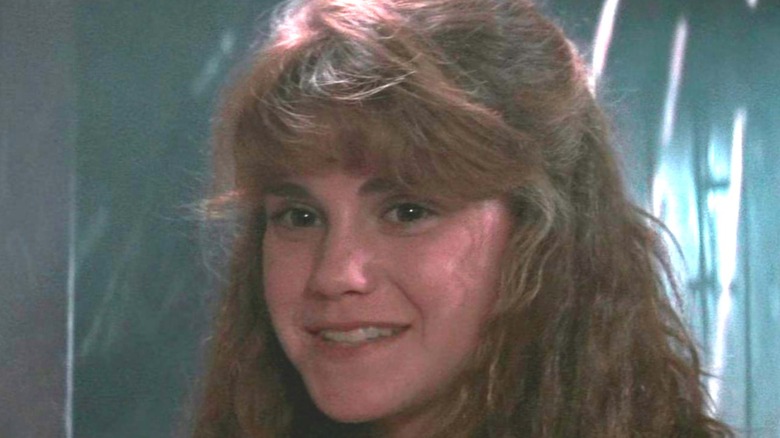 Warner Bros.
When the Richard Donner-directed film "The Goonies" came out in 1985, it sent a whole generation of children outside searching for adventure. The genre-bending original film made $61 million at the box office (per The Independent), becoming one of the top 10 films of that year, and has remained a cult classic ever since. At the time, movies were shifting how they used child actors in film; many films from that era starred ensemble casts of young stars (think "SpaceCamp," "Stand By Me," "Explorers," and "Adventures in Babysitting"). This particular film put young people from the goon docks in Astoria, Oregon, together in an epic quest for pirate treasure.
Coming along for the ride is Andy, who joins by accident. She's the love interest for Brand (Josh Brolin), the older brother that Mikey (Sean Astin), Chunk (Jeff Cohen), Mouth (Corey Feldman), and Data (Ke Huy Quan) tie up in order to leave the house. Brand chases after his brother, only to get run off the road by wealthy Troy (Steve Antin). This causes Andy and her friend Stef (Martha Plimpton) to ditch Troy, and they end up running from the criminal Fratelli family with the "goonies," becoming identified as such themselves: Troy yelling "Andy, you GOONIE!" is one of the film's many iconic lines. And it's a good thing Andy comes along — she saves the group by playing a spooky bone organ, gets closer to Brand, and gives Mikey his first kiss. 
The young actress who played Andy is Kerri Green, and she has mostly disappeared from TV and film. 
Kerri Green starred in several high-profile projects but no longer acts
"The Goonies" was Green's first film, and it catalyzed what appeared to be an up-and-coming career for the budding star. Soon after, she was cast in "Lucas" from 1986 — a movie lauded for its sensitive portrayal of teen issues; Roger Ebert gave it a perfect four stars, calling it "one of the year's best films" and saying that Green's performance in the leading female role was "so subtle and sensitive as Maggie that you realize she isn't just acting; she understands this character in her heart." 
The movie only made about $8.2 million in theaters (per Box Office Mojo), so it wasn't a big hit, but it did get its stars, Green and the late Corey Haim, nominated for Young Artist Awards in 1987. It was actually her second nod; she also received one for "Summer Rental," which came out the same year as "The Goonies." "Lucas" also launched the careers of Charlie Sheen, Courtney Thorne-Smith, Winona Ryder, and Jeremy Piven, and introduced the slow clap (via Today).
Since then, Green has appeared only sporadically in movies and television, with roles in shows and movies like "Three for the Road" and the "Young Harry Houdini" episode of "The Magical World Of Disney" in 1987, and an "ABC Afterschool Special" in 1989. She also appeared in "Mad About You" in 1992, "Murder, She Wrote" in 1994, "ER" in 2000, "Law and Order: Special Victims Unit" in 2001, and "Complacent" in 2012, which is her last credited film role.
She has also directed, but has mostly stayed out of the limelight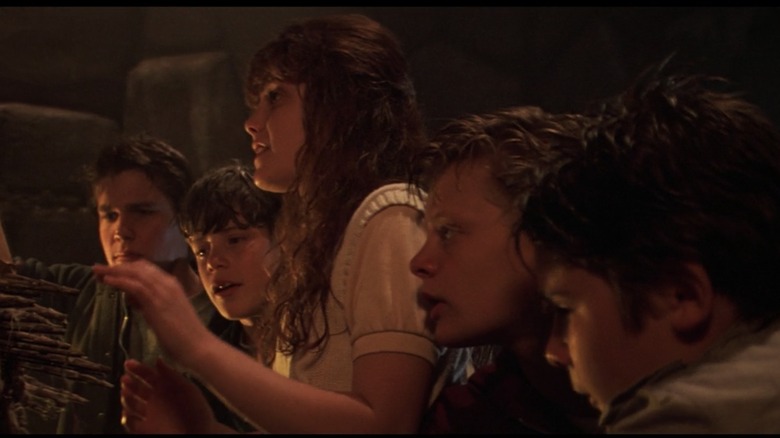 Warner Bros.
Kerri Green decided to go to college and majored in art at Vassar, where she graduated from in 1989 (via the Vassar Newspaper and Magazine Archive). After college, she worked at a center for homeless youth in California called Covenant House. It was this work that led her to directing. In 1999, she co-wrote and directed "Bellyfruit," an independent movie focusing on three teen moms. In the '90s, she also co-founded an organization called Independent Women Artists (Film Threat). 
Us Weekly reports that she is married with two children, and she and her partner live in Los Angeles, Calif. She was most recently seen publicly in two COVID-19 pandemic-fueled "The Goonies" reunions in 2020 — the first was for Josh Gad's "Reunited Apart" YouTube series, in which the surviving cast came together to raise money for The Center for Disaster Philanthropy. Although she didn't say much about her profession or her personal life, she did mention her kids, her husband, a dog, and the fact that they've "been eating a lot." The second reunion was for "The Goonies"' script read to support No Kid Hungry, which also involved Gad.
Green doesn't appear to be on social media, at least publicly. Hopefully, whatever she's up to in her daily life, she's happy about it — because for some die-hard fans, no matter what accomplishments she's added to her resume, she'll always be a Goonie.