Ant-Man And The Wasp Gets Supersized New Poster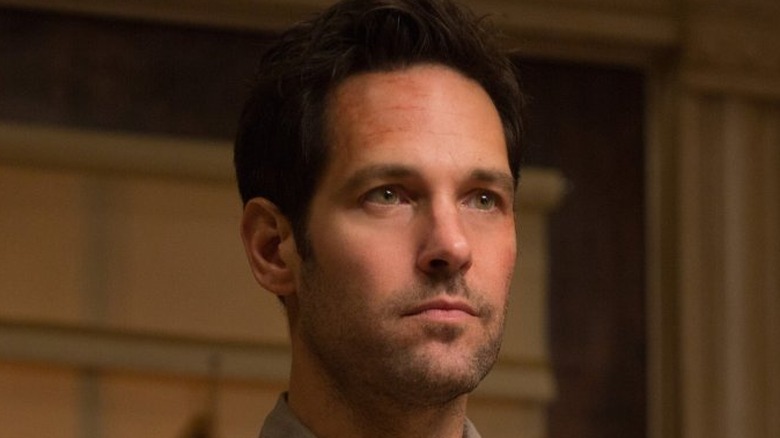 Ant-Man– or should we say Giant-Man?– is back in a new poster for Ant-Man and the Wasp. The poster, painted by Andy Park for San Diego Comic-Con and viewable at the bottom of this article, features Paul Rudd's Scott Lang in a supersized pose next to Evangeline Lilly's Wasp, as non-suited up versions of the heroes stand in the background and a war scene rages on the ground.
Rudd and Lilly are set to be equal partners in leading the film, according to director Peyton Reed, who previously said that it will be "every bit as much [the Wasp's] movie as it is Scott Lang's." Fittingly with that message, the original Wasp is being brought in to the film, with Batman Begins actress Michelle Pfeiffer recently announced as the movie's Janet Van Dyne. 
Pfeiffer is one of a few new actors joining the upcoming sequel. Justified's Walton Goggins will play weapons firm chairman Sonny Burch, while Fresh Off the Boat's Randall Park will play the secret agent Jimmy Woo and Killjoys' Hannah John-Kamen will play anti-hero the Ghost in what is described as a "key role." The most notable other new addition to the cast, though, is Laurence Fishburne as Bill Foster, also known as Black Goliath. 
Michael Douglas joins Rudd and Lilly in the returning cast for the film as the original Ant-Man. Other confirmed returning characters include Michael Pena as Scott's former cellmate. The film comes from a script by Andrew Barrer (The Crisis of Being Dr. Adam Porter) and Gabriel Ferrari (Holidays) based off a story from Rudd and Adam McKay (Anchorman: The Legend of Ron Burgundy).
Ant-Man and the Wasp is set for a July 6, 2018 release. For now, see why the first movie almost didn't happen.
Official Ant-Man & the Wasp @Comic_Con poster I had the pleasure of painting! Or should I say Giant-Man & Wasp!! #PaulRudd @EvangelineLilly pic.twitter.com/HUmhqWTt4Q

— Andy Park-SDCC (@andyparkart) July 23, 2017