Thor: Ragnarok's 'Friend From Work' Line Has A Sweet Origin Story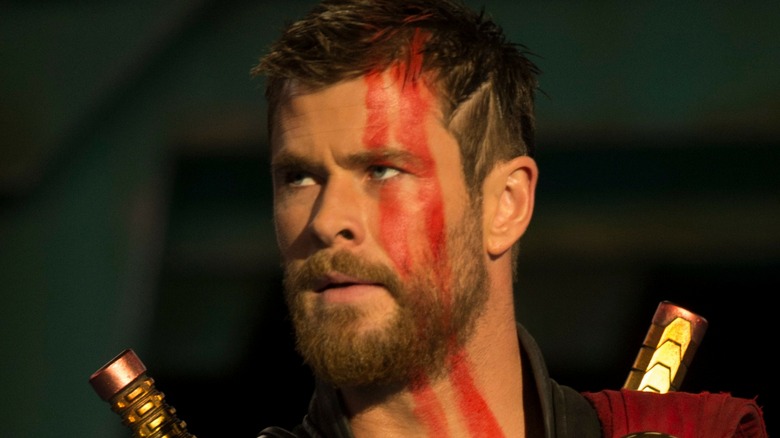 Thor: Ragnarok's most famous line to date actually came from the mind of a young kid. Star Chris Hemsworth revealed in a recent interview with Entertainment Weekly that the famous "friend from work" line from the film's teaser trailer was improvised by a young boy visiting set as part of Make-A-Wish.
Thor: Ragnarok's teaser trailer is Marvel's most-watched trailer to date, and a large part of that came due to the film's increased focus on humor. One of the trailer's funniest moments came ahead of the highly-anticipated fight between Thor and the Hulk (Mark Ruffalo), with both forced to become gladiators on the desolate planet of Sakaar. Right before the fight, Thor waits for his opponent to be unveiled, and, when he does smash into the arena, the hero is ecstatic. "Yes! We know each other, he's a friend from work," he says.
EW asked about the origin of the line in their interview, with Hemsworth then revealing that the Make-A-Wish visitor came up with the idea to include the funny bit while the hero was talking to him in between takes. "He goes, you know, you should say, 'he's a friend from work,'" Hemsworth said.
The addition of the funny line wasn't the only thing that came about organically on set, with Hemsworth and director Taika Waititi saying that large portions of the film were the result of improvisation between the actors and directors. "It got to a point where it all felt familiar," Hemsworth said of the decision to take the film in a more humorous direction than Thor's past outings. "We needed to take a chance, do something different." "We had to approach it as if it was the first Thor film," Waititi added.
Thor: Ragnarok got a new trailer at San Diego Comic-Con, and it features even more memorable lines from the hero, who will go on a quest in the film to save Asgard from destruction at the hands of Hela (Cate Blanchett). Tom Hiddleston, Idris Elba, Jeff Goldblum, Tessa Thompson, and Karl Urban also star in the film, which is based off a script from Eric Pearson. Ragnarok will hit theaters on Nov. 3; for now, see why the movie will blow you away.