Who Is Tony Danza Playing In Blue Bloods?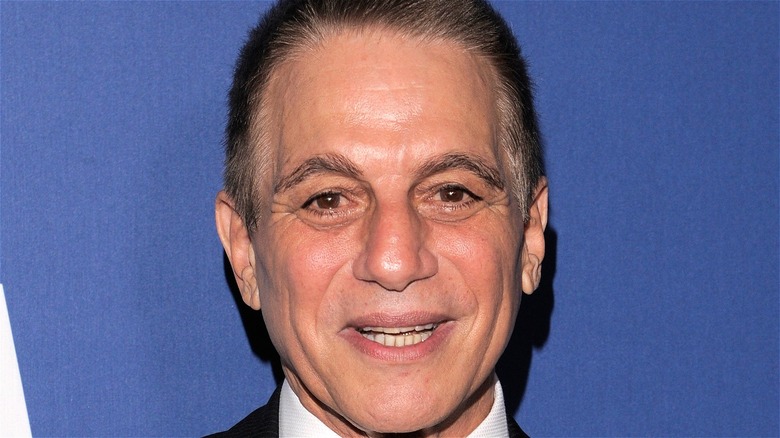 Ron Adar/Shutterstock
"Blue Bloods" on CBS certainly has no shortage of star power. The police procedural is led by T.V. legend Tom Selleck, who made a name for himself on "Magnum, P.I." but now graces people's screens as Commissioner Frank Reagan. He's joined by the likes of Bridget Moynahan ("Coyote Ugly," "John Wick"), Donnie Wahlberg ("The Sixth Sense," "Saw II"), and Will Estes ("Mimic 2," "The Dark Knight Rises"). Together, they create a formidable ensemble who push one another to always perform at their best. 
That's not even getting into the litany of guest stars the show has amassed over the years, from Ed Asner to Bebe Neuwirth. It looks like the series is about to receive another serious boost in star power thanks to an upcoming appearance from T.V. legend Tony Danza. Best known for starring in T.V.'s "Who's the Boss?," Danza's no stranger to long-running series, and he'll soon share the screen with Selleck in what's bound to be a riveting arc.
Tony Danza will play Lt. Raymond Moretti on Blue Bloods
TV Insider has the inside scoop of how Tony Danza will appear in the "Blue Bloods" episode titled "Allegiance" that's set to air on February 25. He'll play someone by the name of Lt. Raymond Moretti, who apparently shares some screentime with Tom Selleck's Frank Reagan. According to the article, Frank investigates a shooting that seemingly happens at random to his home, only to discover Raymond has some criminal ties within his family. If there's anyone who can solve the case and bring Raymond peace of mind, it's Frank and the rest of New York's finest.
However, Frank isn't the only Reagan on the ground investigating a crime in the upcoming episode. Danny Reagan (Wahlberg) and Maria Baez (Marissa Ramirez) take on a case to figure out who was behind the murder of Maria's favorite TV personality. Elsewhere, Erin (Moynahan), Anthony Abetemarco (Steven Schirripa), and Joe Hill (Will Hochman) work together to fix a case going to trial when witness tampering becomes evident. 
However, most people will likely tune in to see Tony Danza grace their TV screens once again. You won't want to miss it.