Black Panther Releases Incredible Footage At Comic-Con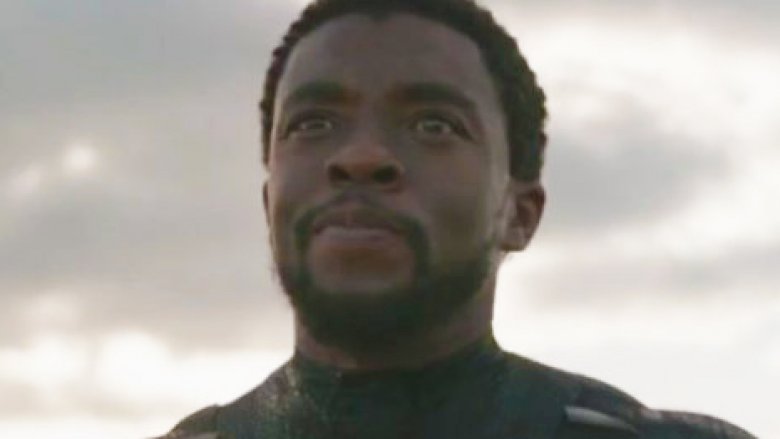 "Hero. Legend. King." Those three words best describe the hero at the center of Marvel's newest movie, Black Panther.
Director Ryan Coogler and the cast of Black Panther took the Hall H stage at San Diego Comic-Con on Saturday night, unveiling an all-new look at the film that showcases the futuristic African nation of Wakanda. 
The footage, which hasn't yet been released online, features nearly the entire Black Panther dressed to the nines, walking through a security door to enter what appears to be a glitzy private club in South Korea. The pack is on the hunt for Ulysses Klaue (Andy Serkis), a known Vibranium poacher last seen getting his arm sliced off in Avengers: Age of Ultron. Now sporting a prosthetic, Klaue is shown preparing for an exchange with CIA agent Everett K. Ross (Martin Freeman). A small bit of Vibranium will be swapped for a case full of diamonds. 
Remaining stealth, the Wakanda ops track Klaue's every move. Ross, on the other hand, appears agitated at working with Klaue, signaling that trouble may be surfacing. Nakia (Lupita Nyong'o), a James Bond-type undercover agent, wants to take aim and fire, but Okoye (Danai Gurira) tells her to hold, as they don't want the situation to devolve into a shoot-out.
Nakia refuses and draws her spear anyway, spooking Klaue in the process. While he's distracted, Okoye swipes a scrap of Vibranium for herself. What ensues is an intense brawl that leaves three of Klaue's men beaten on the ground. The operation spirals out of control even further when Klaue fires at Ross, a bullet hitting the case of diamonds, causing them to spill everywhere. 
T'Challa, not wearing his Black Panther costume but simple suit instead, swoops in to stop Klaue from getting away. The fake-handed man takes a shot at T'Challa, but he's completely out of ammo. 
"You look just like your father," Klaue tells him in a moment of true evil. Here, he's referencing T'Chaka, the former king of Wakanda who died prior to the film's events. Klaue then reaches for his prosthetic arm, which is revealed to extend into a glowing blue cannon-laser gun hybrid. 
Also shown in the footage are the various tribes of Wakanda, a museum of ancient Wakandan treasures and artifacts, and the villain Erik Killmonger (Michael B. Jordan) wearing a suit that looks just like Black Panther's, except in gold. And did we mention there are scenes of women in ball gowns fighting hordes of enemies? Because there are.
While on stage, Boseman revealed that Black Panther is still struggling with his newfound power and status. "He's returning from the events of [Avengers] Civil War, he's lost his father, and he's just learning how to become a new ruler. He's still mourning his father's death," the actor said. 
But according to Coogler, the "best thing about T'Challa is [that] he gets his power from the people around him and his history." Given that Wakanda is such a lush, advanced, and thriving world, it seems that Black Panther will be able to rise to the occasion when necessary. 
Michael B. Jordan, who plays Erik, wanted to dish up a ton of information about his exiled Wakandan character, but held himself back. Jordan simply stated that Erik poses a threat to the new king of Wakanda: "I feel like Erik has his own opinions and point of view on Wakanda and how it should be ruled. He has his eyes on the throne."
Yet another dazzling addition to the ever-expanding Marvel Cinematic Universe, Black Panther stars Lupita Nyong'o as Nakia, one of T'Challa's guard members, and Andy Serkis as Ulysses Klaude. Rounding out the cast are Sterling K. Brown, Angela Bassett, Forest Whitaker, Daniel Kaluuya, and Danai Gurira. Creed and Fruitvale Station director Ryan Coogler takes the reins for Black Panther, working from a script he penned with American Crime Story writer Joe Robert Cole. 
Since its official announcement, Black Panther has left fans and filmmakers absolutely giddy with anticipation. Marvel Studios president Kevin Feige once called the film's glittering cast as "the highest class" of actors the company has ever picked. Similarly, critics have applauded Marvel for bringing the character of T'Challa to life and the movie's creative team for giving the story a "gritty" spin.
This additional footage for Black Panther seems to prove that Marvel will dish up what it previously promised for the film.
Black Panther is set to hit theaters on February 16, 2018. While we wait until then, discover the dark history of Black Panther.