Black Panther Watches Over Wakanda In New Poster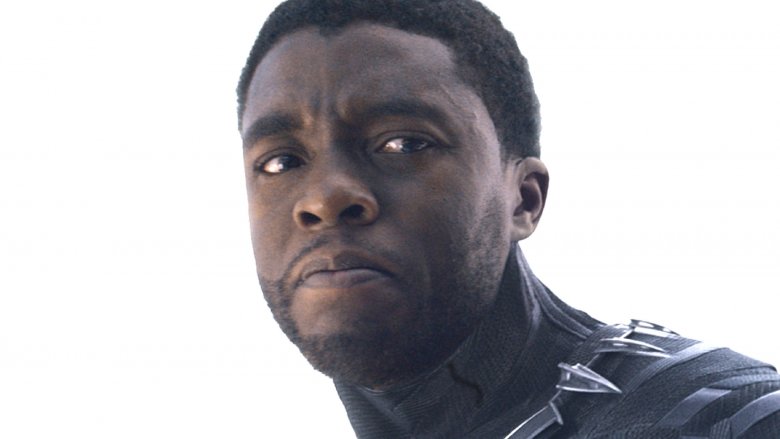 Black Panther is a watchful leader in the new poster for his upcoming solo film. The poster, released at San Diego Comic-Con, features T'Challa (Chadwick Boseman) standing on a huge panther statue as he looks down at Wakanda, the technologically advanced African nation he rules over. The poster includes the tagline "Long live the king." 
Black Panther, which takes place after the events of Captain America: Civil War, follows T'Challa after he returns home to take his place as king. However, his mettle as king and as Black Panther will be tested when the dissident Erik Killmonger (Michael B. Jordan) begins to threaten his rule. He will also have to deal with Ulysses Klaue (Andy Serkis), who presents a threat to the Wakandan way of life, and Winston Duke's M'Baku, who is part of a mountain tribe that opposes T'Challa's power.
The rest of the cast includes Letitia Wright as T'Challa's tech genius sister Shuri; Lupita Nyong'o as Nakia, a Wakandan spy and member of T'Challa's personal guard; Angela Bassett as T'Challa's regal mother and advisor Ramonda; Danai Gurira as Okoye, the head of T'Challa's all-female secret service the Dora Milaje; Forest Whitaker as the shaman Zuri, who provides a father figure for T'Challa; Daniel Kaluuya as T'Challa's best friend W'Kabi; and Martin Freeman reprising his Civil War role as Everett K. Ross. 
Ryan Coogler directs Black Panther based on a script he co-wrote with Joe Robert Cole. The film is due out on Feb. 16, 2018; in the meantime, get ready by reading up on the character's long and storied history.