The Langoliers Reference You Missed In Rick And Morty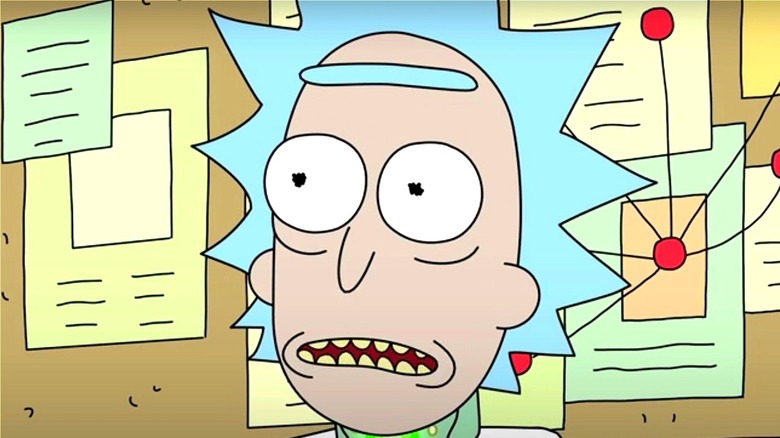 Adult Swim/Hulu
A lot goes into the eye-watering, brain-scrambling session that is "Rick and Morty." The two-time Emmy-winning show is fueled by its ridiculously far-out storylines and its ingenious effort to reference both big and minor elements of pop trivia. Everything from "Mad Max" to "Voltron" has been scanned. Adult Swim's incredibly out-there series follows Rick Sanchez and Morty Smith (both of which are voiced by Justin Roiland), with some references so discreetly applied that they're hard to spot for those that don't already have their geek hat on.
Take, for example, the time-splitting episode "A Rickle in Time" which saw Rick, the belching brainiac with an attitude, experience the not-so-small matter of an uncertain state of existence. A fallout between Morty and his older sister Summer leads to time coming apart, creating two different timelines. As is always the case with this science-skewering family, they make things worse before they get better, earning the attention of a pair of Time Cops voiced by Jordan Peele and Keegan-Michael Key. The mouthy meatball-looking enforcers are designed as such for a particular reason, and it's linked to Stephen King's classic short story and TV miniseries, "The Langoliers."
The Time Cops from Rick and Morty are modeled from The Langoliers
Adult Swim/ABC
Originally published in 1990, Stephen King's novella saw a group of strangers fly through into a time rift, leaving everyone else on board to seemingly vanish. The plane lands safely in Boston, but the airport is completely abandoned, with all technological devices unusable. The survivors soon figure out the situation they're in but face a deadly threat in the form of The Langoliers, vicious, sharp-toothed spheres of doom that feed on time that has passed, and also any living thing that finds itself trapped in it.
While not as chatty as Key and Peele's animated counterparts in "Rick and Morty," their design is undoubtedly replicated for the Time Cops in the animated show and a nod to King's story that shares similar plot elements. It's one of many fantastic tributes to other popular stories from science fiction that sneak its way into the beloved TV show.