The Unpopular Opinion Some Law & Order: SVU Fans Have About Bensler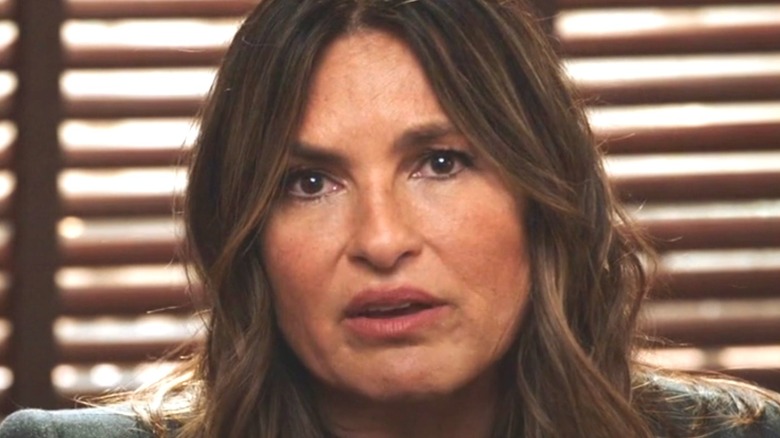 NBC/Hulu
Olivia Benson (Mariska Hargitay) and Elliot Stabler (Christopher Meloni) of "Law & Order: Special Victim Unit" are arguably the procedural world's Mulder and Scully. Even though Stabler exited the series in Season 12, their will-they-or-won't-they dynamic has been on full display in recent seasons as the character has been making guest appearances again on "SVU." Though any official coupling has been stymied by Stabler's marriage – which ended in tragedy after Stabler's wife, Kathy (Isabel Gillies), died in a car bomb during a Season 22 episode - the concept of Bensler has developed quite a strong fanbase. Bensler fans would do just about anything to watch the two of them get and stay together. With Stabler now heading up the new "Law & Order" spin-off "Law & Order: Organized Crime," and Benson continuing to hold down the fort on "SVU," it looks like fans will have to keep waiting to see if these two long-time friends will ever manage to take their partnership to the next level.
But in spite of the high number of Bensler shippers out there, there are also some fans who have some less-than-popular thoughts about the friends and colleagues becoming an item. What sort of unpopular opinion do some fans of "SVU" hold when it comes to Bensler?
Some fans just don't want Bensler to ever become reality
Unsurprisingly, for every Bensler fan, there's also a detractor out there who doesn't feel the chemistry between the characters. In fact, that's a topic that often comes up for fans who post across a number of "Law & Order" subreddits. 
"I don't want Benson and Elliot to get together," posted u/defenestrayed. They cited Benson's respect for Kathy as a major reason why it would never work between the two colleagues. The post was met with many positive responses. "I didn't want them to get together 10 years ago, and I don't want them to get together now," agreed u/ChronicallyBlonde1. "I never wanted them together, and I HATE that the writers are 'teasing ' that story line. It is irritating," said u/Amsomething.
Similarly, a deleted user on the "Law & Order: Organized Crime" subreddit started a thread to question the notion of Benson being the "love of Stabler's life." "I wanted [Kathy] to be his only driving force!" they said. "It'd be like a brother and sister dating. Yuck!" agreed u/_Tude_. 
Redditor u/jdpm1991, meanwhile, suggested that even if Benson and Stabler got together, she might be a "second choice" option for him compared to his wife. "If Kathy and Stabler had remained divorced during the middle of the show until now it would be fine," they argued. "But Stabler and Benson ending up together will be an awkward situation."
Whether fans are pro or anti-Bensler, it's hard to deny that Benson and Stabler are important to one another — as friends or as potential lovers.