Why Louise From Death On The Nile Looks So Familiar
"Death on the Nile" is here, and the star-studded cast will have you guessing "whodunnit" the whole way through. The new film follows Hercule Poirot (Kenneth Branagh), who we watched uncover a murder in 2017's "Murder on the Orient Express." The scheme is no less complicated this time around, as the complex group of guests on board the S.S. Karnak will leave you guessing until the very end.
Alongside Branagh, the film stars Annette Bening, Russell Brand, Ali Fazal, Dawn French, Gal Gadot, Armie Hammer, Letitia Wright, Emma Mackey, Sophie Okonedo, and Jennifer Saunders. While you might have been able to figure out where you recognized some of those stars from immediately, some of the actors might have left you scratching your head regarding their former projects. One of the boat's passengers, Louise Bourget, has a very recognizable face. Rose Leslie stars as Louise, and if you think you've seen her on the small screen, you probably have. Here are Leslie's most prominent roles you might recognize her from.
Rose Leslie was a pillar of Downton Abbey in 2010's Season 1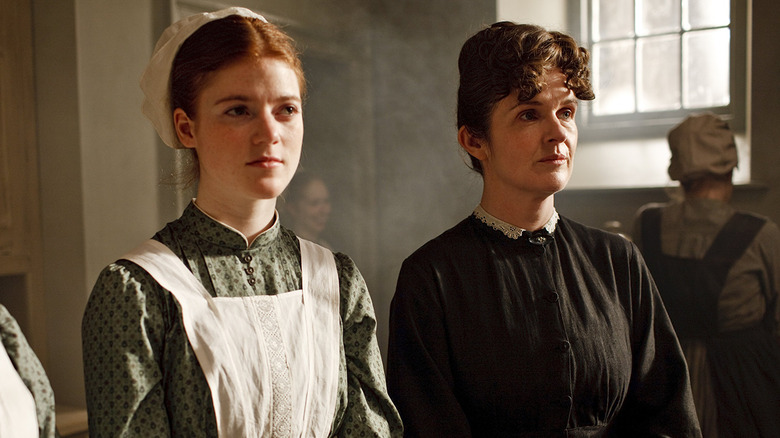 PBS
In 2010, Rose Leslie found herself on one of the most popular television series around. "Downton Abbey" was a hit for PBS and featured some of the acting world's most extraordinary British talents. Leslie plays Gwen Harding, who is prominent in the series's first season. Gwen is a maid at Downton Abbey who dreams of becoming a secretary. Thanks to Lady Sybil (Jessica Brown Findlay), Gwen is able to fulfill her dream and goes to work for Mr. Bromidge (Sean McKenzie) at the end of the season.
She is referenced in Season 4 when she sends a letter to Downton Abbey letting everyone know that she is married. Gwen doesn't show up again until Season 6, when she brings her husband to Downton, and she catches up with the current servants. It's only a brief appearance, and she's not featured in the rest of the series, but Gwen definitely leaves her mark on much-applauded PBS drama.
Rose Leslie's life changed forever on Game of Thrones in 2012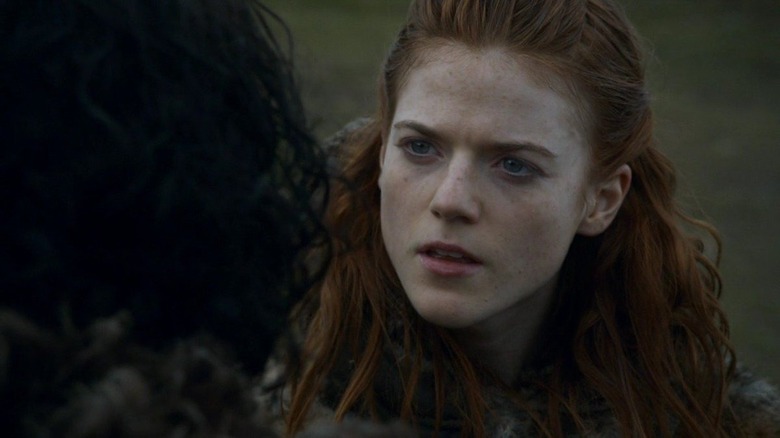 HBO
Rose Leslie is perhaps best known for her time on "Game of Thrones." In the popular HBO series, Leslie portrays Ygritte, a wildling and a member of Mance Raydar's (Ciarán Hinds) army. She enters the show in Season 2 after being captured by Jon Snow (Kit Harrington). Despite having a tumultuous relationship that season, the two eventually come together and fall in love. She dies in Season 4 at the Battle of Castle Black by Olly (Brenock O'Connor).
While Ygritte was an essential character on "GOT," the series was especially important to Leslie. She and Harrington met for the first time on set and fell in love. They were married in 2018 and had one child together. Harrington told Insider how special it all ways, especially that first day with Leslie in Iceland, where Jon Snow is unable to behead Ygritte. "That was my favorite day on ['Game of Thrones']. I'd never been to a more beautiful place in my life, and it was special for so many reasons," he remembered.